Family: Bob, Laura, Julia and Justin Katter
Pet: Callie
Age: 12
Breed: Tibetan Terrier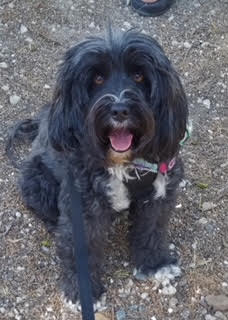 Adoption story: In 2009, Laura met Cory Smegal with her brand-new puppy, Cookie. At the time, there were two of Cookie's siblings left to be adopted. Four days later, we adopted sweet Callie, and the two "girls" grew up together!
Likes: Callie is always up for any walk or hike. She also will eat just about any "treat," including broccoli and green beans. She looks forward to her morning trips to Dracena Park, and running over the Storyteller bridge. But in her golden years, she's happiest… on her bed.
Dislikes: Baths and suitcases (if she's not coming with us!)
Interesting facts: Callie always "shakes off the human" after being held, has an incredibly gentle soul, and can win any staring contest with her big brown eyes.