Piedmont Community Church was host to both Girl and Boy Scout races on Feb. 5 after a COVID hiatus
Girl Scouts
The 17th Annual Girl Scout Pinewood Derby was held at Piedmont Community Church on Feb. 5. Scouts of all ages as well as their friends and siblings raced in five different competitions in the first Girl Scout Derby since 2020. The derby was hosted for the fourth year by Ambassador Girl Scout Troop #31765, a Piedmont High School troop of 11th graders, who are raising funds for a senior trip to Barcelona, Spain.
Awards were given for 1st, 2nd and 3rd place finishers in each level, as well recognition for design, creativity, imagination, and workmanship among others. There were many creative cars, some of the judges' favorites included: a car with a working slide rule, a pineapple car, Kit Kat bar car, slice of cake car, a green bus, dog car, a warriors themed car and some very fast race cars. Many of this year's racers attended the Girl Scout Car Making Workshop in January — also hosted by Troop #31765 — to design, cut, and decorate their cars.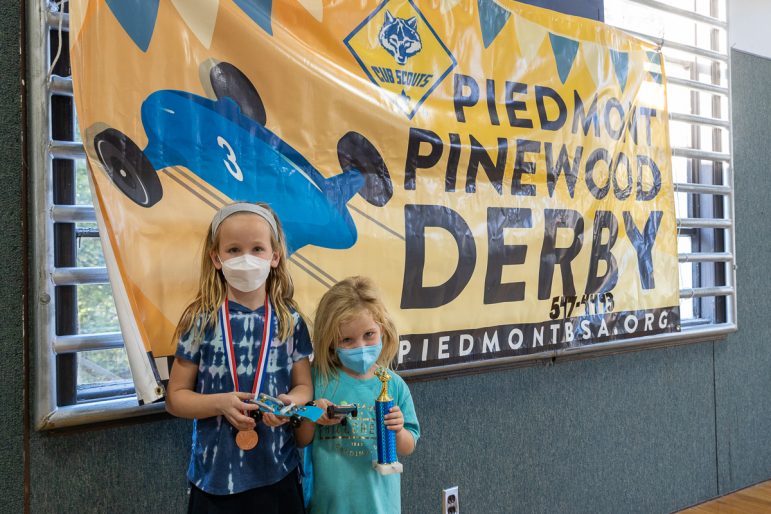 The Girl Scout Pinewood Derby is one of just a few in the nation, and it draws participants from Piedmont, Oakland, and Berkeley. Girl Scout Troop #31765 would like to thank the Piedmont Scouts BSA council for their generosity in allowing the Girl Scouts to use the track after the Scouts BSA derby, making the event possible, and the Piedmont Community church for use of their gymnasium. The Ambassador Girl Scouts of Troop #31765 would also like to thank all of this year's racers and hope to see everyone back for next year's Girl Scout Pinewood Derby!
Boy Scouts
Taking over the reins from longtime derby organizer Rob Kobal, Dave Cole and Greg Wolff brought back the event after last year's COVID hiatus with much fanfare and enthusiasm. On Saturday, five races were held. The first was for Lions and Tigers (kindergarten and first graders) where about 50 boys and girls raced (Scouts BSA — renamed to reflect the change — is now open for both boys and girls). Next were the second graders, or Wolves, with about 30 entrants. Next the Bears (again about 30 entrants) and finally junior and senior Webelos, which comprised about 55 fourth and fifth grade boy and girl competitors. Scouts from neighboring councils were also welcome to join in.
Scouts created their cars out of a piece of wood, four nails, and four plastic wheels. Beyond the requirements of being a certain size and weighing 5 ounces or less, the scouts could design their cars any way they pleased.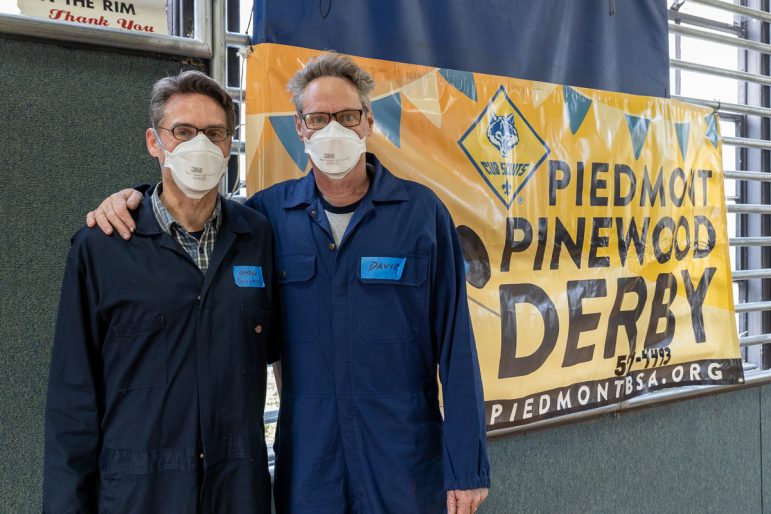 ---
Photos by Julie Reichle