"Swept Away" is at its heart a seafaring tale, much like the 19th century classic novel "Moby Dick," set to the music of the Avett Brothers, an extremely popular contemporary North Carolina country/folk/rock band.
The musical chronicles the lives of sailors manning whaling vessels in the late 19th century, when the reliance on whale oil to fuel lamps was fast declining. These men are more comfortable on the open seas, away from their families and routines, than on solid ground.
With a book by Tony Award-winning playwright John Logan, "Swept Away" was originally set to open in mid-2020, but because of interceding events, its world premiere did not land at the Berkeley Repertory Theatre until Jan. 20 of this year.
For its 90-minute running time, "Swept Away" is a riveting picture of the boat, which departs from New Bedford, Massachusetts, shadowed by ominous signs and superstitious forebodings. After a violent squall catches the boat in its tethers, the focus shifts from the full crew to the four who survive the ship's sinking, floating on still water and struggling to stay alive. It is in this latter segment that questions of how to deal with the dire aftermath are explored and the relations between the men scrutinized.
The strength of the production owes much to its component parts. Set designer Rachel Hauck creates a stunning, imposing three-mast vessel, complete with ropes to climb and floors to swab, as well as a large deck, a perfect locale for the sailors' spirited dancing.
The final set, a motionless lake on which the four men continue to drift, is a picturesque image of their inner states. Kevin Adams' lighting and Kai Harada's sound dramatically convey the tumultuous forces at work on the open sea.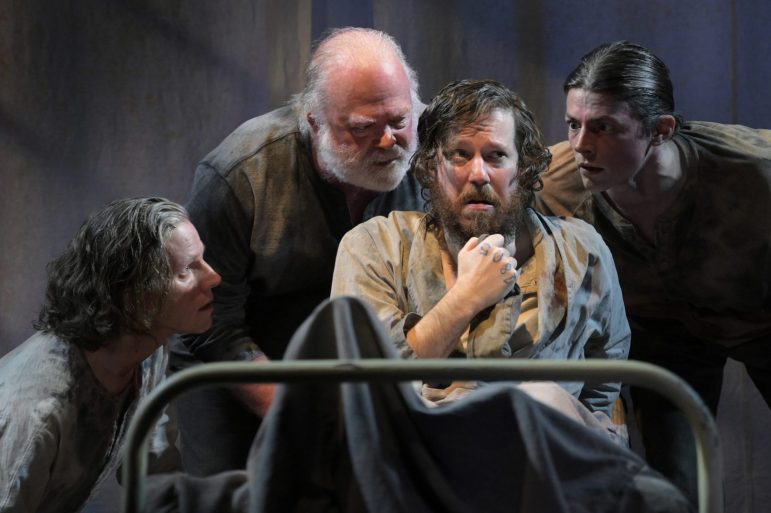 The Avett Brothers' songs were primarily drawn from their 2004 album, "Mignonette" and adapted for the play. Only a few were written specifically for "Swept Away." The off-stage band includes a cello, violin, guitar, banjo and base drums, and their compelling sounds bridge the 19th century setting and powerful contemporary music.
As for the ship crew, the men prove themselves multitalented as actors, singers and dancers, including Stark Sands, Adrian Blake Enscoe, John Gallagher Jr., Wayne Duvall, Ben Toomer, Brandon Kalm, Cameron Johnson and Taurean Everett. Having been extended two times, the final performance will be on March 6.
"Swept Away" runs through March 6 at Berkeley Repertory Theatre's Peet's Theatre, 2025 Addison St., Berkeley. Proof of a booster vaccination is required for entry, and masks must be worn at all times. Guests are encouraged to wear surgical, N95 or KN95 masks. For tickets, $44-$130, and details, visit berkeleyrep.org.