On the surface, it looked like any other soccer game at Witter Field. The Highlanders controlled most of the game and came away with a 1-0 win over San Leandro on Jan. 31.
But it wasn't any other soccer game. The artificial surface at Witter had been damaged in December by winter storms, and the Highlanders hadn't played at home in a month. Repairs to the field had to be scheduled, with the base under the turf as well as some tears fixed over the past two weeks.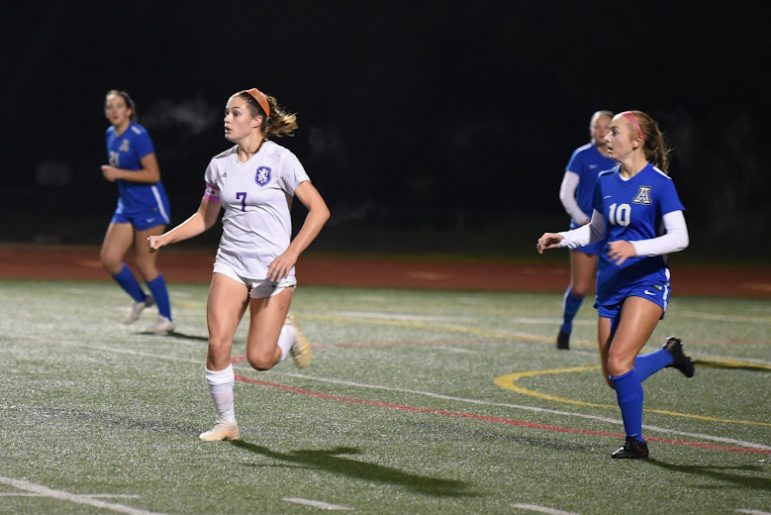 Piedmont's players were happy to be back on a smooth surface.
"It's so nice," Emily Fitzgerald said. "All I've been talking about to my parents every night, 'I want to play a home game. I think it made it a better win because it was at home."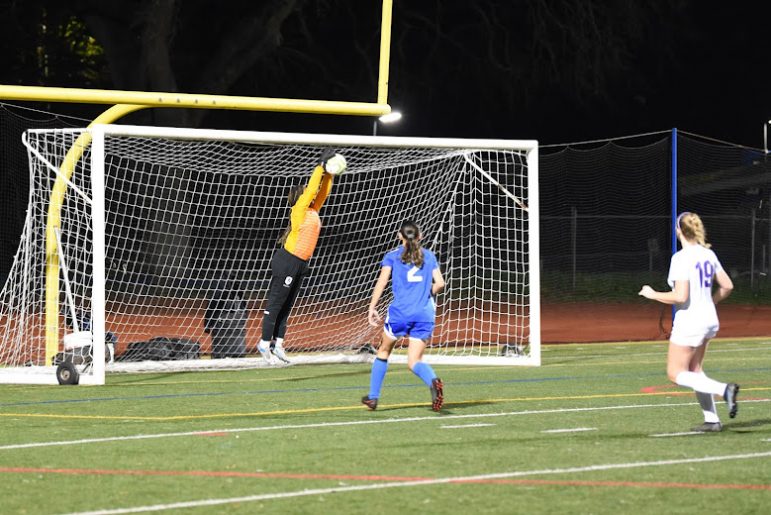 Said goalie Morgan Hunt, "It's nice to get the energy, get some people out here. It has been a long time."
The Highlanders came out strong, keeping the ball in the Pirates end of the field for almost the entire first 16 minutes. However, Piedmont couldn't convert that dominance into a goal.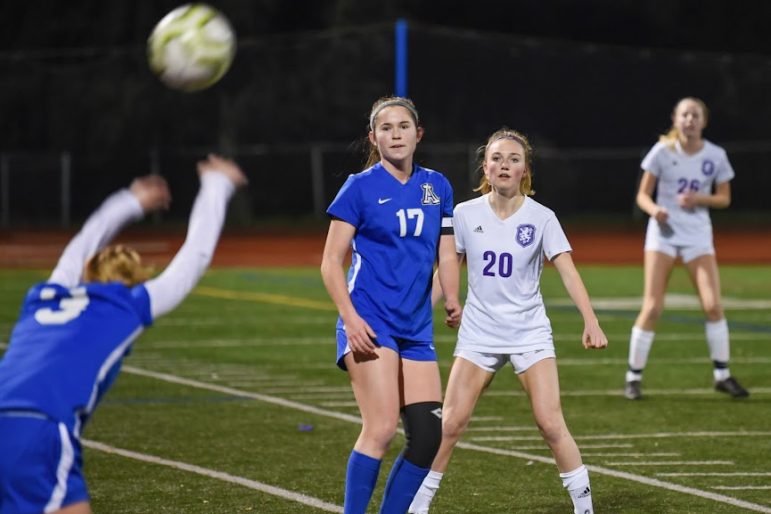 "It was definitely tight," Highlanders coach Dan Chubbock said. "The first five, 10 minutes, I thought this should be a game that we can get the win. We were creating chances, we were creating shots. Then, as the game went on, it looked more and more difficult, like we weren't going to get the breakthrough."
Hunt didn't make a save until the 28th minute. Meantime, Mia Lemus had made four for San Leandro by that point in the game.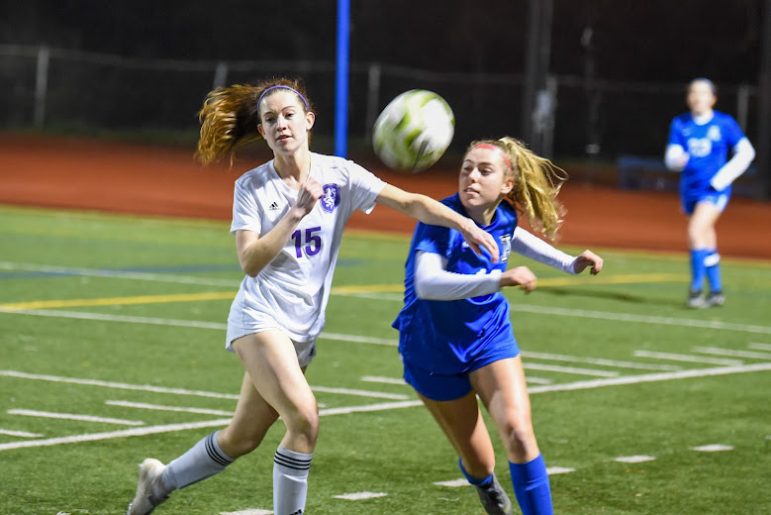 The match was scoreless at halftime. Piedmont continued to play most of the game in the Pirates end, but San Leandro was starting to get more offensive chances.
"Second half, they looked dangerous on the counterattack," Chubbock said. "Their goalkeeper looked fairly comfortable. We didn't really test them with any shots away from goal. They were a very well-organized team, difficult to beat."
Finally, in the 58th minute, it was Fitzgerald who broke through. She got the ball and danced her way from the left towards the center of the field, then blasted a 10-yard shot past Lemus to the goalkeeper's left.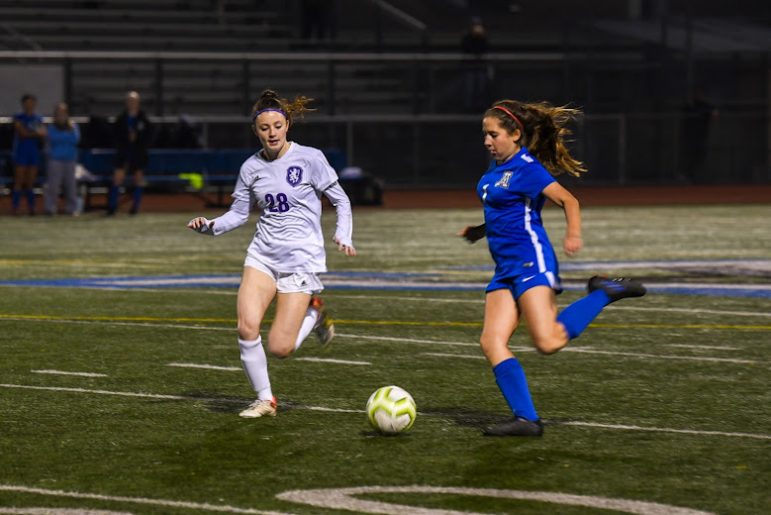 "The ball popped out and I decided to head straight toward the goal, and I saw a window and shot it and it went in," Fitzgerald said. "I was pretty calm. I could feel it coming. We had a lot of shots and I felt like we were dominating in the final third. I really thought it was going to come eventually, I just wasn't sure when, and I knew we were going to put it away."
Audrey Lam had the most exciting play of the night in the 68th minute, when she got off a beautiful bicycle kick from straight out that just went over the net.
"She's a talented player," Chubbock said. "We did score one, maybe six or seven years ago in the NCS final. Ashley Nelson scored one. It reminded me of that."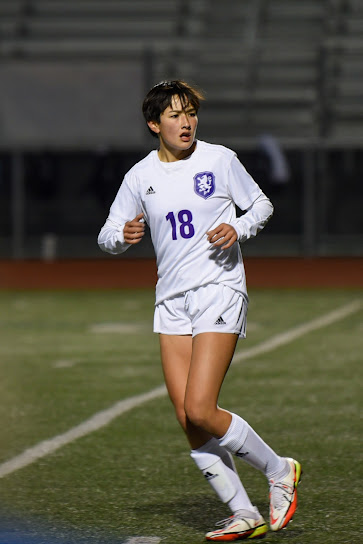 "Audrey had one a couple of weeks ago. She sort of shaped up to go for it and she didn't and I was giving her a hard time for it. She was disappointed she didn't score, but it was a great effort."
The main thing beyond the win was being at home. Fitzgerald said the field was in good shape.
"I think it seems perfect," she said. "I didn't notice anything wrong."
Added Hunt, "It looked good."
On Jan. 28, Piedmont tied Bishop O'Dowd 1-1. Nina Goldberg scored the goal for the Highlanders.
Piedmont fell at Acalanes on Jan. 24, 3-1, with Lam scoring the Highlanders goal. Natalie Means had two goals for the Dons, and Sammy Hess had the other.
Piedmont had a 4-1 win over Arroyo at Estuary Park in Alameda on Jan. 21. Rachel Burton, Cameron Lorin, Zoe Wolfers and Hailey Marshburn scored goals for the Highlanders.
Photos by Todd Marshburn