The Highlanders pulled out a pair of big victories to improve to 14-4 on the season.
On Jan. 27, the Highlanders defeated visiting Berkeley, 64-39. Trinity Zamora scored 15 points and grabbed 21 rebounds. She also had seven assists, five steals and five blocked shots. Natalia Martinez had 35 points and eight rebounds. Maddie Hill had 14 points, four rebounds and four assists.
The game was a low-scoring affair early as Piedmont took a 7-5 lead after one quarter. Martinez had six of the Highlanders' points in the opening stanza.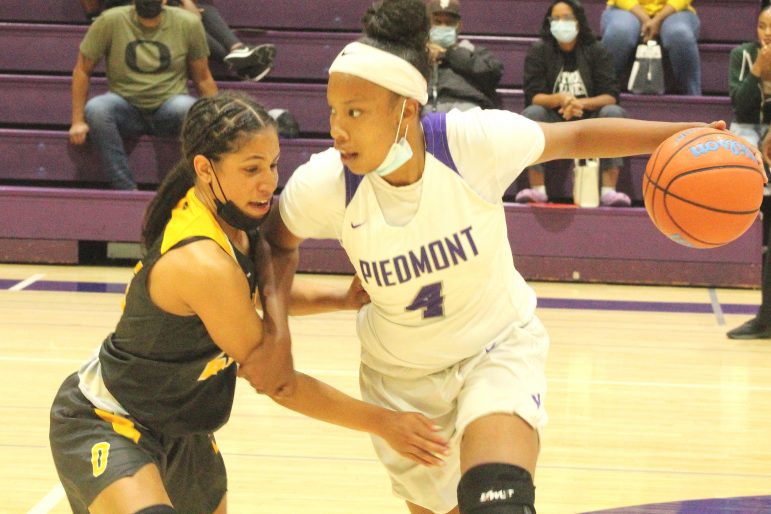 Piedmont opened the lead to 24-17 at halftime, and Martinez exploded for 14 points in the third quarter as the Highlanders opened it up. Piedmont outscored the Yellowjackets 27-7 in the period and never looked back.
Czar Fleischman scored 10 points to lead Berkeley.
Two days later, the Highlanders had an easy time of it at Bishop O'Dowd, winning 54-34. Piedmont took a 14-5 lead after one quarter, extending it to 26-16 at halftime.
Zamora scored 18 points and pulled down 22 rebounds to lead the Highlanders. She also had four assists and four steals. Martinez and Hill each had 17 points. Hill also had nine rebounds and four assists.
Amaya Bonner had 10 points for the Dragons.
This was the third win in four seasons for Piedmont over Bishop O'Dowd. The first of those wins in 2019 ended an 11-year league winning streak for the Dragons, one of the longest in state history.
Photos by Jim Govert