The Highlanders extended their winning streak to eight games with a thrilling 55-52 win over Oakland Tech at the delayed Martin Luther King Day event at Bishop O'Dowd on Feb. 5.
Trinity Zamora scored the go-ahead basket on a running one-hander in the final minute. Kat Melian then stole an inbounds pass at the other end with just 1.8 seconds on the clock. Melian made two free throws to seal the victory.
The Bulldogs had held a 43-35 lead entering the fourth quarter, but the Highlanders were able to come back. Piedmont had trailed by 14 in the first half and rallied to down two at halftime.
Zamora finished with 23 points, 19 rebounds and three assists. Natalia Martinez scored 20 points and had eight rebounds. Melian finished with six rebounds.
Sophia Askew-Goncalves had 18 points for Oakland Tech.
The win capped a busy week for the Highlanders, as they swept four games. On Feb. 1, they defeated Berkleley, 69-25. Zamora scored 32 points to lead the way. She also had 15 rebounds, six steals, five assists and four blocked shots. Maddie Hill scored 22 points with seven rebounds, seven assists and four steals. Martinez had 15 points, seven steals and five assists.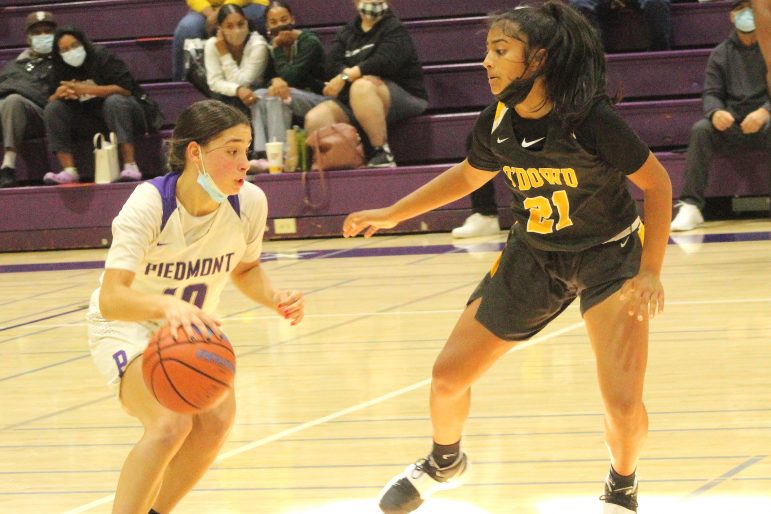 Piedmont raced to a 28-9 lead after the first quarter and was never headed.
It was a similar story on Feb. 2 at St. Joseph's. Anyia Perine led the Highlanders with 18 points. Martinez added 16 points, five rebounds and four assists. Melian had 10 points and four rebounds and Hannah Govert had five points, six rebounds, five assists and five steals.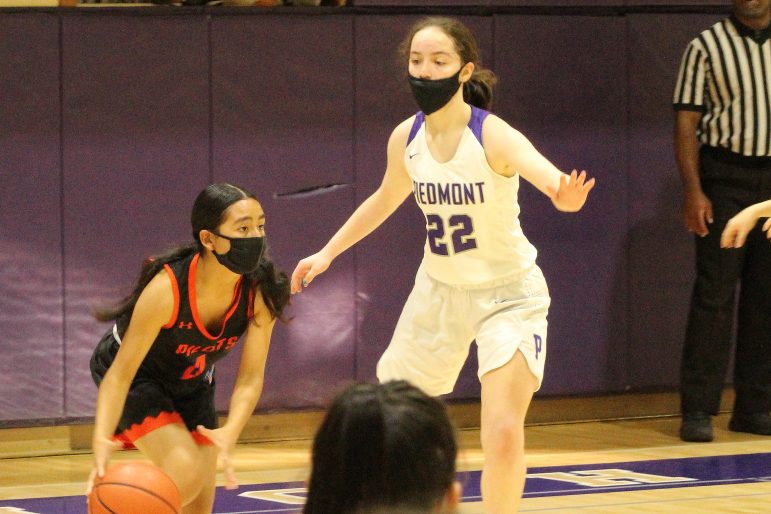 On Feb. 4, Piedmont hosted Alameda and recorded a 52-35 win. Zamora had a double 18, scoring 18 points and grabbing 18 rebounds. She also had four assists. Martinez had 16 points, six rebounds and four assists to go along with five steals. Melian scored 10 points and pulled down four rebounds.
Piedmont is scheduled to host Bishop O'Dowd on Feb. 9, which will be Senior Night for the Highlanders. They close the regular season on Feb. 11 at San Leandro. The North Coast Section will announce playoff berths on Feb. 13.
Photos by Jim Govert