The Highlanders are returning to the North Coast Section finals for the first time in 11 years.
Piedmont advanced to the championship game with a 51-44 NCS Division 4 semifinal win over visiting Lick-Wilmerding in a defensive struggle that was at times pretty ugly.
But the win was a beauty for Piedmont.
"It was a dirty win," Highlanders guard Natalia Martinez said. "We really had to wake up. We pulled it out."
Said Piedmont coach Bryan Gardere, "We competed and figured it out. It wasn't pretty, but what do they say? Survive and advance."
Both teams were strong on the defensive end. Piedmont only really got its offense going in the second quarter, outscoring the Tigers 23-9 to take a 34-18 lead at halftime. The Highlanders managed just 11, nine and eight points in the other three quarters.
Trinity Zamora was the spark, scoring 12 of her game-high 18 points in the second period.
"When Trinity is healthy and 100 percent, there's not much you can do," Gardere said. "She's arguably the best player in Northern California. When she gets it rolling, we're in good shape."
The key for Piedmont was shutting down Annabel Schneiberg, another one of the better players in Northern California. Two years ago, Schneiberg scored 23 points and had 10 rebounds in a 69-45 win over the Highlanders in the NCS playoffs.
This time, Schneiberg was held to 11 points and eight rebounds. Piedmont contested every shot she took, and the result was a three for 21 shooting night from the floor. Schneiberg closed the game missing her final nine shots.
On the other hand, several of her shots spun out of the rim. She also made three fantastic passes to teammates, only to see them miss the open shot.
"On a personal level, I was not my best," Schneiberg said. "It's definitely disappointing. I don't want to hang my hat on missed shots. It has been a while since I have missed that many shots in a row."
Said Martinez, "We know that she loves to shoot no matter how far, volleyball line, anywhere. Even at the P at halfcourt, we had to have a hand up cause knowing her, she would probably shoot that."
Schneiberg will be playing at UC Santa Barbara next year.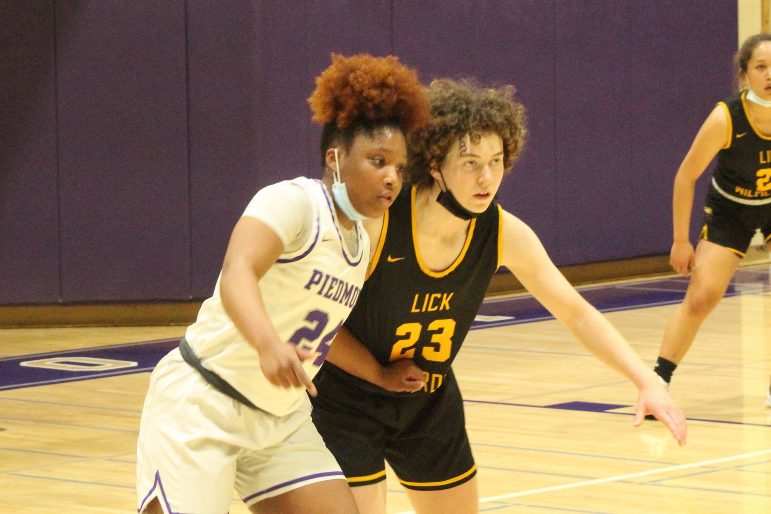 Piedmont had to play nearly the final 10 minutes without Maddie Hill. She went down to the floor with a yell and cried out in pain for several minutes before being helped off the court. She returned to the bench in the fourth quarter but was still hobbled. After the game, she said it was a muscle injury, not a knee injury.
"It's losing a star player," Martinez said. "It's really tough to try to come back from that."
Martinez finished with 17 points and 10 rebounds. Zamora and Aniya Perine each had 10 rebounds as well. Hill had 11 points and six rebounds before leaving.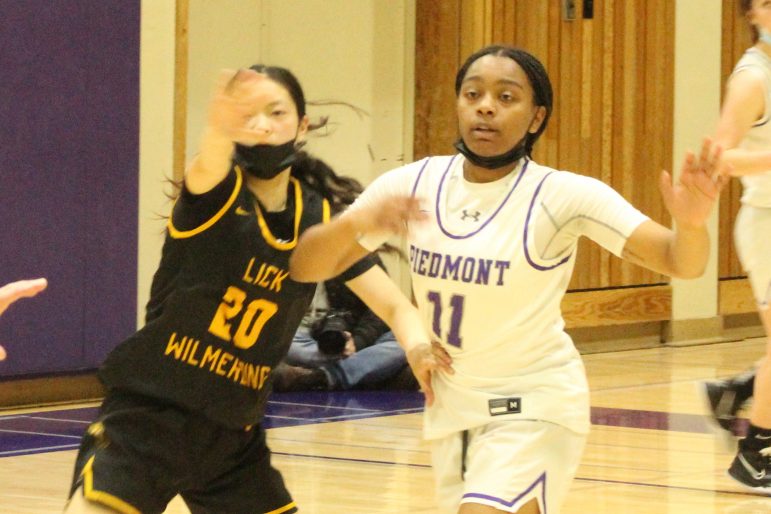 Dominique Cabading had 13 points and six rebounds before fouling out for Lick-Wilmerding.
The Highlanders will play at top-seeded Marin Catholic at 5 p.m. on Feb. 26. It's the first NCS finals appearance for Piedmont since 2011, when they lost to St. Mary's. The last championship for the Highlanders was in 2006, when they won their fourth in a row.
Photos by Damin Esper