The Highlanders rallied from 17 points down in the fourth quarter at Alameda, coming back to take a dramatic 68-62 overtime victory on Feb. 4.
The Highlanders swept four games on the court during the week, and also claimed a forfeit win over St. Joseph's on Feb. 5. Piedmont beat Alameda at home on Feb. 1, 89-65, and defeated St. Joseph's on the road on Feb. 2, 69-52. This came after the previously-reported win over San Ramon Valley on Jan. 31, the biggest victory of the year for the Highlanders.
"It's just all the kids working really hard and buying into what we teach," assistant coach Jason Harris said. "It's the most close knit team we have had, and they are friends off court, which really helps."
Piedmont is now 14-9 on the year, 8-2 in West Alameda County Conference play (counting the forfeit in both). The Highlanders have won nine of 11 on the court since point guard Jojo Murphy returned from an ankle injury.
In the Feb. 4 game, Alameda rushed out to a 14-3 lead and continued to be up big throughout. With five minutes, 37 seconds left in regulation, the Hornets still led, 57-40.
However, the Highlanders offense woke up with a 20-3 run to close regulation. A.J. Harris nailed a 3-pointer at the buzzer to send the game to overtime. Harris scored 16 of his 31 points in the fourth quarter. He also had 10 rebounds.
In the overtime, Spencer Settlemier had a key basket, and Murphy set up Harris with another. Murphy finished with 26 points and 11 rebounds. Settlemier had five points and five rebounds.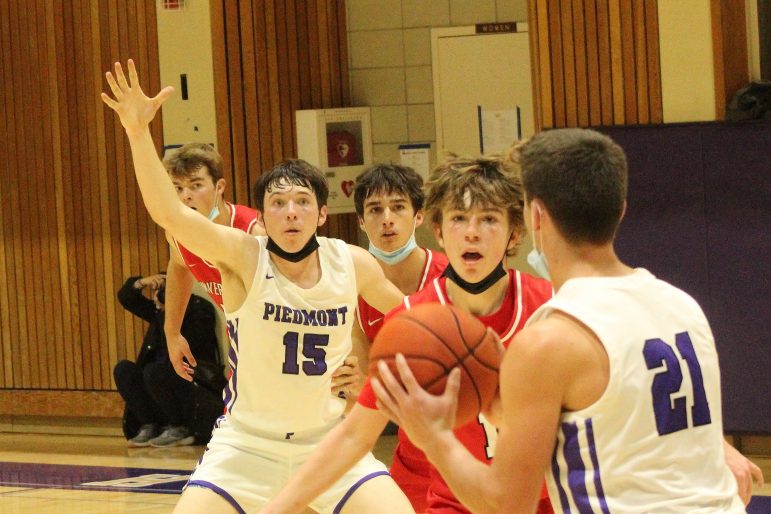 Shamar Cook and Gabe Garcia each had 13 points for Alameda.
It was the second matchup of the week between the teams. In the first, A.J. Harris went off for a career-high 37 points. A 17-13 Piedmont lead after one was extended to 44-29 at halftime. Alameda fought back in the third, but the Highlanders were able to win going away.
Harris was 11 of 19 shooting, and scored 26 in the second half. Raydan Holmes handed out seven assists with no turnovers. Murphy scored 24 points and Brit Burden had 10 points and four rebounds..
Cook had 12 for Alameda and Mason Harris had 10.
Against St. Joseph's on Feb. 2, Murphy led the Highlanders with 24 points and eight rebounds. It was 19-19 after one quarter, with Piedmont inching ahead at halftime, 35-29. A 20-12 third quarter gave the Highlanders a double-digit lead and they cruised home.
Harris had 18 points. Burden had 10 points and seven rebounds and Holmes scored eight points.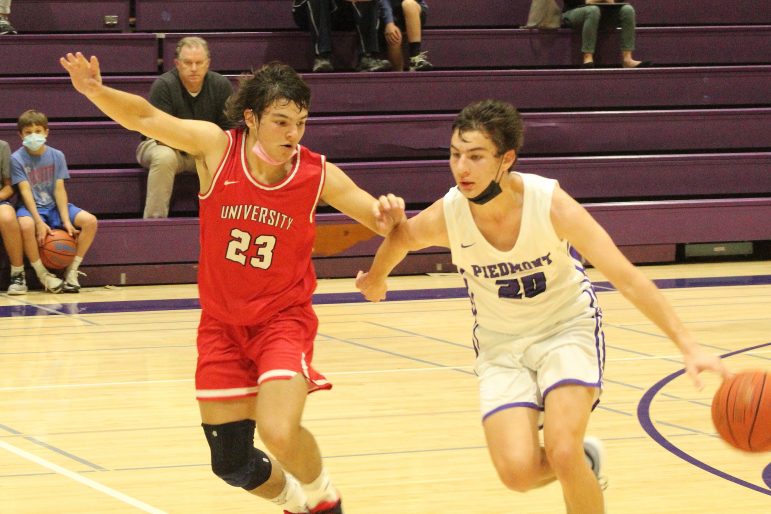 Piedmont travels to Bishop O'Dowd on Feb. 9, then closes at home against San Leandro on Feb. 11. The latter game will be Senior Night.
Photos by Ken Evans and Damin Esper