Piedmont High School (PHS) is actively recruiting young players for its JV team. It's not too late and no experience is necessary.  According to newly named PHS Mens' Volleyball Coach Mariah Cardenas, "I am definitely open to more youth coming out. I will not cut anyway due to the importance of physical activity and social interaction during this time in our world. Anyone who is interested will have an opportunity."
With PHS fielding a volleyball team for the first time in twenty years last spring, their prospects looked bright.  They were only able to field one team, however, due to a low turnout at tryouts last year (there is no Piedmont Middle School boys volleyball program as a feeder).    
The week before February break this year, 23 players came to tryouts, barely enough for two teams.  The challenge for the future is that there are currently only three freshmen and six sophomores to carry the torch after the four seniors and nine juniors graduate.  
PHS is indeed fortunate to have lined up Coach Mariah Cardenas for the mens' season.  With the recent announcement of former PHS Womens' and Mens' Varsity Volleyball Coach Leslie Blakely departing for personal reasons just before the season was about to start, the players were despondent.  Not only was Blakely their first-ever volleyball coach, but seven players also played on her Red Rock Volleyball Club team last fall (their first club season).  She offered beach volleyball camps and volunteered her time for open gym and weight training during the summer.  
With over 120 open volleyball coach postings in California on Edjoin.org (many of which have been posted since last August), the prospects of finding a new coach seemed grim.  That is until Athletic Director Bradley Smet was able to convince former PHS Womens' JV Coach Mariah Cardenas to take the top post for this spring.   Although she had already told the PHS Womens' JV team that she would not be returning next fall due to her other job commitments, she agreed to sign on to keep the mens' program going.  
In addition to her day job working with foster youth, Cardenas coaches at Red Rock Volleyball Club.   Not only did she coach PHS JV Girls Volleyball for the past two years, but she concurrently coached at Red Rock Volleyball Club for two years and two additional years before that. Prior to that, she coached for Pulse Volleyball Club in Ripon and at Holy Names University as the Womens' Assistant Coach and Mens' Head Coach.  
When asked about the prospects for this year's teams, Cardenas smiles, "I foresee a lot of growth in both teams. Varsity has several players that are very familiar with the game of volleyball and their level of play is, in my opinion, high. I believe while working on fundamental skills this group can be a stellar group."
Asked why she coaches volleyball, she shares, "I love the game of volleyball. In full transparency, it has saved me time and time again. My mom passed away my senior year of high school (during my last season of volleyball) and the only reason I didn't drop out was because I knew I got to play volleyball after school. I moved across the country to play collegiate volleyball in Oklahoma. After I graduated I got the opportunity to coach at Holy Names University in Oakland and receive my masters degree in forensic physiology. I have always wanted to pay it forward and instill in young athletes what I have learned over the course of my life. I could never repay the game of volleyball for all the opportunities it has brought into my life. I do what I do for the youth that I get to cross paths with. My coaching philosophy is that every moment on the court is a coaching opportunity. Whether it be an affirmation for something positive that a player does or a critique that I cannot verbally explain, coaching allows me to model skills in person."
Who wouldn't want their teen learning about volleyball and life from Coach Cardenas?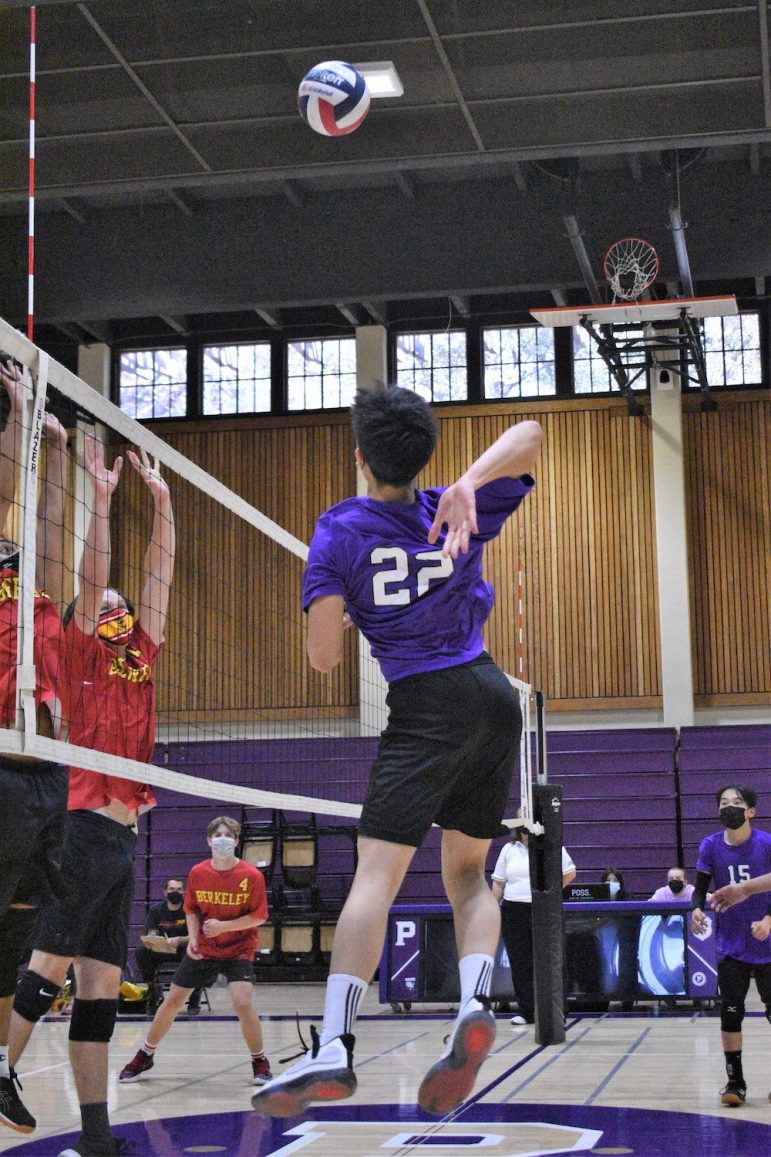 Did you know…?
***Fun fact:  Did you know that volleyball is the fastest-growing boys' high school sport in the state of California?  According to the California Interscholastic Foundation (CIF), the number of male volleyball players increased by 5.99% in 2020 compared to 2019.  The second-fastest growing boys' sports was track and field at 3.55% growth, followed by swimming and diving at 1.79% year-over-year growth.  
https://www.cifstate.org/mediacenter/releases/2020-21/PR-1_2019-20_CIF_Participation_Census_8.3.20.pdf
The National Federation of State High School Associations (NFHS) reports a 26 percent increase in participation in boys' volleyball over the period from 2012 to 2019.  https://www.nfhs.org/articles/participation-in-high-school-sports-registers-first-decline-in-30-years/
For questions or to interview Coach Mariah Cardenas, she can be reached at mariah1047@yahoo.com or (209) 923-1101.
***Photo credits: Mike McConathy | Photo 1). Team Captain Wilson Wong smashes the ball in the last game of last year's season against Berkeley Photo 2).  Patrick Alexandre and Kai Lambert leap to block the ball against Berkeley at home (June 3, 2021)