My wife, Julie, and I have always enjoyed kayaking. In addition to great scenery and a strenuous workout, being out on, and so close to the water gives you a completely different perspective from regular life on land. The constraint has always been access; it can be difficult to store and transport typical kayaks, and rental opportunities seemed few and far between. So when we discovered Oru* kayaks, we were intrigued. The Oru kayaks have been called "origami" kayaks because they fold out from (and back into) compact cases that can be carried by hand or over the shoulder. Although it takes some time to assemble the kayaks — about 15 minutes for each, at least our first few times out — it's been quicker and easier for us to get out on the water with the Orus than with conventional kayaks.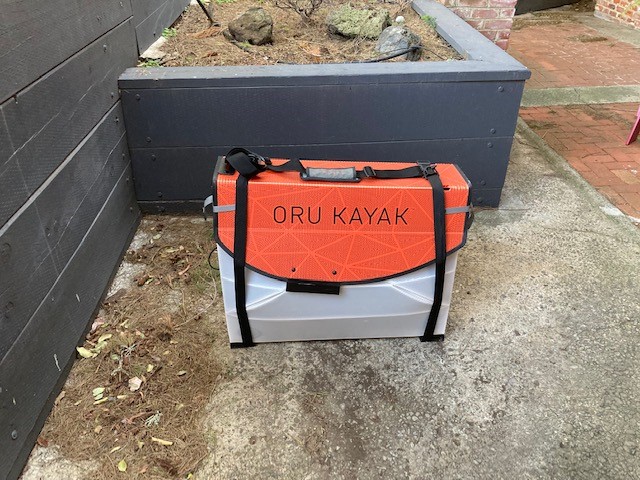 One sunny morning in December, we headed to California Canoe and Kayak* in Brooklyn Basin, where we tested two Oru models. Getting in and out of the boats from the dock was awkward, but being out on the water, even if we weren't quite out in the open bay yet, was a revelation: Unparalleled views of the Bay Bridge; abundant bird life; and the ability to access shorelines, piers, and other waterfront features we never knew were there. We were hooked.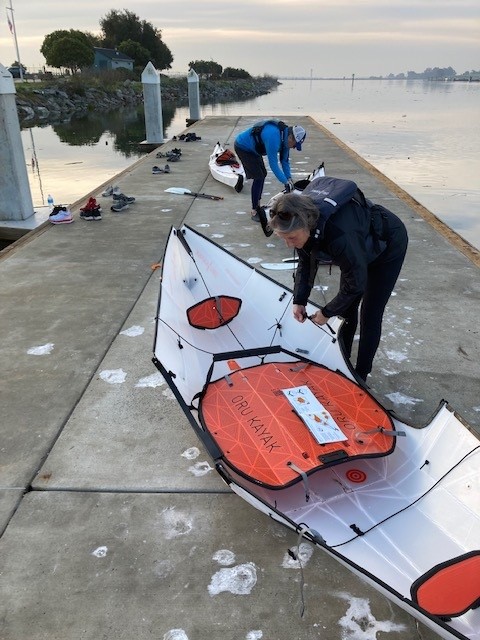 So we treated ourselves to two of Oru's single kayaks: Julie preferred the closed Bay ST model, and I liked the open Inlet. Hers weighs about 25 pounds, mine about 20. There is some additional gear needed to get out on the water, of course, including paddles, life jackets, and a dry bag. Maps come in handy too, and a little online research led us quickly to the San Francisco Bay Water Trail website (sfbaywatertrail.org). In addition to helpful information about boating rules, tides, and equipment, this site provides comprehensive information on the almost 40 docks, ramps, and other public launches that dot the Bay. They'll send you a set of five waterproof maps as well.
We've tried three spots so far. The first was Marina Bay Harbor in Richmond. There are public docks here, but we went at low tide so had to use the boat ramp. The assembly went surprisingly well for our first time out, and we somehow got into the kayaks without tipping. After a tour of the marina, we ventured out past a rock jetty and the whole bay opened up. We saw Brooks Island to the south, the Bay Bridge to the southeast, and the East Bay hills due east. The bird life was amazing; we paddled past pelicans, cormorants, seagulls, a heron or two, and a bird with bright orange beak and feet that we still haven't been able to identify.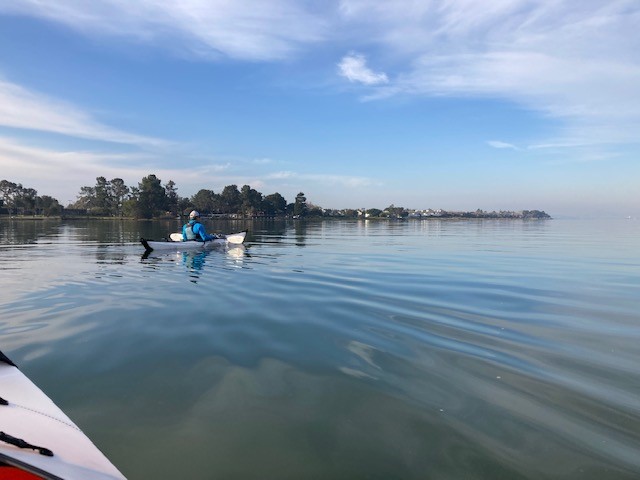 Our second outing, with our more experienced friends Scott and Cheryl, started at Encinal beach. This recently renovated launch is just north of Encinal High School (go slowly because the signage is not good). Scott and Cheryl assembled their Orus in what seemed like five minutes, as we fumbled around with the instruction book. But we have found that, with each use, the boats become a little easier to fold into shape. We enjoyed another beautiful Bay Area winter day with glassine water, paddling around the USS Hornet and the SS Keystone State, a crane ship docked across from the Hornet. We passed a vocal colony of sea lions and a stunning number of pelicans (which we learned is called a "squadron") gathered on some rocks.
Our most recent trip started at the Tidewater Boating Center in Oakland just east of the High Street Bridge to Alameda. Tidewater is where the Oakland Strokes program is based, and we saw several of their boats out practicing in the San Leandro Bay. We paddled past the waterfront houses on the Alameda side of the High Street Bridge, then over to the undeveloped southern side of Bay Farm Island. We reached the Bay Farm Island bridge and got to see the bridge and walkway open and close as a sailboat passed through the estuary. We didn't quite make it to the open Bay on this trip, but saw many cormorants and barely avoided a dive-bombing seagull. Our new puppy, Baker, was on board for this trip, and he had plenty of room to get comfortable.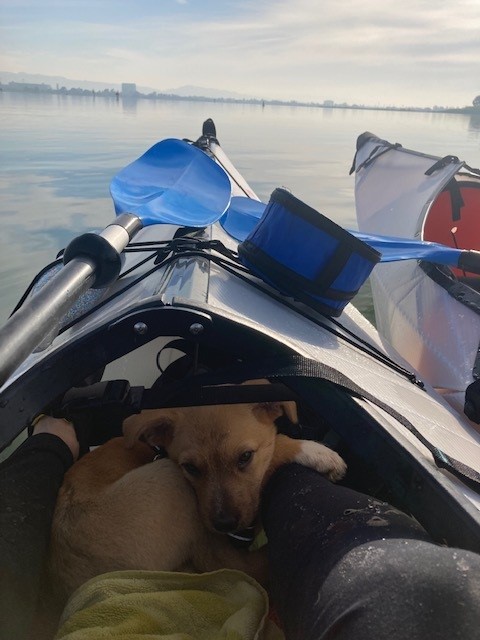 We're extremely grateful to have found the SF Bay Water Trail, which is a fabulous public resource, and look forward to more trips to all corners of the Bay in coming months.
*Note: We have no financial or other relationship with Oru kayak or California Canoe and Kayak.