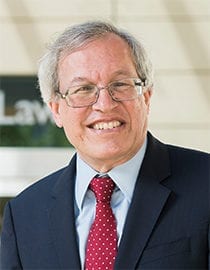 Please join the League of Women Voters of Piedmont on Tuesday, March 1 at 4 p.m. to hear Erwin Chemerinsky, Dean of Berkeley Law and a nationally recognized expert on the US Supreme Court and election law.
Since the 2020 election, it has become clear that the Supreme Court may wield enormous power in deciding future elections, particularly if the vote is deemed close. Learn about the scope of SCOTUS power in our elections, nuances in election law, and threats to voting rights, including racial and language discrimination.
This event is part of our League's 2022 Defending Democracy Speaker Series and is co-sponsored by local Leagues in Oakland, CA; Santa Barbara, CA; Solano County, CA; Portland, OR; Gunnison Valley, CO; Pueblo, CO, Pike's Peak Region, CO; and Collier County, FL. Register online at lwvpiedmont.org.
---
Erwin Chemerinsky became the 13th Dean of Berkeley Law on July 1, 2017, when he joined the faculty as the Jesse H. Choper Distinguished Professor of Law.
Prior to assuming this position, from 2008-2017, he was the founding Dean and Distinguished Professor of Law, and Raymond Pryke Professor of First Amendment Law, at the University of California, Irvine School of Law. Before that, he was Professor of Law and Political Science at Duke University from 2004-2008, and from 1983-2004 was a professor at the University of Southern California Law School, teaching public interest law, legal ethics, and political science.
He is the author of 14 books, including leading casebooks and treatises about constitutional law, criminal procedure, and federal jurisdiction. His most recent books are Presumed Guilty: How the Supreme Court Empowered the Police and Subverted Civil Rights (Norton 2021), and The Religion Clauses: The Case for Separating Church and State (with Howard Gillman) (Oxford University Press 2020).
He also is the author of more than 200 law review articles. He is a contributing writer for the Opinion section of the Los Angeles Times, and writes regular columns for the Sacramento Bee, the ABA Journal, and the Daily Journal, and frequent op-eds in newspapers across the country. He frequently argues appellate cases, including in the US Supreme Court.
In 2016, he was named a fellow of the American Academy of Arts and Sciences. In 2017, National Jurist magazine again named Dean Chemerinsky as the most influential person in legal education in the United States. In January 2021, he was named President-elect of the Association of American Law Schools.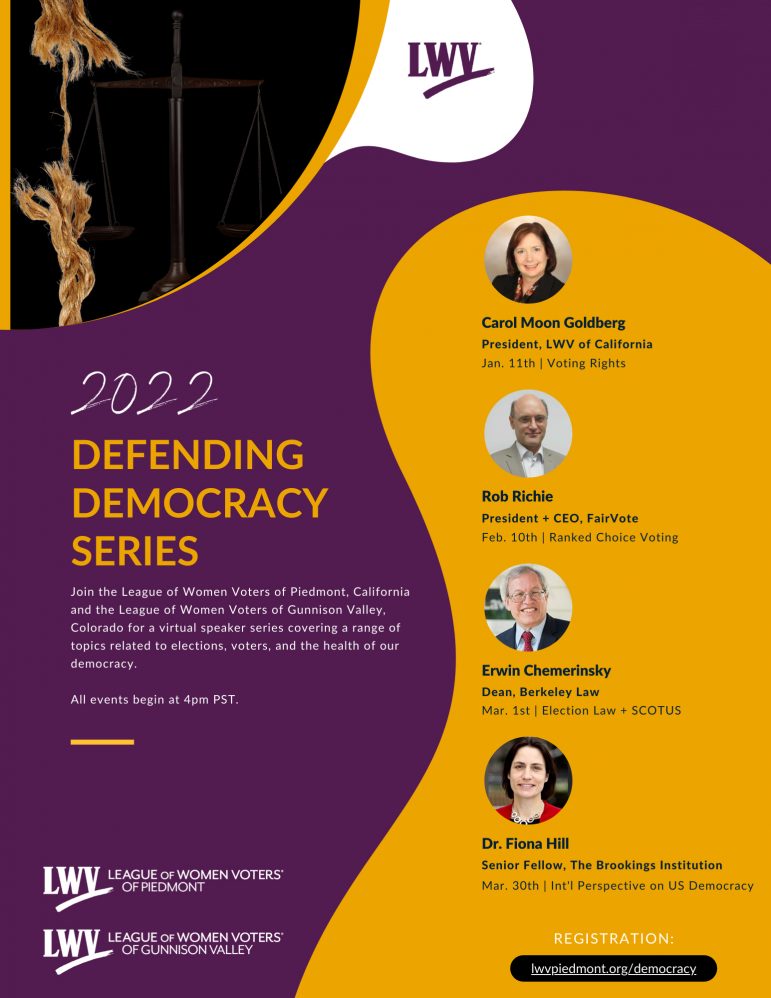 This talk will be held live on Zoom and YouTube and will include an audience question and answer session. Please visit our website (lwvpiedmont.org) to learn more about the series and register for this event. Once you have registered, you will receive the Zoom link by email. The event is free and open to the public.