54th California International Antiquarian Book Fair | Oakland Marriott City Center | Feb. 11-13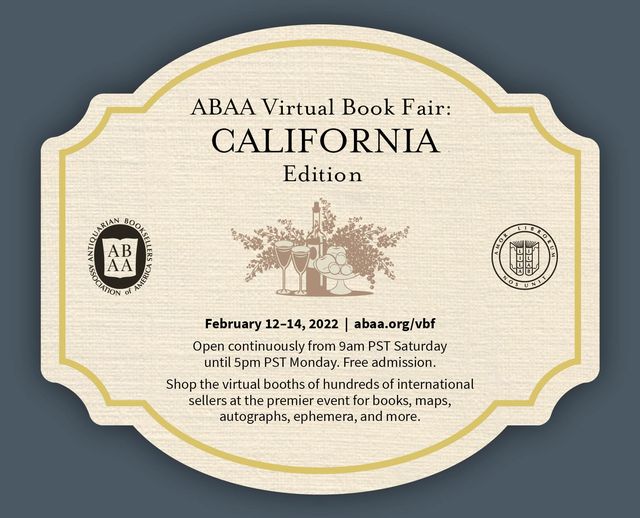 The 54th California International Antiquarian Book Fair is one of the world's largest antiquarian book fairs. Forced on hiatus for two years by the pandemic, organizers this year are reveling in presenting—live at the Oakland Marriott City Center—100 booksellers from the United States and around the globe. On offer are books, manuscripts, maps, and other printed materials, fine bindings; children's and illustrated books; ephemera; and more. The three-day fair this year includes a major historical exhibit on wine and viticulture, courtesy of the library at the Shields Library, University of California, Davis. Book-related lectures and displays throughout the weekend offer interaction with local artists, libraries, bookbinders, small press operators and other organizations specializing in book arts. Seminars and presentations include "The UC Davis Library Wine Collection;" "Origins, Highlights, and Use; Collecting Oakland's Activist Roots;" "The Black Panthers and Beyond; Sherlock Holmes in Popular Culture;" and more.
Feb. 11-13 | Times vary | $10-25 | www.cabookfair.com
---
Berkeley Public Library presents: Black History Month Stories with Kirk Waller | Feb. 19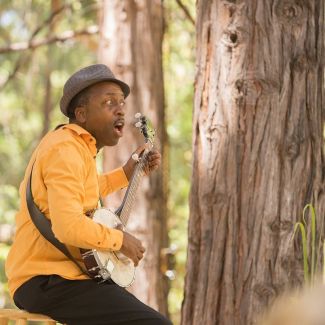 Take the kids to a park and work in some words while celebrating Black History Month in this library event featuring Storyteller Kirk Waller. Berkeley librarians understand the attention spans and physical get-up-and-go of young readers, who'll be encouraged to wiggle and giggle without limitations while listening to traditional African American stories and singing songs at the outdoor event held at the Grove Park play area. Grove Park is located across the street from the Tarea Hall Pittman South Branch library at 1730 Oregon Street. Guest are asked to please wear a mask to ensure safety for all. The 30-minute program is sponsored by the Friends of the Berkeley Public Library.
Feb. 19 | 10-10:30 AM | Free | www.berkeleypubliclibrary.org/events/black-history-month-stories-kirk-waller-thpsouth
---
PlayGround Monday Night series at Freight & Salvage | Feb. 21

PlayGround's popular once-a-month Monday Night series held live at Freight & Salvage continues Valentine's Day sentiment. Riffing off a phrase made legendary in a 1965 song by songwriters Hal David and Burt Bacharach, six original short plays draw inspiration from the prompt, "What the World Needs Now…" The staged readings guided by Bay Area directors and performed by a cast of leading local professionals are rehearsed for just ninety minutes on the day of the show. Live or experienced virtually in a simulcast via Vimeo Live, the half-dozen scripts selected from a pool of 26 invited writers often range from intense to moving to bold, streamlined, funny, tragic—and always, arrive sparkling with distinct, originality. Some of the best year-to-year short plays have been developed by PlayGround into full productions during the series' 28-year history. Note the safety requirements for entry to the live performance updated continually on the website and also, applaud this: Monday Night PlayGround is admission-free (donations gratefully accepted). Advance reservations are required and strongly recommended. For the complete schedule or to reserve tickets, visit playground-sf.org/monday.
Feb. 21 @ 7:00 PM | Free | Visit https://playground-sf.org/playground-celebrates-the-season-of-love-with-its-february-prompt-what-the-world-needs-now/
---
City Lights and PM Press present Dangerous Visions and New Worlds: Radical Science Fiction, 1950 to 1985 | Feb. 26-27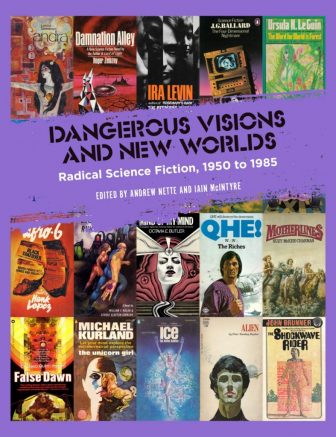 The weekend-long symposium launches Dangerous Visions, a collection of essays edited by Andrew Nette and Iain McIntyre and written by contemporary authors and critics on topics related to radical currents in science fiction. Themed sessions during the two-day event are led by moderators and speakers who explore ideas such as "Imagining New Worlds: What activists can and have learnt from sci-fi;" "Wild Seed: Reflecting on the work and impact of Octavia Butler;" and "The Forever War: Vietnam's impact on sci-fi." Expanding and centering Dangerous Visions' twenty chapters, the symposium explores the sci-fi platform through the novels and authors most inspired by cultural and political shifts in America and Great Britain during each decade from 1950 to the mid-1980's. Sure to be a highlight are key perspectives on not only well-known sci-fi authors such as Butler, Ursula K. Le Guin, Philip K. Dick, Harlan Ellison and others, but on the works of forgotten or underrepresented sci-fi writers.
Feb. 26-27 | Hours vary | Free, registration required: citylights.com/events/dangerous-visions-and-new-worlds-radical-science-fiction-1950-to-1985/
---
The Monthly Mashup | February
With indoor, in-person events still subject to cancellation or postponement due to the ongoing pandemic, a monthly mashup of suggestions to bookend the Local Lit column seems appropriate. Lit lovers may choose from among these ideas and gatherings (most virtual) that highlight the Bay Area's diverse, active, multigenerational and always inquiring readers.
Join Bay Area native, Olympic gold medal figure skater and children's book author Kristi Yamaguchi Feb. 25 on KQED's  Forum. Yamaguchi will to talk about the winter Olympics and her nonprofit, Always Dream. Friday, Details: February 25 @ 7:00 PM | In person: $10 | Livestream: Free | https://www.kqed.org/event/1616
The same night, vocalist/composer/actor/author and two-time Tony Award winner Brian Stokes Mitchell appears at Hoffman Theatre in Walnut Creek as part of the venue's Headliners series. The keynote speaker Headliner presentations are always paired with a local nonprofit or charity, which means harmony abounds at this event. Details: Friday, February 25 @ 7:30-9:00PM | In Person $52-92 | https://lesherartscenter.showare.com/eventperformances.asp?evt=1556
The third suggestion is to visit or order from a favorite local independent bookstore a marvelous new book by Oakland-based children's book author Mac Barnett, What Is Love? With uncluttered book design and warm-never-cloying gouache illustrations and hand lettering by Caldecott Honor artist Carson Ellis, Barnett captures the very nature of love. Be it fabled, fabulous, elusive, ephemeral, sought or realized, Barnett reminds us love is as simple as a single embrace. This is an eternal message for all generations. Bay Area boosterism bonus? Barnett's latest is published by Bay Area-based Chronicle Books.