Some dread it and some look forward to it year-round, but we all need a good plan for Valentine's Day — even if that plan includes no one else but yourself and a book and some delicious takeout dinner. This year's range of Bay Area events bring entertainment to the table for everyone, from partners in committed, long-term relationships to those of us who are chronically single and reject the holiday entirely.
If anything catches your eye, remember to bring your mask and be prepared to present proof of your COVID-19 vaccination status, as these events require all attendees to comply with local pandemic safety guidance.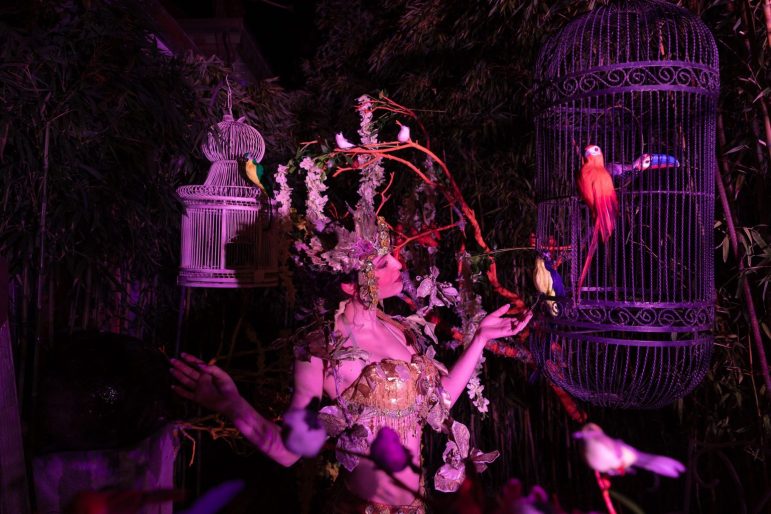 SF: "Dreams of Desire: Explore Your Sensuality"
Friday-Feb. 14: Described as a "visual orgasm," this immersive art show inspired by historical and mythological tales of love, sensuality and desire will feature music, dancing and a quest for the lost meaning of Valentine's Day. The Gregangelo Museum in San Francisco will be hosting the timed-ticket event Friday, Saturday and Feb. 11-14.
Read more about it and purchase your tickets, $65 apiece (though everyone is required to purchase an even number of tickets and, presumably, arrive in pairs) at https://www.gregangelomuseum.com/tours-sf-tickets-to-another-world.
Oakland: Eric Benét concert
Feb. 10-14: Yoshi's in Oakland will host four-time Grammy Award nominee Eric Benét for a weekend filled with soulful, authentic contemporary R&B music.
Benét will take the stage for two shows each day on Feb. 10-11 and 13-14. Tickets start at $54 and can be combined with a special prix fixe dinner reservation. Act fast, as some of his shows are already sold out. Find out more about the event at https://yoshis.com/.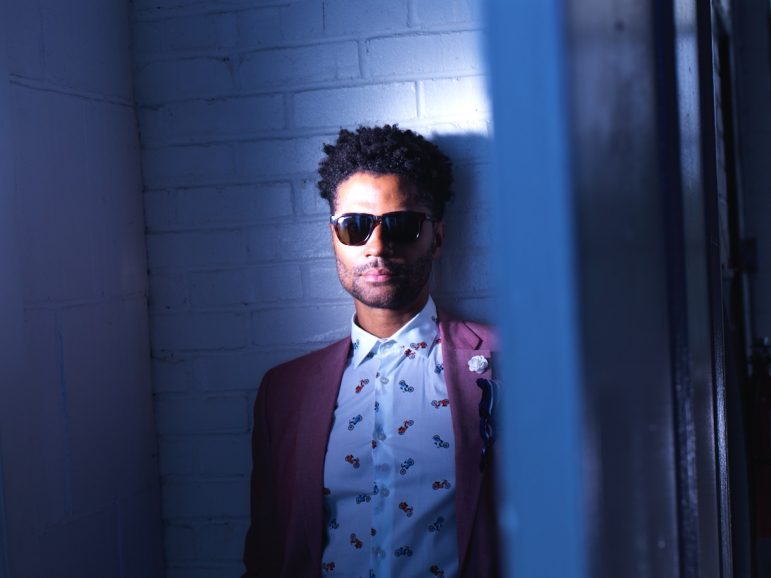 Oakland: Bay Area Latin Jazz Festival's St. Valentine's Day concert
Feb. 11: The California Ballroom will host a "celebration of love and friendship" on Feb. 11 in an event described as a classy dance concert reminiscent of Old San Juan's Casa de España concerts in the '70s and '80s.
A spinoff of the Bay Area Latin Jazz Festival that takes place in the summer, the concert will feature jazz vocalist Jessy Díaz, accompanied by four-time Grammy winner Oscar Hernández (band leader of Spanish Harlem Orchestra and Alma Libre), Edgardo & Candela and a special hard salsa ensemble led and directed by renowned pianist Israel "Izzy" Tanenbaum. Radio personality Luis Medina will be the show's DJ and emcee.
Learn more and reserve your tickets, $35-$45, at https://www.montunoproductions.com.
SF & Oakland: "Mortified"
Feb. 11-12: If you'd like to spend an evening watching grown adults telling stories about their lives by sharing their most mortifying childhood artifacts (diaries, letters, lyrics, poems, home movies) in front of total strangers, "Mortified Live" offers just that.
You can catch the Valentine's Day edition of this event at 7:30 p.m. Feb. 11 at DNA Lounge in San Francisco and 7:30 p.m. Feb. 12 at the New Parish in Oakland. See details and buy your advance ticket for $25 at https://getmortified.com/live/.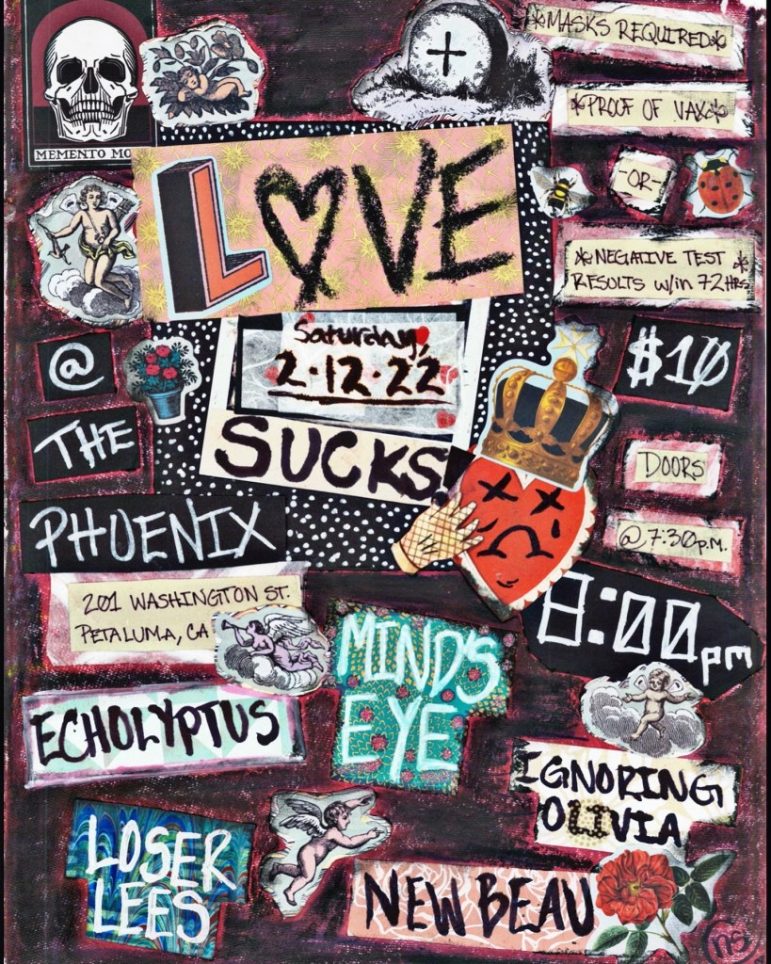 SF: "F*ck Valentine's Day Comedy Show"
Feb. 11-12: "F*ck Valentine's Day Comedy Show" returns to San Francisco after a hiatus last year.
The lineup will feature some of SF's top comics with credits like the Punch Line, Cobb's, SF Sketchfest, Tommy T's and more, talking about hilarious dating mishaps and some of their funniest Tinder horror stories while performing stand-up comedy routines.
Get your tickets, $10-$20, to attend one of the shows at 7 and 8:45 p.m. Feb. 11-12 at Neck of the Woods at https://www.eventbrite.com/e/fck-valentines-day-comedy-show-2022-tickets-90899182903.
Petaluma: "Love Sucks" concert
Feb. 12: The historic Phoenix Theater in Petaluma will be hosting "Love Sucks," a concert on Feb. 12, featuring local indie bands Ignoring Olivia, Mind's Eye, New Beau, Loser Lees and Echolyptus. Doors open at 7:30 p.m., and tickets go for $10 each. Learn more and reserve your tickets at https://www.thephoenixtheater.com/.
Oakland: "Valentine's Gay" concert
Feb. 12: For the second year in a row, "Valentine's Gay" is bringing some East Bay queer punk bands and musicians together on Valentine's weekend for an outdoor concert. Featuring The Homobiles, Middle-Aged Queers, Lolly Gaggers and Erik Core, the show will run through the evening on Feb. 12, between 6-10 p.m.
Attendees are expected to donate on a sliding scale in place of tickets. Find out more about the concert at https://www.facebook.com/events/346695300427342/.
SF: "Valentine's With Colman Domingo"
Feb. 14: The Magic Theatre Company will host a "live and in-person" conversation with acclaimed actor Colman Domingo, who currently guest-stars as Ali on HBO's hit show "Euphoria." Domingo started his professional acting and writing career in San Francisco soon after graduating from Temple University in his home state Pennsylvania, and he is returning to discuss his journey with his longtime friend and collaborator, the Magic Theatre's Sean San José. The event is set to take place at 8 p.m. Feb. 14 at A.C.T.'s Strand Theater in San Francisco. For tickets, starting at $80, and more information, visit http://magictheatre.org.