Changing Souls, Changing Lives, Creating Community | Hope and action and how to persevere in difficult times
The City of Piedmont and the Piedmont Anti-Racism and Diversity Committee (PADC) celebrated the life and work of Martin Luther King Jr. with an online event on Jan. 17 that focused on the theme of community, hope, and the call to action.
Asking Piedmonters to reflect on the hard work that continues to be needed to create and sustain community, the event invoked the words of Dr. King:
"Our goal is to create a beloved community and this will require a qualitative change in our souls as well as a quantitative change in our lives."

Dr. Martin Luther King, Jr.
The event opened with welcoming remarks from PADC co-president Jennifer Long, followed by a prayer and acknowledgement of Native Land by Vince Redhouse. A Native flutist, Redhouse's poignant rendition of Amazing Grace set the tone for the event which honored King's legacy of activism, his humanity and his call to continue the struggle even through dark times.
Event founder Lois Corrin, a 35-year resident and special education teacher for Piedmont schools, met King when she was 7 years old. Her father and King were college classmates and members of the debate team. Corrin served as emcee for the Zoom event along with her daughter Camille Lafayette, a PHS alum and 2021 graduation speaker.
Remarks by Mayor Teddy King, US Representative Barbara Lee, and State Assemblymember Buffy Wicks all sounded notes of encouragement for somber times, urging participants not to lose faith even as voting rights are under siege, inequity feels ever more present, and battles feel like they are being lost, not won. Even though it "is an uncertain time in communities…it is not a time for hopelessness. Change comes from continuous struggle," said Lee, and we must persevere.
Mayor King wondered, what would Dr. King say if surveying the world today and was asked: "Have we lost our way?" Underscoring the importance of hope, she reminded the audience that the day's remembrance "is not about what has NOT been done, but about what CAN be done." Assemblymember Wicks picked up the thread and the call to action that Dr. King would have advocated: "It is incumbent on all of us to bend that arc [of justice.]"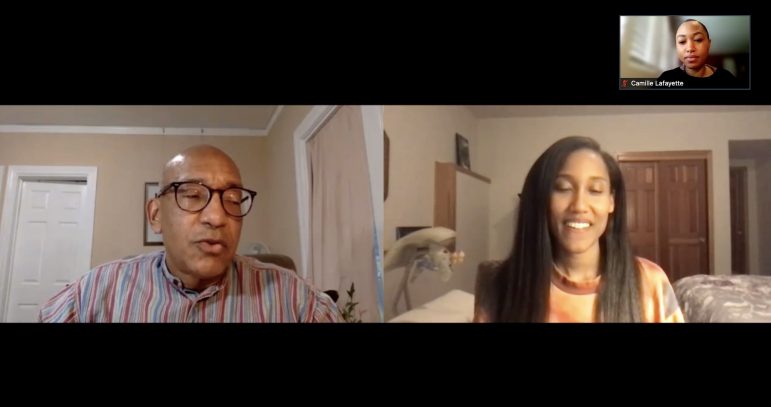 Richard Turner of PADC joined the program as interviewer of featured guest Anna Malaika Tubbs, author of The Three Mothers. Citing her original research and work on the life of his mother Alberta King, Tubbs urged us to see Dr. King, the activist and icon, through a different lens — a man who was human, who made mistakes, who had to grow and develop into the leader of a movement. He wasn't born that way — he was nurtured by the woman who birthed him. Tubbs' book also focuses on Louise Little and Berdis Baldwin, the mothers of Malcom X and James Baldwin. "For too long, Black women have held this country on their shoulders. And they have been unnamed." She asked listeners to remember that Dr. King didn't exist on his own, but that he was rooted in his past and community.
Dr. Clayborne Carson, who serves as the director of the Martin Luther King Jr. Research and Education Institute, was interviewed by UC Berkeley professor David Thigpen*. "Where do we go from here? What can a small community like Piedmont do?" Thigpen asked. Carson reminded listeners of all the small steps, the local work that took place before the seminal March on Washington. He echoed Tubbs' notion that Dr. King and his big, bold actions didn't emerge out of vapor, fully formed. They were the result of hard, radical, disruptive work that made the world uncomfortable. Everyone may celebrate him now, he said, but MLK was not celebrated by the broader community at the time.

In considering the way forward, Carson offered a hopeful reflection: that we need to be reminded of what we already know, what our parents taught us — that there's a better side of ourselves that we need to embrace if we all want to live together in harmony.
Performances of Rise Up and Let There Be Peace on Earth by the Oakland Interfaith Youth Choir sounded notes of hope, and a slide show of artwork accompanied by spoken poetry by PUSD students served as poignant reminders of our responsibility to embrace and care for everyone in our community.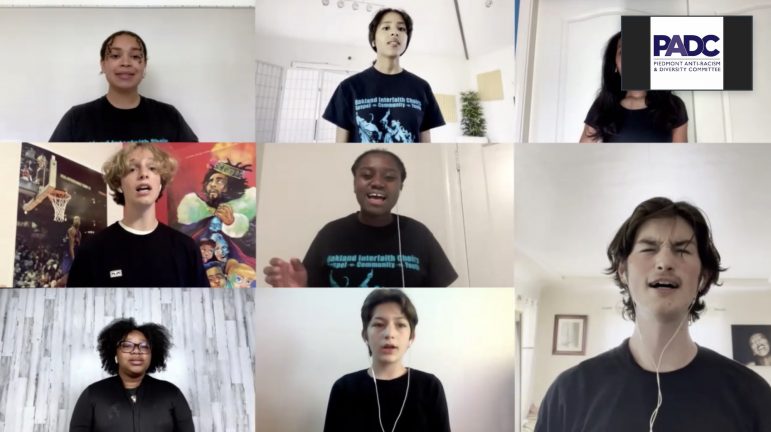 The event concluded with a call to action by Sheila Leunig, PADC co-president. Leunig quoted from the recently deceased author bell hooks:
"If we want a beloved community, we must stand for justice, have recognition for difference without attaching difference to privilege."

bell hooks — author, educator and activist
---
*Thigpen is an editorial advisor to the Exedra.