At the Wednesday, Jan. 12 Board of Education meeting, Superintendent Randy Booker announced that the district was planning to start offering weekly PCR testing for all students and staff soon. More information will be shared with the community next week, per PUSD.
Currently PUSD offers appointment-only "clearance to return" rapid antigen tests for symptomatic and post-symptomatic students and staff every school day. Booker told the school board that the district had enough PCR tests already on hand from its own supply (and an expectation of more to come from the Alameda County Office of Education) to make this new effort feasible.
From Dec. 17, 2021 – Jan. 10, 2022, the district was notified of roughly 228 cases of COVID-19 within the school community, according to emails sent to families, posted on the PUSD website, and noted in the Wednesday board meeting. The majority of these 228 cases – roughly 190 – were reported to the district before students and staff returned to school on Jan. 5, 2022.
The district distributed roughly 2,600 kits prior to the winter break, each containing two tests for asymptomatic students and school staff to self-test prior to returning to school in January. The district says these tests helped identify many of the 190 cases reported to the district before a return to class.
Booker also reiterated points made in emails to families earlier in the week, namely that there is no plan to close schools through this latest surge. "We've been able to do that through the support of the entire community," he said. With an "all hands on deck" approach, the schools have remained in session through testing, requiring N95 or KN95 masks for educators (1/11 – 1/21), and contingency staffing plans to meet the challenges of the current surge.
"All of our administrators – everyone has been working overtime," Booker said, while noting the exceptional role the district nurses and health clerks have played in keeping schools open. There is no N95 or KN95 mask mandate for students; however, they are recommended. (Editor's note: Per the San Francisco Chronicle on Jan. 14 — "The U.S. Centers for Disease Control and Prevention updated masking guidance on its website for the first time since October to state that loosely woven cloth masks provide the "least protection" and N95 respirators are most effective against the strain. Bay Area health departments have been pushing people to start using higher-quality masks like N95, KN95 and FF94 respirators for several weeks.")
Isolation revisions
Reflecting new state and county guidance over the break, the district now says that students and staff who test positive for COVID-19 are required to stay home for a minimum of five days. If no symptoms are present or symptoms are resolving, the district will offer to administer a rapid antigen test on or after day six. If negative on or after day six, the student may return to school the same day.
This COVID-19 testing for students is by appointment only and scheduled by the site health clerks. (Staff do not need to make appointments.)
PUSD vaccination rate exceeds 95%
PUSD was one of the first districts in the state to issue a vaccine mandate for all students and staff last fall. Booker shared the following vaccination numbers with the board: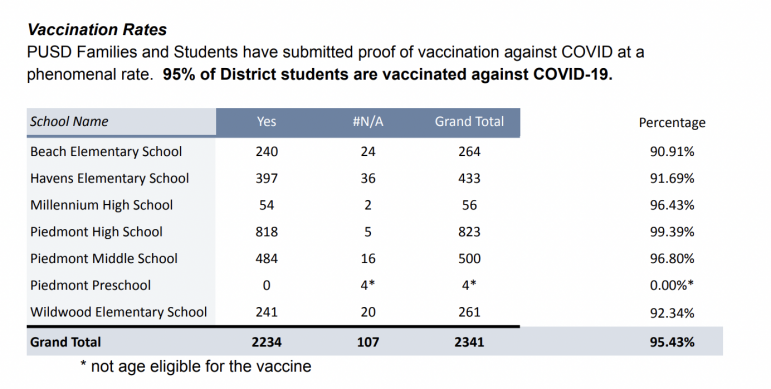 Now hiring: Health clerks and substitute teachers
With funding support from the city, the district is looking to hire two additional health clerks to assist with COVID-19 testing, to make the schools as safe as possible and avoid unnecessary absences. If anyone in the community is interested, please contact Kim Randlett at KRandlett@piedmont.k12.ca.us. No experience necessary.
PUSD continues to need substitute teachers. If you are willing to be a substitute teacher or substitute aide, please contact Kim Randlett at krandlett@piedmont.k12.ca.us. New rules make it easier to sign up.
Recognition for School Board members
PUSD joined more than 1,000 local educational agencies around the state in recognizing the contributions of schooll board members during School Board Recognition Month.
"Our Board members serve as a vital link between the school district and the Piedmont community," said PUSD Superintendent, Randall Booker. "In these challenging times, we appreciate the Board's efforts to maintain the vision for our district, while working to provide resources where needed to students and staff to protect in-person instruction, and to reach our goals of student achievement."
PUSD Board members are:
Cory Smegal – President
Megan Pillsbury – Vice President
Veronica Anderson Thigpen
Hilary Cooper
Amal Smith
Superintendent Booker read a proclamation honoring PUSD Board members for their contributions to the district.
"Please join me in saluting our hard-working Board members for their support of our students and continuing advocacy for more resources at the state level," Booker said.