The pandemic has not held back painter Valerie Corvin who draws from nature to create her signature abstract style.
Modeling the dexterity and fluidity she seeks to express in her abstract paintings, Piedmont-based artist Valerie Corvin jumps into the new year with three upcoming exhibitions. A solo exhibition opens Jan. 9 at the Wilder housing development in Orinda and is followed Jan. 15 by an exhibit on the 5th floor of the UCSF Women's Health Center on Sutter Street in San Francisco. Corvin is then the featured artist for one month beginning in March at an online exhibit with Fusion Gallery.
Corvin is one of the founders of the Piedmont Center for the Arts and serves as a trustee on the Board of Directors at the Oakland Museum of California. She holds a Masters in Museum Administration and worked as a museum educator for the San Francisco Museum of Modern Art while raising her three children. Her artwork is notable for its organic shapes, colors and energy drawn from nature, and visceral, gestural brushwork and markings.
In a phone interview, she likens painting to dancing. "People often refer to my work as lyrical. The rhythms come from the movements I make with my body as I paint; almost like dancing, which I love. It translates into the artwork."
Corvin likes to move not only in front of a canvas, but in the outdoors. Hiking in Bay Area Redwood regional parks or on trails near her home and in Lamorinda, she often looks at the ground — except for the times when clouds or a misty fog pulls her eye skyward. "I tend to look down because I like to see patterns of rocks, of erosion, organic shapes. A lot of my work feels like it is seen from an aerial view, as if you are looking down from an airplane."
The exhibit at the Wilder Gallery, located in the art and garden center, is a one-at-a-time viewing opportunity. Corvin says it is a small space, a slender corridor she says is ideal and safe during the Omnicron surge because only one person at a time can see it and doors will be open to the outdoors. "Fully masked, I will be at the opening reception. The Wilder Gallery is in the back of the development, past all the sports fields." She plans to leave a trail of balloons to guide visitors from the entrance to the gallery that has free parking spaces, with a stairway up to the building.
Corvin decided the Wilder exhibit offered opportunity to show her most recent work that ranges in size from large 48×48-inch paintings to slightly smaller 30×40-inch paintings from the series Whispers of the Heart. "They're more expressive of my own vocabulary and style. My marks are gaining boldness; the energy and sense of play and movement put into it means the marks might be longer, or I twist my hand more as I make them."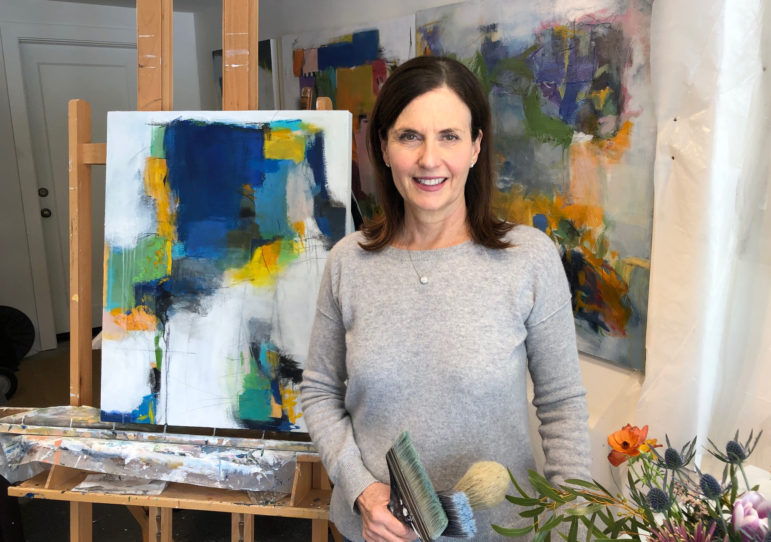 Curation of the artwork at UCSF Women's Health Center has been granted to San Francisco Women's Artist Gallery, an artists member collective and nonprofit arts organization founded in 1887. The building has multiple floors; Corvin's work will be on display for five months. She chose colorful, uplifting paintings for the health center showcase.
"The third show with Fusion, which is online entirely, allows me to show current work to a large audience," she says. "The gallery just moved to New Mexico from Palm Springs, so I'm excited to be starting and reaching new audiences. We artists are blessed that so much has popped up in terms of art shows online. It's lovely to feel people are seeing it and I don't have to send artwork around the country at great cost. The future of galleries? Who knows what will happen longterm, but artists are getting out there and promoting themselves. There are lots of opportunities to join cooperatives and work together to seek out what we can do during the ongoing pandemic and even afterwards."
Corvin says in the new year she'll continue to work toward looseness overall and gaining more expressivity in lines and shapes in her artwork. She is continuing to hone abstract drawing skills in online courses and has enrolled in a workshop with Steven Aimone, an artist based on the East Coast. "I've wanted to take classes from him for years but the travel and other expenses were obstacles. He's finally doing classes online so I'm thrilled to be studying with him."
Asked about the Piedmont art scene, Corvin is enthusiastic and says, "A year-and-a-half ago I was one of the originators of the Piedmont Art Walk. It was a huge success, we had 20 artists and nearly 500 people, And that was in the first year in June 2020 when we didn't even have vaccines yet. We did it again in May of 2021 and had 40 artists and an estimated 1,000 people. I'm hoping we'll do it again. It's so rewarding to see neighbors and acquaintances, meet new people, talk about art. Who knew we had 40 artists around town? It was a broad range of artists working in different mediums and it was safe, exciting and fun."
Learn more at www.valeriecorvin.com