Piedmont High School football coach Jerome Johnson has been fired after three seasons in charge of the program. The Highlanders, who struggled in the fall of 2021 due to low player numbers, finished 2-7. That came after a 5-0 record in the spring of 2021 during the shortened and delayed 2020-21 season.
Johnson finished with a 10-14 record in his three seasons.
"They didn't renew my contract, but there's a lot more to it," Johnson said, declining to go into detail. He added that he is considering his options.
Bradley Smet, the Piedmont Unified athletic director, confirmed the school's decision.
"There's not really much we can say on personnel matters," Smet said.
Smet also said the district has not yet advertised for a new varsity coach; in the past, most hires have been made in March. Smet declined to give a timetable for a new hire.
The decision to fire Johnson was made on Dec. 3, but several parents of football players said they were not informed until later. An email dated Dec. 20 was shared with the Exedra announcing the change, but with no explanation for the notification delay. Other parents said they didn't receive the information until a few days before an online parent meeting held on Jan. 10.
The decision to replace Johnson upset some parents.
"I have two sons – Evan and Ryan – who were coached by him [Johnson]," Mike McConathy said. "He's a great coach and I was shocked and sorry to see him let go. There is no way that [varsity] team would have held together this year without him."
The Jan. 10 parent meeting covered topics including whether there will be a varsity team in the fall of 2022. The Highlanders started the fall 2021 season with 17 players, with a few more added during the year. Johnson commented several times after games that the team started well, but wore down over the course of games because most players had to play both offense and defense, with few available substitutes. The JV team ended the fall season with 22 players.
Three options were presented as part of the agenda for the parent meeting: continuing with varsity and junior varsity teams in 2022; dropping varsity and only playing junior varsity; dropping junior varsity and only playing varsity. Multiple varsity parents said they were blindsided by the idea that dropping varsity football was an option. Many upperclassmen wrote a letter to the Exedra on Jan. 14 indicating their desire to continue the varsity program and be involved in the decision-making process going forward.
Smet said he does not currently expect to drop either of the football teams. "My goal is to not drop any programs at Piedmont High School," he said.
The parent meeting also exposed a rift between some of the parents of varsity players and some of the parents of junior varsity players, which apparently traced at least in part from Johnson's decision to bring junior varsity quarterback Markos Lagios up to the varsity team for the season finale against Mt. Eden.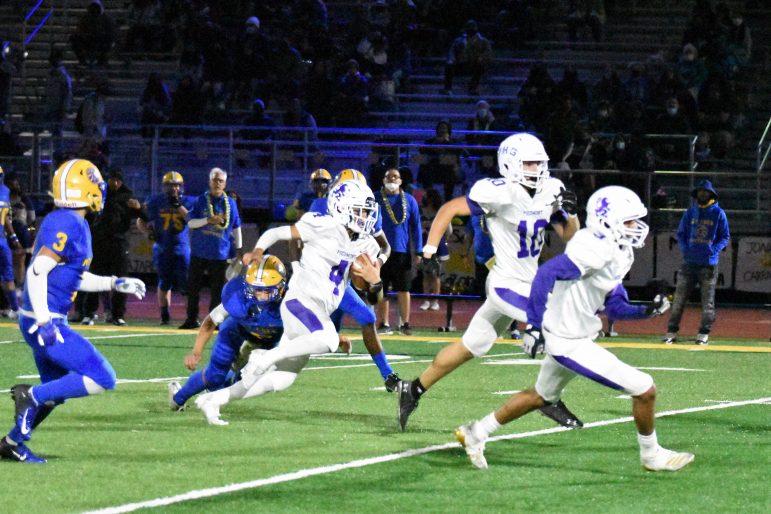 Lagios, a freshman, rushed for 93 yards on 16 carries in a 35-0 loss to the Monarchs. He also completed eight of 16 passes for 74 yards with an interception and no touchdowns.
Smet said that Lagios playing a game for the varsity did not factor into the decision to terminate Johnson.
Markos's father John Lagios said Johnson worked with the family before bringing his son up to varsity.
"Coach Johnson talked to us," John Lagios said. "He said what he wanted him [Markos] to do. My wife and I didn't have any issues with it. We supported it. My son really wanted it. It was a reward for his hard work and his maturity. They wanted him to get a little experience, see what the game-speed is like on varsity, the physicality. He did well. He met the challenge and he held his own."
John Lagios said he felt "kicked in the stomach" when he found out Johnson was fired.
"My dealings with him were extremely positive," Lagios said. "I was actually pleasantly surprised with how positive he was. With him calling me and my wife, and overhearing a conversation he was having with my son. I was very pleased with the conversations they would have that I was privy to. Whether it was strategy or life lessons. It was very encouraging. I was like, 'This guy cares.' Everything he said he would do, he did."
High school teams bring underclassmen up to varsity as a matter of course every year. For instance, national football power De La Salle-Concord calls up several freshmen and sophomores for late season games and playoffs every year. So do much smaller schools.
The California Interscholastic Federation (CIF) allows 15-year olds to play varsity without restrictions. For a 14-year old, parental permission, a statement from the head coach that the player has the "physical and mental maturity to compete at the varsity level," and a statement of compliance by the principal are required. Markos Lagios was 15 when he was called up to varsity.
During the meeting, some parents also suggested that safety issues connected to sophomores and freshmen playing varsity were a concern.
Roderick Alemania, the parent of a junior varsity player, spoke extensively at the Jan. 10 meeting but did not want to comment to the Exedra on anything specific.
"This should be solved with the administration and not in the papers," he said.
Another JV parent, Michelle McGilloway, said she believes the school administration hasn't been forthcoming.
"I just want to make sure that the players are moving up for the right reasons," she said. "But Markos has told the kids it was so fun [playing on the varsity team]."
"I'm of both sides," McGilloway added. "I don't want my son to get hurt, but I don't want to stand in the way if he's a valuable player. Do we focus on one of the teams? Can we do both? A lot of that wasn't answered. Varsity parents were upset. JV parents were saying, 'We're not here to save your team.' I think there isn't enough information coming from the superintendent on down."
Some schools have dropped varsity football programs temporarily over the years, but normally that decision is made in August or shortly into the season. Some high schools in the area have also eliminated football programs, while some nearby charter schools don't offer football.
Mission-San Francisco dropped its varsity football team three games into the 2009 season, due in part to low numbers of players. Football returned the next season, and the Bears played in a CIF state bowl game in 2015. Novato was planning to drop its varsity team in 2017 before a last-minute surge of players saved the season. Southwest-San Diego dropped its varsity program this past fall, with plans to bring it back in 2022.
Marshall-San Francisco and Mission San Jose-Fremont both permanently dropped football, Marshall after the 2013 season and Mission San Jose after the 2015 season.
In a follow-up email sent to families after the parent meeting and shared with the Exedra, Smet said a lunchtime event and student survey about fall sports is planned for next Wednesday, Jan. 19.
"This should give us a very good idea around the number of students that may be interested in participating in football next year," Smet wrote. "Once we have these results I will share them as well."
It was suggested at the parent meeting that Piedmont should look to recruit more players for the varsity team from schools that don't offer football. That isn't allowed, according to North Coast Section (NCS) Commissioner Pat Cruickshank.
"Students can only compete at their school of enrollment," Cruickshank said. "The caveat is that some schools have multi-school agreements, but they have to be with non-CIF membership schools."
That means schools that don't offer sanctioned sports at all.
Millennium High School is a non-CIF membership school, and PHS has such a multi-school agreement with Millennium. A student could transfer into Millennium or PHS from a school that doesn't offer football, but transfer rules prevent students from transferring solely for athletic reasons.