"One of the most powerful things we can do as parents, leaders, and human beings is to tap into the power of appreciation and gratitude."

Mike Robbins, author, consultant and noted authority on teamwork, leadership, and emotional intelligence
During a conversation in the early 2000s with author and motivational speaker Mike Robbins, the then-Concord resident confessed to an adoration for "corny, kitchy, boisterously American" symbolism. He spoke of spectacles like that city's Singing Flag event that features a costumed human choir belting out The Star Spangled Banner or the everyday sight of kids he sees tossing baseballs in backyards in Piedmont and other locations around the Bay Area.
Robbins appears Jan. 25 as the first headliner of 2022 in the Piedmont Education Foundation Speaker Series. He is the author of five books: Focus on the Good Stuff, Be Yourself; Everyone Else is Already Taken, Nothing Changes Until You Do, Bring Your Whole Self to Work, and his newest book released in 2020, We're All in This Together: Creating a Team Culture of High Performance, Trust, and Belonging.
Robbins emphasizes positivity in his books, keynote appearances, and consulting as an expert in teamwork, leadership, and emotional intelligence for large corporations such as Google, Charles Schwab and Microsoft. During a childhood that included his parent's divorce, his father's long absences, his mother teaching him how to play baseball — which led to his pursuit of a pro baseball career while at Stanford University and going pro with the Kansas City Royals — Robbins developed a resiliency that continues to serve his life and work. As a parent, showing up for his kids who at that time were toddlers, was paramount. As a writer and public speaker, encouraging companies, teams, communities, parents and other individuals to focus on high performance, trust, compassion and inclusion is central.
His latest book, We're All In This Together, establishes four pillars that ring with uncanny relevance during the pandemic and the ongoing instability due to variants of the virus. Successful teams, families, and individuals, he posits, create psychological safety, focus on inclusion and belonging, embrace sweaty palm conversations, and care about and challenge each other. The book introduces techniques, exercises and practices to create a desirable culture in any environment; be it a home, workplace, schools, targeted community or broader society.
The PEF website says, "One of the most powerful things we can do as parents, leaders, and human beings is to tap into the power of appreciation and gratitude. In this interactive program, Mike will teach you some specific techniques for bringing more gratitude and appreciation in your relationships, family, teams, and life, even when things are challenging."
Life is difficult as the Omicron variant spikes and the already disruptive stress of preserving public health during a pandemic, parenting in the 21st century and, for students, the complexity of school and navigating social media combine to present increasing challenges. Which means Robbins' message and tools for countering the negative forces with action and positivity arrive at a most precipitous moment for Piedmont families and individuals.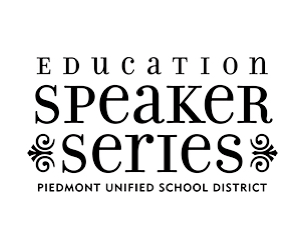 Check for updates at https://www.piedmontedfoundation.org/ and for tickets, visit PiedmontStore.org