If there's still a drought in California, word didn't reach Mitchell Canyon.
One of the Bay Area's best seasonal hikes is in full bloom — and flow — right now, mid-January 2022, in the middle of a feast-or-famine storm season. The Falls Trail Loop is 7.6 miles — 9.5 if you take a wrong turn like we did — and has a high point of 1,637 feet, a 1,063-foot climb (without the bonus miles).
It may have felt higher, according to some very unscientific readings taken from the lungs of two middle-aged guys.
The pain was worth it. Even with the wrong-right-turn-induced additional mileage and lack of sun, it was a stunningly gorgeous six hours on the mountain, a perfect treat for the overcivilized with not only lush beauty, but also of wonderful addition by (noise) subtraction.
The storms are coming few and far between this season. But when they do strike, torrential downpours open the floodgates on Mount Diablo's northern slope, down into Mitchell Canyon (and, by extension, Donner Canyon), west of Marsh Creek and southwest of Clayton.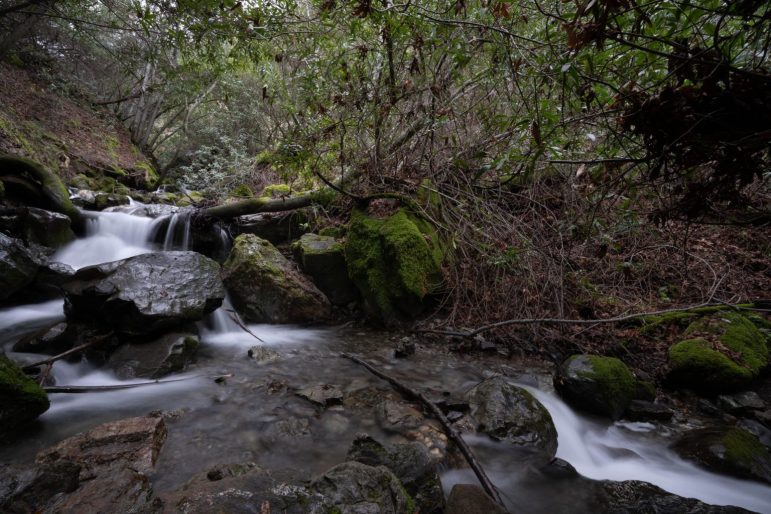 Now is really the time to go. The landscape has turned rolling emerald up and down the mountain, and — far enough not to hear Contra Costa freeways (or anything but occasional birdsong) — the busy rush of falling water is the main audio source, drifting up to the trails spiderwebbed around Falls Trail Loop.
The only other sound is a practical reminder: the squish of boots sinking into trail mud, requiring footwear meant to keep humans from plunging down hills. You'll need a second pair once you get back to the parking lot as well, to avoid smearing 10 pounds of leftover mud around floorboards.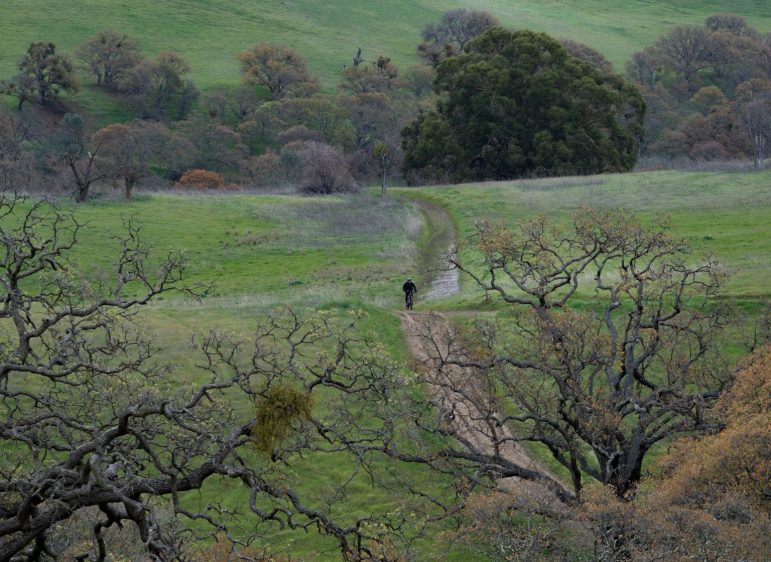 This hike came between rains, overcast with enough fog to mask the mountaintop, but at a level allowing hikers to go above and below the fog line multiple times, on the 7.6-mile loop (if you pay attention to the map).
Having a map is key, and there are choices in a box at the main trailhead (which quickly becomes multiple trailheads). From the end of Mitchell Canyon Road, the mountain looks massive, but accessible. You hear the rushing water once you're outside the vehicle, a wonderful sound after so many bad fire seasons.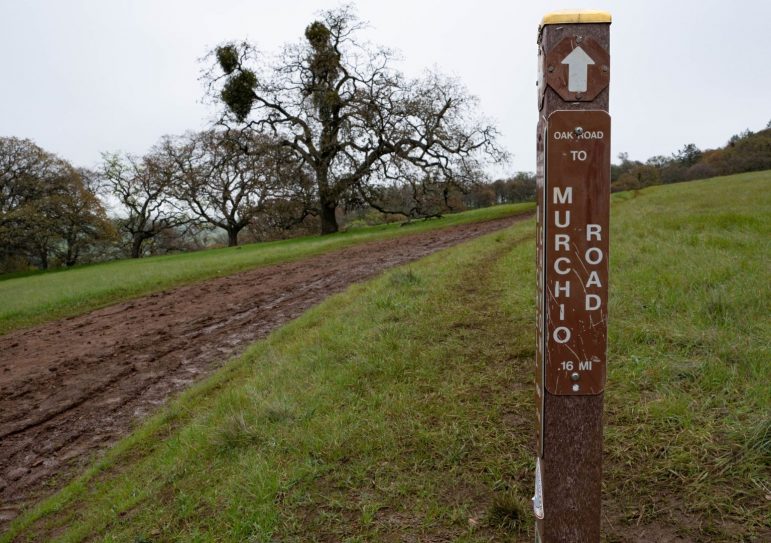 We wanted water, and it took about a mile to get it (if you don't count the ponds and puddles), moving east along Murchio Road, with big views of the mountain. Near a tree that looks dramatically split by lightning, we hit Donner Creek, meandering along a slight rise with a few minor water drops-offs, of which you'll spend too much time taking pictures. They won't be the ones you show off later.
After crossing the creek a few times (if you stay with the creek; there are other options) the terrain skews vertical, then the "loop" section starts. This is about the time you start reminding yourself you have a gym membership and are only breathing heavy because the views are so breathtaking.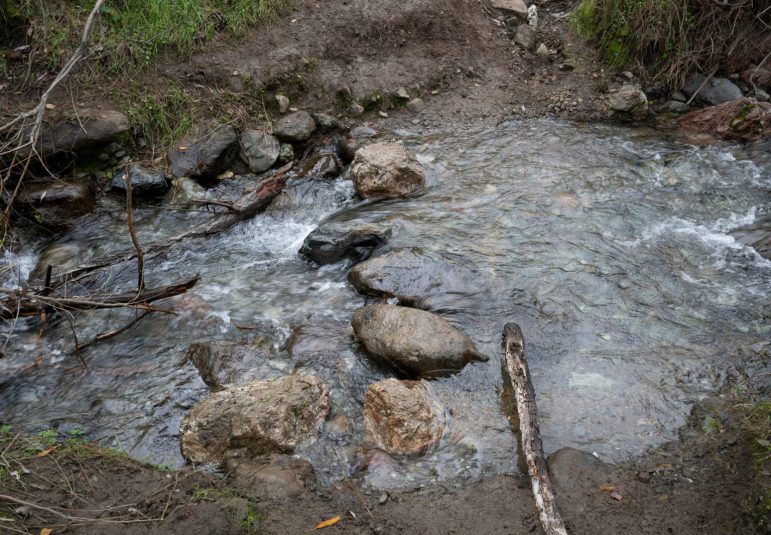 They are … and while you may be in decent shape, a mountain is no easy match.
The real action comes over the next couple miles — a rise of about 800 feet, much of which you'll only hear water. When it flows back into view, it can do so dramatically. The best example is when the trail suddenly opens to wide, rocky rapids, rolling but not necessarily freefalling, down 20 feet of elevation. The sound is as magnetic as the sight; right now, there's enough water traveling through to mimic a small jet engine, creating a bit of breeze.
There's enough spray in the air to dampen the map. Which, no doubt, was why my photographer friend and I took a wrong turn around then. Instead of heading all the way up and finishing the loop, we cut across Cardinet Oaks Road and eventually zigged west, when we could've zagged north and continued down the loop.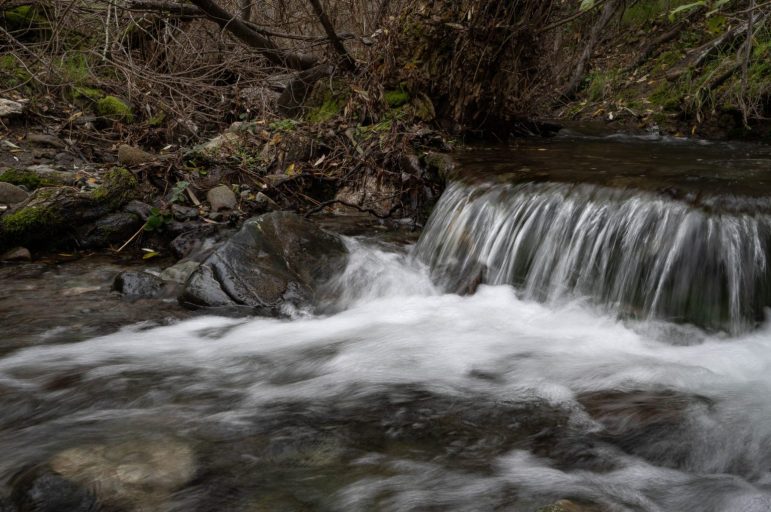 Oh well. There was still plenty of scenery in which to soak. Perhaps too much, as we occasionally got a bit nervous trying to figure out our location. There are trail markers and, even when semi-lost, it wasn't too difficult determining the correct direction. My friend once said they could always send a search party for us, to which I remembered I forgot my flare gun. Maybe next time … or we can just keep the map dry and pay better attention.
We marched west, up and down single-track trails, all the way to Back Creek Road, where we turned north and following a small stream with four of five crossings (bring extra socks). After plenty of single-track mileage, surrounded by lush Northern California overgrowth, we reached the open area over which we started. Just in time for my legs and back to begin screaming about not signing up for nearly 10 miles. They didn't even know they were doing 7.6 until we got there.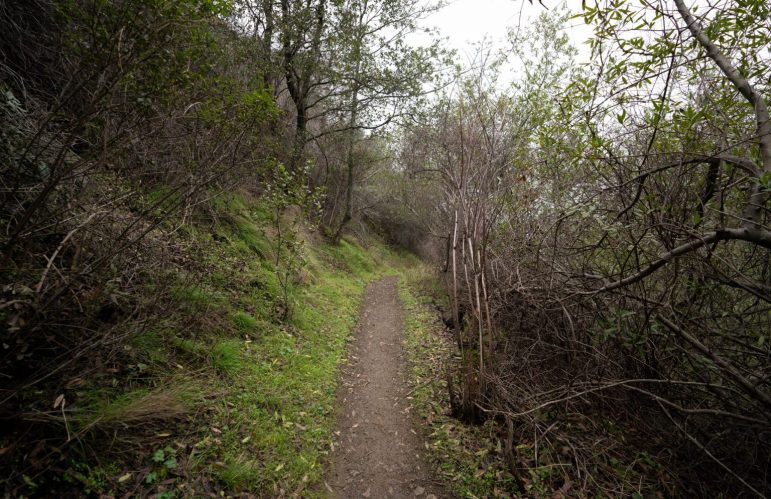 The late afternoon sky was darkening, and a few sprinkles started by the time we got into the truck. The mountain was beginning to resupply for the weekend's waterfall hikers. As long as that cycle keeps repeating, we could have Diablo waterfalls into spring. It's not Yosemite, but it's not as far, and you don't need to pay for reservations.