The number of COVID-19 cases in Piedmont rose again slightly this week, to 294 from 292 the prior week, according to county health data.

After a brief period of "moderate" community transmission over a 21-day period, the county also saw numbers increase to the "substantial" level again as of Dec. 5.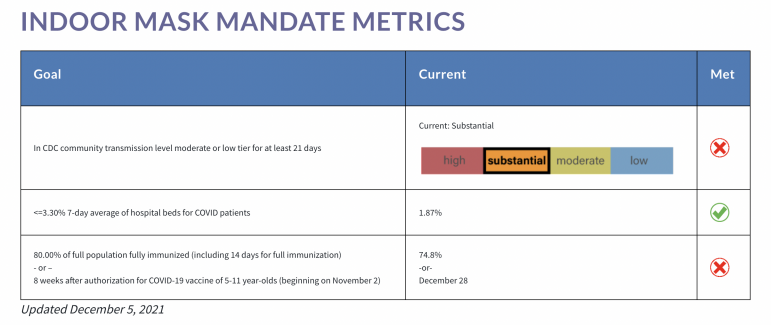 All eyes are now on the new omicron variant, first reported in the U.S. in a San Francisco man last week. Within days of that case, omicron emerged in Alameda County, with five cases reported among 12 infections in a group of residents who traveled to a wedding in Wisconsin on Nov. 27, according to the San Francisco Chronicle.
This week medical experts remained cautiously hopeful that omicron causes milder infections, even as a preliminary laboratory study from South Africa showed that antibodies produced in people who've received the PfizerBioNTech vaccine are less effective against the new variant. From the Washington Post:
In a preprint paper not yet peer-reviewed, scientists in South Africa reported a large, 41-fold drop in antibodies' virus-blocking ability — "much more extensive escape" than seen against previous variants using similar experiments. But the scientists stressed the positive element of their research: Omicron did not escape antibodies completely, and people who had been previously infected and fully vaccinated with two shots of the vaccine retained "relatively high" levels of antibodies protective against omicron.
"Previous infection, followed by vaccination or booster is likely to increase the neutralization level and likely confer protection from severe disease in Omicron infection," the study said.
PfizerBioNTech CEO Albert Bourla told a Wall Street Journal conference on Tuesday that the company could have a vaccine that addresses omicron by March.
Still, public officials are exercising caution. In NYC, a vaccine mandate for private businesses, the "most far-reaching in the country," goes into effect Dec. 27, the New York Times reported.
Closer to home, Contra Costa County supervisors pushed back on reports the health department is not enforcing health mandate fines and other action against noncompliant businesses.
"If they see that those establishments that are not complying are not facing some type of consequence, they then raise the issue and say 'Hey, I'm working really hard. I support this. Why aren't those restaurants or those facilities that are not complying receiving consequences?'" Supervisor John Gioia said in a meeting Tuesday.
Supervisors want health officials to provide a list and timeline of plan of action by next week.
The omicron variant hasn't officially reached Contra Costa County.