Piedmont High School boys basketball coach Ben Spencer is taking a temporary break from coaching to help take care of his recently born son, Jordan Bayley Spencer.
Spencer announced his decision on Dec. 18. Assistants Jason Harris and Shamaree Worley will run the team in his absence.
Spencer is in his third year as head coach of the Highlanders, and has a record of 39-17 through Dec. 17. Piedmont won the North Coast Section Division 4 championship in his first season in 2019-20, when the Highlanders went 24-6. The NCS title was the first in school history.
Prior to being named varsity coach, Spencer spent five years in the program, including as coach of the junior varsity.
In Spencer's final game before his announcement, Piedmont lost at home to Encinal, 64-60, on Dec. 17. A.J. Harris scored 35 points and Adhi Bornstein added 10, but it wasn't enough to hold off the Jets. Only five Highlanders scored in the game, which was filled with wild swings back and forth.
"I think the elephant in the room is we're not that good right now," Spencer said after the loss to Encinal.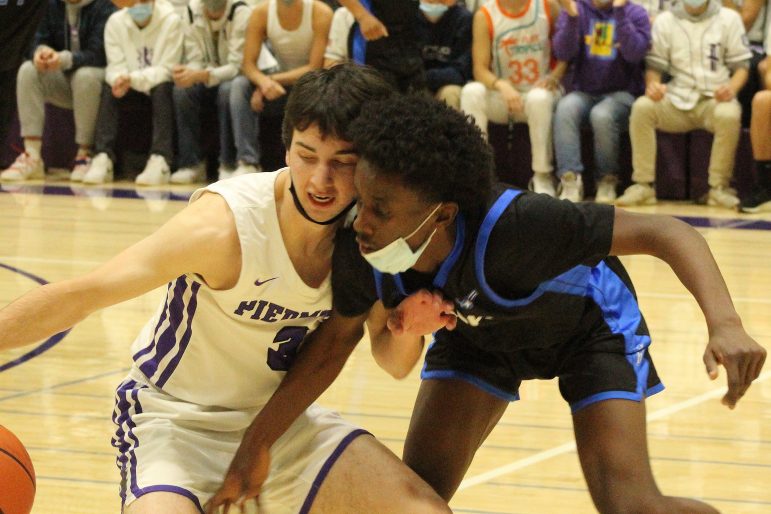 Senior guard Jojo Murphy continued to sit out with an injury – he injured his ankle in a preseason scrimmage, but played Piedmont's first five games. He is expected back soon.
"Without Jojo, we're a completely different team," Spencer said. "We're asking five guys who are role players, we're asking some of them to step up and sort of be stars. I think in the long term, this is going to make us better. When Jojo comes back healthy, with Jojo, A.J., I think everybody with the playing time they're getting right now makes us a lot better team. Guys are getting minutes that wouldn't have gotten this many."
On Dec. 18, Antonio Rivera and Bornstein joined Murphy on the bench with injuries. The result was a 66-50 loss at home to Oakland. The loss dropped the Highlanders to 4-7 on the season.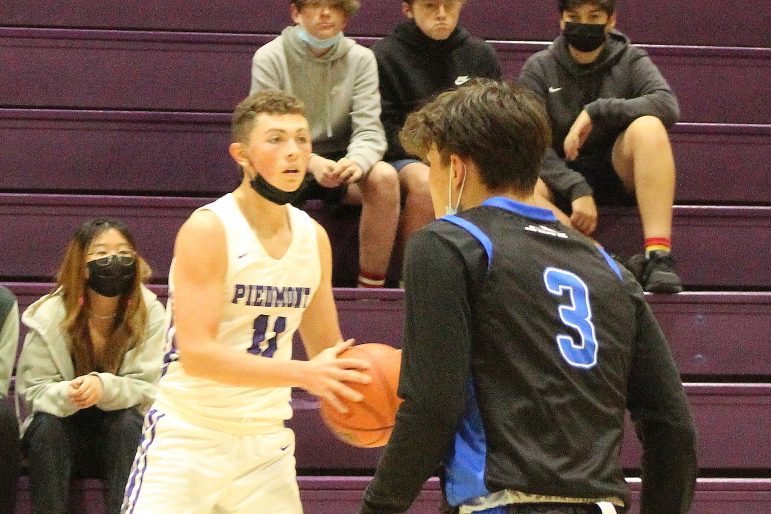 "We were really shorthanded and ran out of gas," coach Jason Harris said.
The loss to Encinal could be a big one – both teams are Division 3 in the NCS this year and Piedmont is now 0-1 against teams in its division. That record could be used for playoff seeding..
Bornstein opened the Encinal game with a 3-pointer, but the Jets then scored 14 points in a row. Piedmont used the 3-pointer to rally into the lead, taking a 33-21 advantage at halftime. A.J. Harris had four 3-pointers and 17 points in the first half. Theo Evans came off the bench to hit a pair of 3-pointers in the second quarter.
However, Encinal rallied back and caught the Highlanders early in the fourth quarter. The Jets pushed the lead to 10 points late in the game before Piedmont fought back in the final minutes.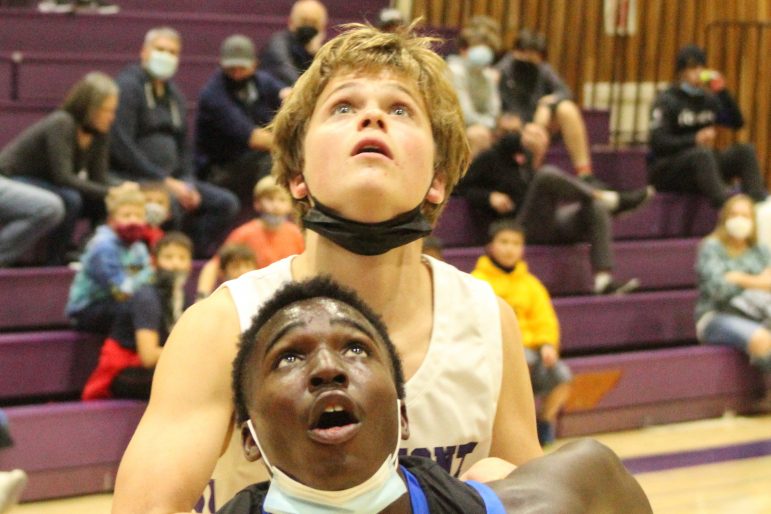 Jacob Baca scored 13 of his 20 points in the fourth quarter for Encinal. He was barking at the Piedmont student section after a couple of huge shots.
Quintin Rainey had 17 points for the Jets, and Diego Cerna had 11.
Against Oakland, A.J. Harris had 18 points for Piedmont and Justice Hartford had 12. Brit Burden added nine.
Te'Shawn Gamble led the Wildcats with 18 while Joshua Clark had 12 and Jovon Thomas 11. Oakland is now 10-0 on the season.
Photos by Damin Esper