With in-store holiday shopping gradually moving forward, there is every reason to check out and support local retail businesses on Piedmont Avenue. These six establishments, all in close proximity, offer something enticing for people of all ages and price their wares to match budgets from the tiniest to the most expansive. Curated collections, in-person shopping, and chatting with store owners and staff about tangible gifts can generate a feeling of normalcy. Online orders and curbside pickups allowed many local businesses to survive the initial and ongoing lockdowns during much of 2020; this holiday season, store owners are eager to welcome people back into their stores.
As always, be sure to check websites for store hours and safety protocols and for any updates on items no longer in stock or delayed due to supply chain issues. If there is one positive that has come out of the pandemic, it is that most, if not all, businesses have improved their newsletters and websites to include the latest, most up-to-date information.
Cotton Basics | 4024 Piedmont Ave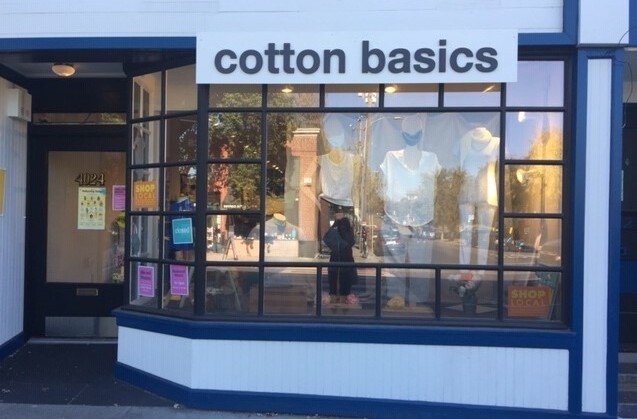 Casual comfort and style combine with the pairing of a form-fitting indigo Elana V-neck and the flounce and fun of wide-leg linen Calypso pants that come in an assortment of shades from white to deep teal to sunflower and more. Or pick up stretchy basic or bootcut leggings made of cotton-polyester jersey that allow for easy mobility. Top that with a 100% linen Nicole button-down or a 100% cotton Lora button-up—and a cotton unisex Oakland Cranes hoodie to make a subtle but suitable "I'm proud to live in the East Bay" fashion statement. Cotton Basics is a small clothing business with shops in Berkeley and Oakland (the shop in Noe Valley closed in 2020 to consolidate operations in the East Bay closer to the Oakland manufacturing hub). The business designs, sews, dyes, screen prints, and sells clothing primarily made from cotton, linen, and rayon. The textiles are California-sourced and both stores feature bright, upbeat posters with graphic illustrations of iconic buildings and bridges in the Bay Area.
---
Twisted Thistle Apothicaire | 4156 Piedmont Ave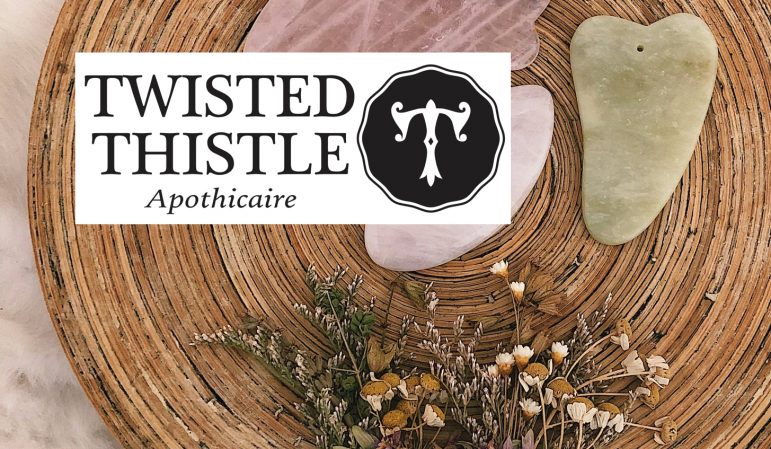 Shopping at Twisted Thistle makes a soul feel whole. Along with ethically grown and sourced herbal teas and superfoods that include a line of in-house blends, there are healing, health and beauty products, books and journals, homewares, candles, crystals, and handcrafted jewelry. Gift-giving possibilities abound: a pair of CocoLoco abalone Aria hoops or the more extravagant flared wing Yafah Swans for your loved ones' — or your — earlobes; the bespoke gift of a luminous Labradorite heart stone; Quercus Oak bitters made with French oak, sage, and molasses to pair with bourbon, rum, and other spirits; essential oils and tinctures; and more to explore. A wide price range makes it possible to find gifts from small to grand.
https://www.twistedthistleapothecary.com/
---
Arjan Flowers & Herbs | 4220 Piedmont Avenue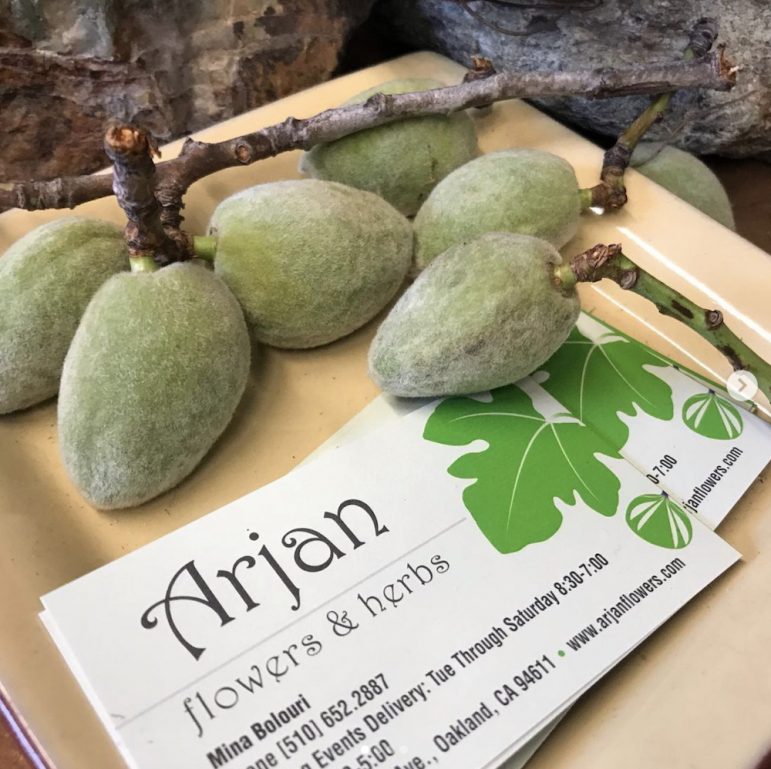 Mina Bolouri's cozy shop is a favorite place to visit. Customers receive a warm welcome and will find a magical array of wreaths, gift baskets, vases, seasonal plants are garden-themed artwork from local artists. Herbs in jars reflect Bolouri's Persian ancestry, but most stunning are her bouquets. Dahlias, ranunculus, hydrangeas, roses, amaryllis, protea and more are matched with dogwood, magnolia, cypress, pine, kale, mint, basil, pumpkins, nuts, figs, mushrooms and other natural textures. Bolouri once said in an interview that many people attempt to manipulate flowers in the direction they want them to go, but if a branch or flower wants to go left, she goes left and follows nature's indicators to the advantage of all.
https://arjanflowers.com/about-us/
---
Piedmont Yarn & Apparel | 4171 Piedmont Avenue

Owners Celia McCarthy and Pamela McKinstry have the devotion of this and many other East Bay handcrafters. Their years working as costume creators for Berkeley Repertory Theatre are evident in the array of textures and color on display, and they bring experience in the fine art of mending, seaming, and finishing textile projects. Reasonably priced workshops and classes supplement the impressive selection of yarn offered in basic varieties and also high-quality acrylic, cotton, wool, alpaca, silk, cashmere, and blended fibers. As is true with many small businesses along Piedmont Avenue, an in-store visit is the best way to experience—and reap the benefits of—the friendly staff and their expert tips that come free of charge.
https://www.piedmontyarn.com/about
---
Philippa Roberts | 4176 Piedmont Avenue


Shoppers might already know of the fine jewelry design offered by Roberts for more than 20 years and the wide variety of jewelry by artists and other hand crafters—plus home accessories and gifts also available in the Oakland store she opened in 2006. While grace and elegance abound in upscale jewelry and other items, there are also affordable treasures such as the 13-inch Mudra door chime, an old-fashioned Campfire Harmonica, a Percy Penguin grab-able ring rattle, a keepsake tiny house sculpture, and a carefully curated assortment of socks, scarves, masks, slippers, handbags, hats, bathrobes and more. Most memorable of the new fall 2021 jewelry collection are the rock crystal with moss aqua cluster earrings set in silver and a small marquis with carnelian necklace set in silver or vermeil.
https://philipparoberts.com/pages/about-us
---
Myrtle's Lodge | 4211 Piedmont Avenue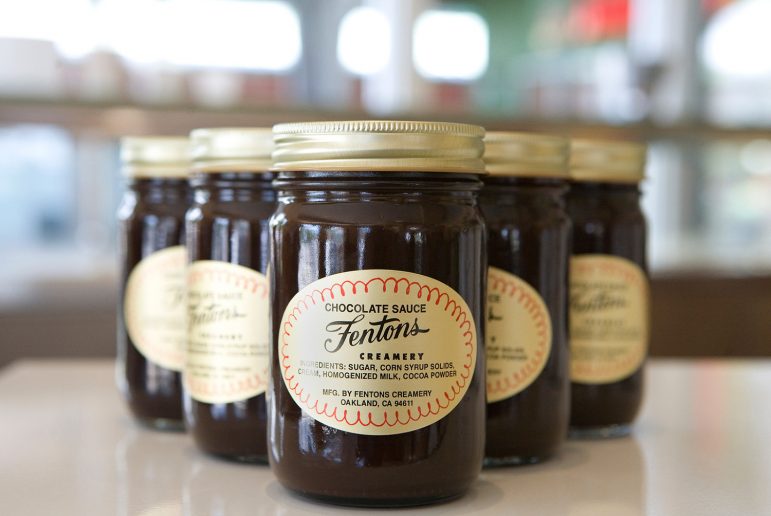 If you're looking to hit a sweetly nostalgic note or if you're shopping for a foodie, there's no better shopping stop on the avenue. Check out the Ice Cream Sundae Survival Kit packed in a Fentons branded reusable tin. Included are house-made caramel and chocolate fudge sauce, maraschino cherries, ice cream spoons, tulip retro-style glass ice cream dishes, paper "soda jerk" hats, coasters and embossed napkins, and a red Fentons embossed plastic ice cream scooper. All that's needed is ice cream, and right across the street…Fentons Creamery parlor doors are wide open for in-store purchases. Or, purchase items separately, such as individual jars of Fentons signature sauces, mugs, pint glasses, baseball caps, T-shirts and retro toys for kids and canines.