An easy, festive dessert to celebrate the return of California citrus season. Swap in your favorite fruit — mandarins, blood oranges or grapefruits would all work well — and whatever marmalade you fancy. Bonus points if you find some local olio nuovo, the first extra virgin olive oil from the Fall 2021 crop (…Market Hall Foods usually carries a few brands).
INGREDIENTS:
3 tangerines, about 3 ounces each
2 large eggs
Zest of 1 lemon
1 cup superfine sugar
⅔ cup olive oil, plus more for greasing the pan
1 cup almond flour
1 teaspoon baking powder
½ teaspoon salt
Powdered sugar
Whipped cream
Marmalade syrup
5 ounces orange marmalade
½ ounce superfine sugar
Juice of 1 lemon
DIRECTIONS:
Preheat the oven to 350F.
Wash one of the tangerines well, place it whole in a saucepan, and cover with water. Bring to the boil and simmer gently for 20–30 minutes until tender.
Drain and allow to cool, then cut the tangerine in half and discard the seeds. Puree it whole in a blender or food processor until smooth. Peel the other two tangerines, and slice them thinly crosswise, removing all the seeds. Set these aside as garnish.
Grease an 8-inch cake pan with olive oil.
Whisk together the eggs, lemon zest and superfine sugar in a bowl. Add the olive oil and beat until light and well combined, then stir in the tangerine paste.
In a separate bowl, whisk together the almond flour, baking powder, and salt. Fold the flour mixture into the egg mixture and fold in gently.
Spoon the cake batter into the baking pan and bake for 30-35 minutes, or until a toothpick inserted in the center comes out clean. Remove it from the pan and leave it to cool in the tin on a wire rack.
Meanwhile, to make the syrup, combine the marmalade, sugar and lemon juice in a small pan over a low heat until the sugar has dissolved.
Place the cake on a serving plate, dust with powdered sugar, and serve with the marmalade syrup, whipped cream and reserved tangerine segments.
---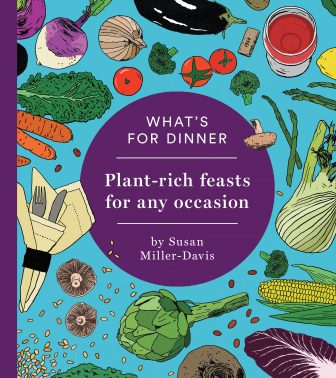 This recipe will appear in my forthcoming What's for Dinner: Plant-rich feasts for any occasion, available for pre-order now. The book is the first volume in an eco-cooking series, meeting the dinner challenge with a set of full-bodied, vegan and vegetarian entrées, plus plant-based starters, sides and desserts, meant to anchor celebratory meals.