This weekend, Wildwood Elementary School kindergarten teacher Shoshana Beary will be one of 50 ceramic artists at the Berkeley Potters' Studio's annual holiday open house and sale. It's her second show and sale — the first was Piedmont Art Walk this past summer — and she says the pandemic was instrumental in getting her craft to where it is.
Beary has taught at Wildwood for 18 years. She majored in ceramic sculpture during college, but it wasn't until recently that she began to find a new voice in functional ceramics — the craft of creating usable pottery, like dinnerware, mugs, and vases.
In college, students weren't allowed to make functional ware, she explained. After graduating, she began throwing on a pottery wheel and used summers when she wasn't teaching to work on her technique. Still, she said, she felt stuck in a permanent state of being an advanced beginner.
With her family's encouragement, she threw herself into pottery year-round and about five years ago signed up for classes at The Potters' Studio, a 6,000 square foot teaching center, workshop space, and gallery in Berkeley that has been in continuous operation since 1971. Then, in 2020, Beary took a new leap of commitment and joined the studio as a member — right before the Bay Area went into pandemic lockdown. The studio quickly pivoted to accommodate distance learning, and Beary jumped at the chance to rent a potter's wheel and take classes via Zoom.
"I turned a room in my house into a classroom for distance learning and a potter's studio," she said. "Throwing a pot a day is what kept me sane during the worst of the pandemic, when we were confined to our homes."
Piedmont city councilmember and Studio member Jen Cavenaugh agreed that during the pandemic pottery was equally therapy and art for the many Piedmonters who are studio members.
"The Potters' Studio is a gem within the East Bay for its support of new students taking a class for the first time, Masters of Fine Arts ceramics graduates, and professional artists with long, storied careers in the arts," she said.
Cavenaugh has been making pottery on and off for around eight years. She throws on the wheel and hand builds mostly functional pieces and describes herself as "a seasoned lifetime learner" who is always grateful for the generosity of other studio members in sharing their knowledge.
That educational focus, which underpins much of the studio practice and activity, was also key to Beary's artistic growth. She credits ceramicist and Studio teacher Sante Salvoni with helping her develop her artistic voice. During Zoom classes, Salvoni invited students to "focus over and over on one thing, especially on something you don't like," Beary explained. Combining a daily pottery practice with repeated attention to the challenging task of making handles allowed her develop her voice and craft to the point that she's shaken off that sense of being a permanent advanced beginner.
Still, being a ceramicist is a life of learning, she noted.
"I feel like I'm going to be a student all my life. [Pottery] is a craft that doesn't become stagnant."
Piedmonter Heather Chan has taken Potters' Studio classes on and off for 10 years and has been a member for three. Like Beary and Cavenaugh, she creates mostly functional pieces, and throws cups, bowls, and platters.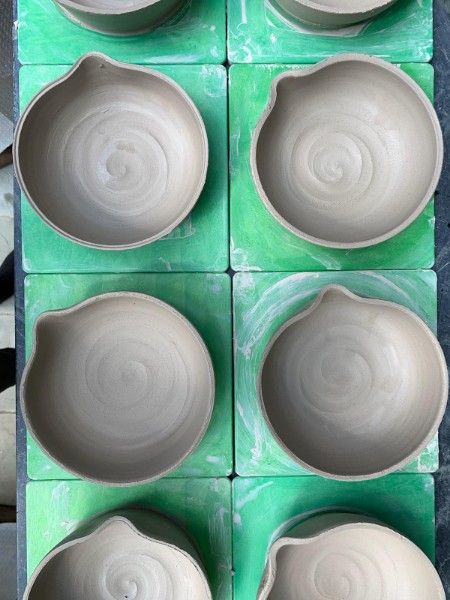 "The studio has been a life saver," she said. "The staff is amazing, very knowledgeable, and fosters a welcoming community. Plus, during the height of COVID, I was able to buy clay and create at home, and then bring my pieces back to the studio for COVID-friendly curbside firing and glazing."
Cavenaugh welcomes the coming together of community through the open house and sale. "As most Bay Area residents are now vaccinated, artists are happily migrating back to the studio and look forward to welcoming ceramics patrons for this weekend's holiday sale," she said.
This weekend's event kicks off Friday evening with live music and a potluck by members and continues through Saturday and Sunday. Everything for sale is made by studio members and ranges from functional work — bowls, plates, teapots, tea bowls, mugs, jugs, vases, pitchers and so on — to non-functional sculptural work to ceramic jewelry.
(Brigid Gaffikin is an Exedra editor and a member of the Potters' Studio.)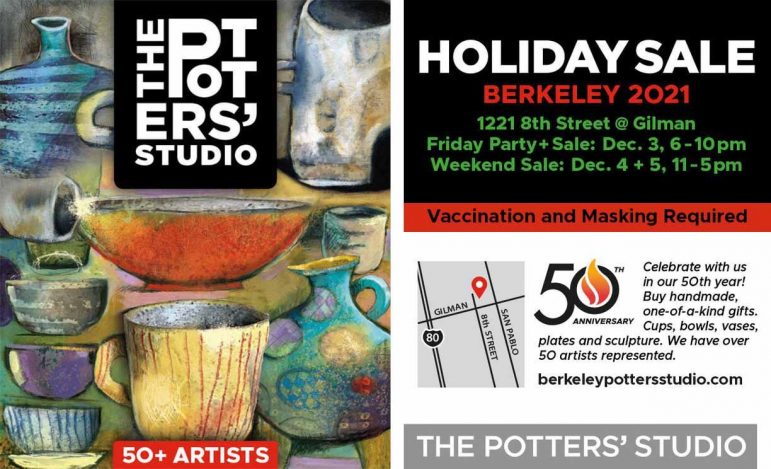 The Potters' Studio holiday sale and open house opens 6 p.m. Friday, Dec. 3 at the Potters' Studio, 1221 8th St. The sale continues Saturday and Sunday from 11 a.m. – 5 p.m. Parking will be available in the studio's parking lot and at the former Pyramid Alehouse at 8th Street and Gilman Avenue.