Cases jumped by eight over the last week, from 280 on Friday to 288 on Tuesday night as reported by the Alameda County Health Department.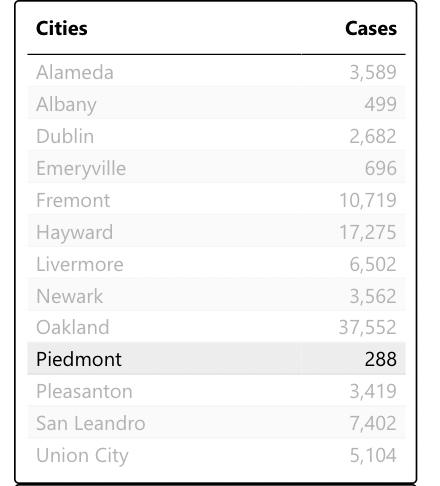 Also on Tuesday, the San Francisco Chronicle reported that COVID cases in California have started to rise again.
From the article:
"It's not subtle, that's for sure," said Dr. George Rutherford, an epidemiologist at UCSF. "The numbers are increasing. Cases are up over the past three weeks. We were down to as low as about 5,000 new cases per day. Now we're up to 6,000 cases per day. Hospitalizations are up about 4% over two weeks. There have been some big spikes. To me, that is worrisome."

"We have three things in front of us that we can do right now," said Rutherford. "We need to get people boosted — of the things that are doable, that might be the most important. We need to get 5- to 11-year-olds vaccinated. And then we need to get people who are not vaccinated yet vaccinated."

"California reverses course as COVID cases begin to climb" — San Francisco Chronicle, Nov. 9, 2021
(Read the full story HERE.)
PUSD's COVID dashboard shows three student cases reported last week.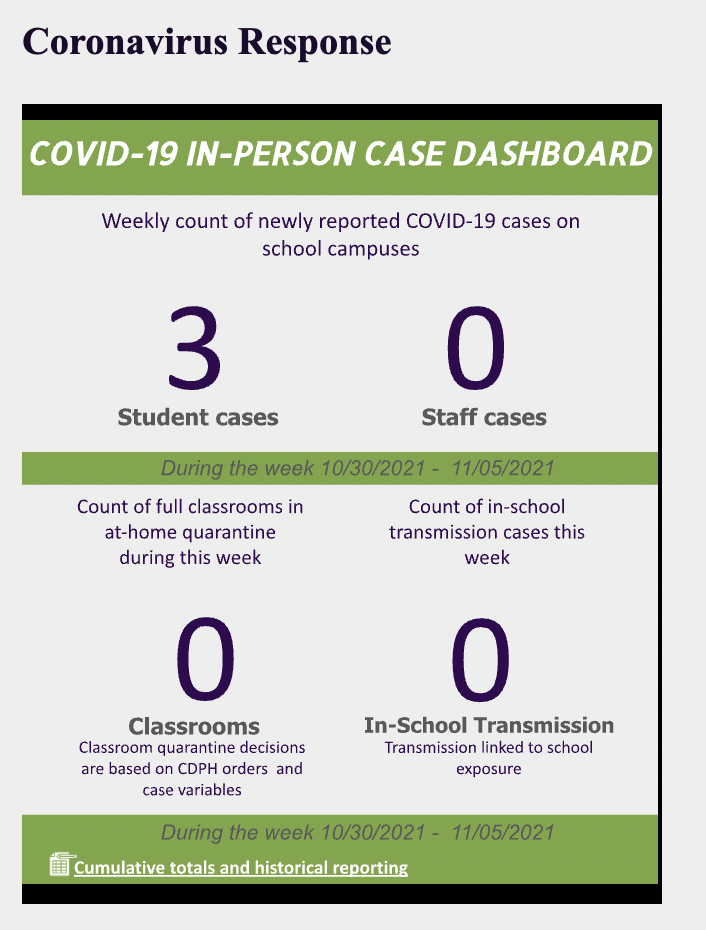 On Friday, district nurses and health clerks sent a notice to families reminding them to report illness symptoms on the daily health screener: "The PUSD Health Team has seen an increase in students staying home from school, but parents not reporting their symptoms on the daily health screener. This is an important step in our process to ensure that county and state protocols are being followed, especially as the requirements evolve. Not only does the screener alert health staff immediately, but it also includes built-in logic for various situations that may arise."
It also provided information on how to address any post-vaccine symptoms. The vaccine rollout for ages 5 – 11 started last week after the CDC approved the Pfizer vaccine for that age group.