The Highlanders finished their season with a 35-0 loss at Mt. Eden on November 5. Piedmont, which played most of the season with fewer than 20 players on the roster, finished the year 2-7.
Freshman Markos Lagios came up from the junior varsity to play quarterback against the Monarchs. He completed eight of 16 passes for 74 yards with an interception. He also rushed for 93 yards on 13 carries. Bautista Costa ran for 48 yards on 17 carries.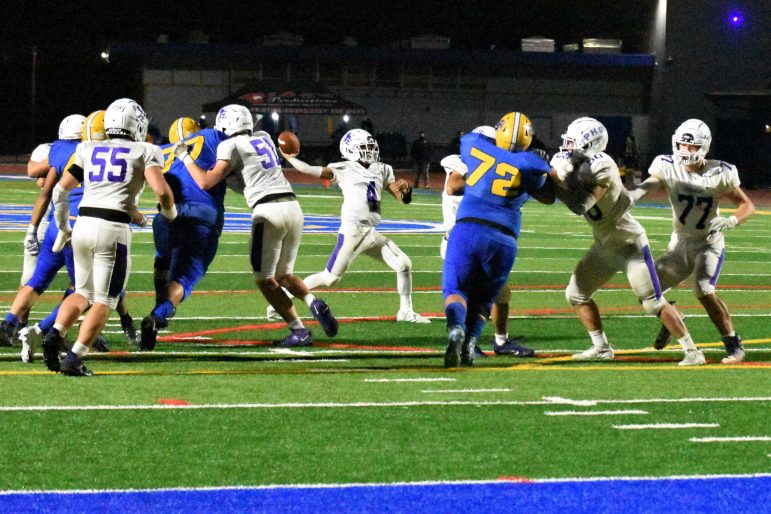 Piedmont totaled 224 yards in offense, and had multiple opportunities to score in Mt. Eden territory.
"We kind of got in our own way with penalties, and couldn't get it in'" Highlander coach Jerome Johnson said. "All in all, we gave it our best. Our young kids stepped up as much as they could."
The defense could never find an answer for Monarchs quarterback Josh Olberg. He rushed 20 times for 200 yards and two touchdowns.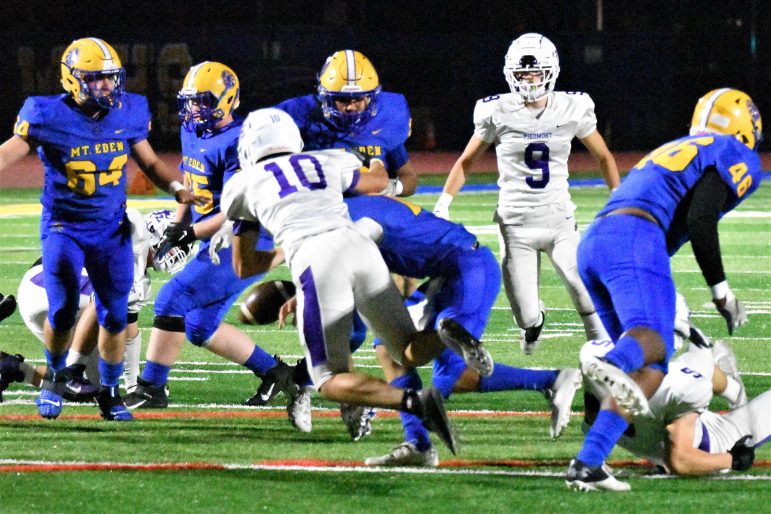 "Mt. Eden ran that zone-read," Johnson said. "The quarterback got behind that 300-plus lineman and ran it down our throats. I would have done the same thing."
Another standout for the Monarchs was receiver/defensive back Jabob Gastrock. He returned an interception 98 yards for a touchdown, and also caught three passes for 80 yards and a score. One of his receptions went for 50 yards and set up Mt. Eden's final touchdown.
The Monarchs got on the board on their first possession. After a Piedmont punt, Mt. Eden went 67 yards in four plays. Olberg got loose on a 43-yard run for the touchdown.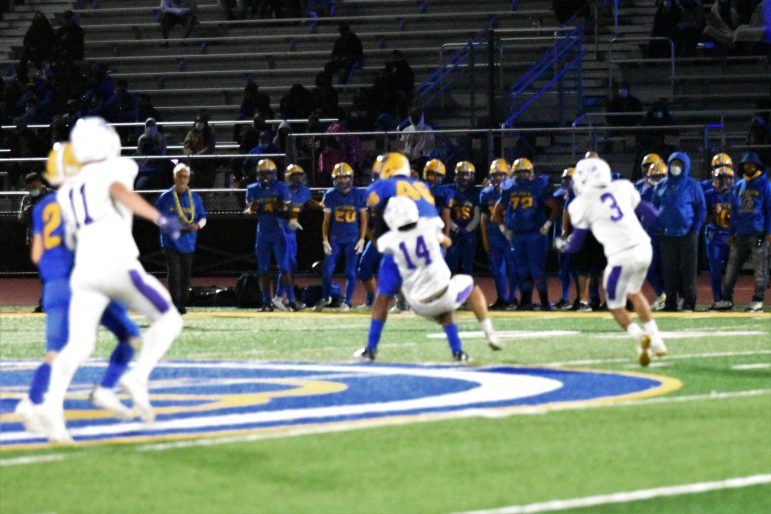 The score stayed 7-0 until late in the first half, when the Highlanders had a third-and-14 at the Monarchs 24. Lagios tried to find Adhi Bornstein near the goal line, but Gastrock picked it off instead. He jumped up to make the interception at the 2, then took off, outracing the Piedmont players to the other end zone. The play came with 31.6 seconds to go in the second quarter.
Mt. Eden got the ball first to start the second half and marched 59 yards in nine plays. Olberg ran the ball in from the 3.
On the ensuring kickoff, Piedmont fumbled. Phillip Ferreira fell on it for the Monarchs at midfield. Four plays later, Olberg hit Kyle Pham for a 21-yard touchdown.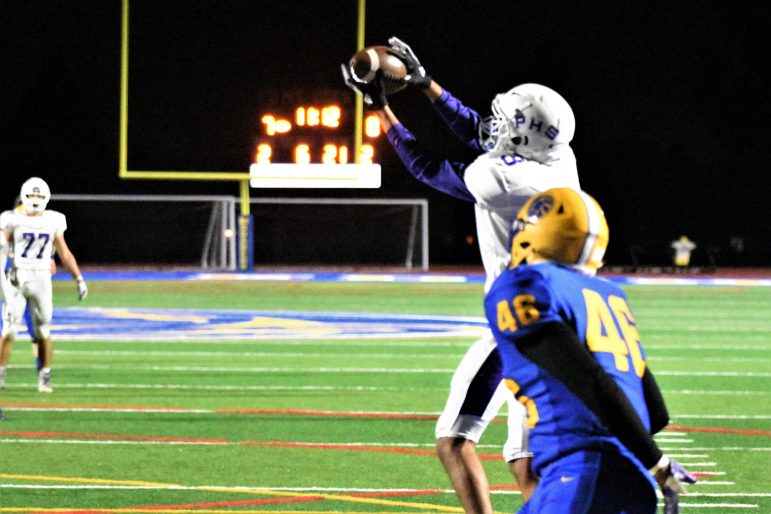 The final score came midway through the fourth quarter. After the 50-yard pass from Olberg to Gastrock moved the ball to the Highlanders 10, a pair of holding penalties moved Mt. Eden back. Then, Olberg found Gastrock again for a 27-yard touchdown.
Despite the small roster, the Piedmont squad gave it their all during the year, according to Johnson.
"We couldn't control the numbers, those were the numbers we had," Johnson said. "The positive is they didn't quit. They could have. With low numbers, they could have quit and they didn't do that."
Photos by Mike McConathy