Oakland is the first city to be selected for a pilot project that will provide internet service for tens of thousands of the city's low-income, Black, and Hispanic residents who are without it, city officials announced Thursday.
National nonprofit EducationSuperHighway, whose mission is to provide internet service for millions of Americans without it, will partner with #OaklandUndivided, which provided computers and internet access for many Oakland public school children last year. #OaklandUndivided raised more than $17 million and distributed more than 29,000 laptops and 10,000 hotspots to Oakland students in the past school year. Together #OaklandUndivided and EducationSuperHighway plan to connect 90 percent of the city's 36,951 unconnected homes to broadband internet over the coming five years.
"Oakland is proud to partner with EducationSuperHighway, a critical leadership partner of #OaklandUndivided to remove affordability barriers and dramatically increase broadband access for our most vulnerable populations and close the digital divide for good," Oakland Mayor Libby Schaaf said in a statement.
A report by EducationSuperHighway shows that two-thirds of the unconnected households in the U.S. are unconnected because they cannot afford to pay for internet. The problem disproportionately affects people who are low-income, Black, and Hispanic and it's the number one reason the digital divide is still open. In California, 1.55 million California families have access to the internet but can't afford to pay for it, according to the study.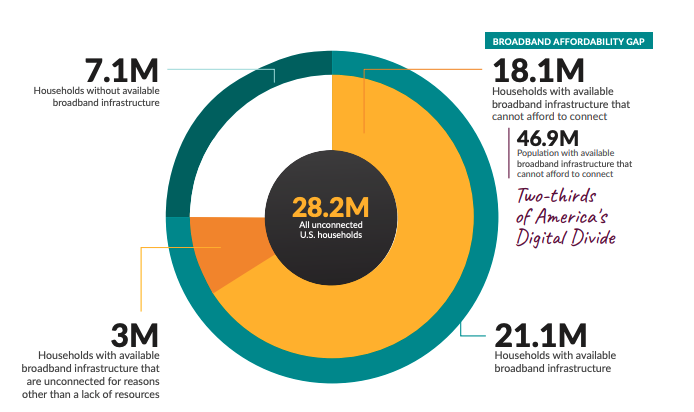 The "broadband affordability gap makes up 63% of California's digital divide," the San Francisco nonprofit Education Superhighway is reporting.
EducationSuperHighway and #OaklandUndivided over the next five years will form Oakland Connect to deploy programs to help Oakland residents adopt broadband and obtain free apartment Wi-Fi.
Oakland's efforts to deploy Wi-Fi in the city through the OAK WiFi initiative played a critical role in EducationSuperHighway's decision to choose the city as the first for the pilot. OAK WiFi is a network of live internet access zones from West Oakland, through downtown and along the International Boulevard corridor to the border with San Leandro. City councilmembers allocated $7.7 million of CARES Act federal stimulus money to make the initiative possible.
The free apartment Wi-Fi to be provided by EducationSuperHighway will be modeled after Wi-Fi provided in hotels where rooms have access to a single building-wide Wi-Fi connection.
Oakland Connect will leverage fiber infrastructure already in place due to the OAK WiFi initiative to connect residents to the internet.
"The action taken to connect students during the pandemic provides a blueprint for a broad public-private partnership to close the broadband affordability gap," Evan Marwell, founder and CEO of EducationSuperHighway, said in a statement.
#OaklandUndivided, which is a partnership between the city, the Oakland Unified School District, and many other groups, gave computers and provided internet access last school year to many low-income Oakland public school students.
Because of that effort, 98 percent of low-income, public-school students in Oakland now have a computer and internet, up from 12 percent when the effort began.
Phase II of #OaklandUndivided aims to sustain internet access for each public-school student in the city, while expanding access to the internet in the city's most under-connected areas such as West Oakland, Fruitvale, and other eastern neighborhoods