During October of 2020, Halloween was devoid of neighborhood trick-or-treating and celebrated at home, likely involving the streaming of one, two or many horror films. In other words, indoor entertainment compensated for the lack of social and outdoor options resulting from COVID-19 restrictions.
This year, though, marks the in-person return of the standard and beloved spooky fare: Halloween-themed parks, haunted houses and shows. And the companies that produce these creepy-fun events are more than ready to frighten and entertain all who dare to attend.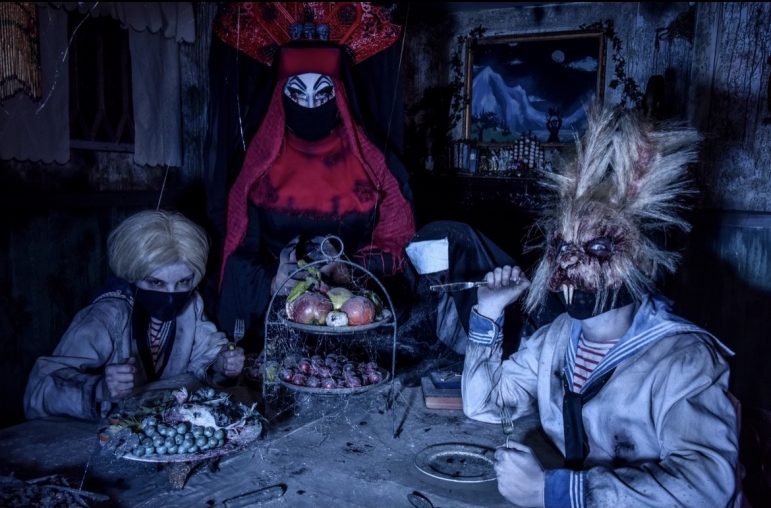 For Joshua Grannell — better known as drag performer Peaches Christ — and David Flower of Into the Dark Productions, having 2020 as a sort of gap year, sans the possibility of an in-person Halloween production, meant having ample time to brainstorm and carefully prepare for a future show (unknown at the time if "future" meant 2021). They ultimately decided on creating an immersive theater experience for "Terror Vault Presents: The Immortal Reckoning," currently showing at the San Francisco Mint.
Says Grannell, "Because of the pandemic, we really had the time to sit and write a script and build the whole show. And so 'Immortal Reckoning' is really our attempt to do a unique show, in terms of one story that's being told in a haunted-attraction type of environment."
In addition to a horror-filled plot, rooms and scenes that offer attendees a good scare, "The Immortal Reckoning" also includes humor. The show's built-in moments to gasp, scream and laugh seem to be exactly what people are looking for right now.
As Grannell says, "I think that in many ways, horror and scary stuff thrive at a time like this, because it's a fun and safe way to cathartically express some of the pent-up feelings we have. There's a real psychology to the release."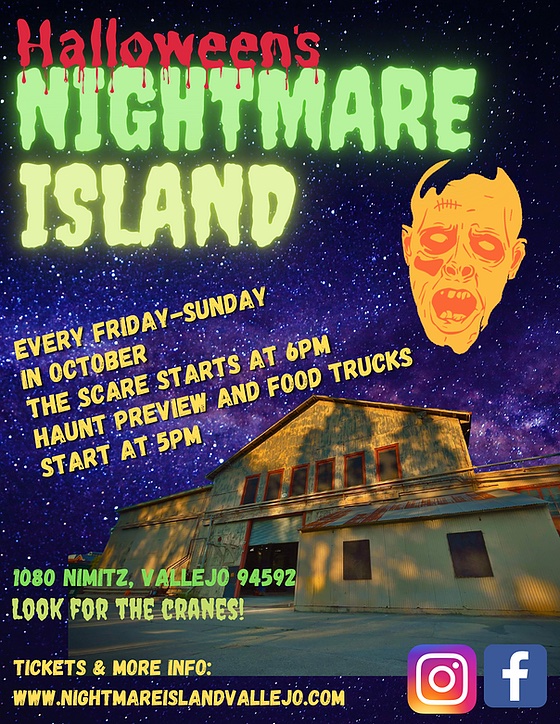 Halloween's NightMARE Island in Vallejo is another option for Halloween enthusiasts to attend. Held on Mare Island, it features live bat, owl and reptile shows, film viewings, a "pet cemetery" and vendors selling unique items such as horror-related collectibles, horror soaps, artwork and jewelry crafted from animal bones. Its biggest draw, however, is the haunted house.
As NightMARE Island director of operations Sarah Cain explains, "The haunted house is pretty special in and of itself." In addition to being set up within a larger space this year, the house is known for its one-of-a-kind and detailed rooms. And the self-guided walk-through of these rooms? Terrifying.
Cain says, "For some reason, people have been calling and saying, 'It looks like it's not that scary. Will my 16-year-old be scared?' It's like, 'Oh no, it's scary. Yeah, your 16-year-old is going to be scared.'
We have an hour in the evening when we don't have any scare actors in the house or special effects and stuff, but after that, it's fully live, and it is very scary."
On Saturday, NightMARE Island is also hosting the fifth annual NorCal HearseCon — a car show like no other.
In consideration of NightMARE Island's significance during an ongoing pandemic, co-coordinator Priscilla Silva comments, "People are so excited to be able to get out, to be able to be safe when they get out, and to have something that's unusual and not the same monotonous stuff. And [it's] something for families to enjoy. There's not a lot of things going on that families can go out and enjoy right now."
So get out there, (safely) explore the scary and unusual and have a spooktacular time.
"Terror Vault Presents: The Immortal Reckoning" immersive theater experience runs select evenings through Nov. 5 at the San Francisco Mint, 88 Fifth St., San Francisco. All attendees must be 21 and over, must show proof of vaccination and must wear a mask in the building. Timed tickets, $55-$75, are available at intothedarksf.com. Into the Dark Production's vampire-themed Fang Bang bar at the San Francisco Mint can be visited independently of "The Immortal Reckoning" show.
Halloween's NightMARE Island, located at 1080 Nimitz Ave. in Vallejo, opens at 5 p.m. Fridays-Sundays through Oct. 31, and the scares start at 6 p.m. The event is open to all ages, and masks must be worn inside the haunted house. For tickets, $12.50-$25, and a schedule of special events, visit https://app.hauntpay.com/events/halloweens-nightmare-island-2021.
More Bay Area haunted attractions
Fear Overload Scream Park, located at 15555 E. 14th St. in San Leandro, features two haunted houses — "Descend the Basement" and "The Demon" — that ticket holders explore on self-guided walk-throughs. Admission ranges from $19.99-$28.99 per person. The park has two upcoming special events as well: "Behind the Scenes," on Oct. 30, involves a "lights on" view of the haunted houses and, on "Glow Stick Fright Nights," Nov. 5 and Nov. 6, ticket holders are given one glow stick to guide them through an otherwise all dark (and certainly spooky) tour of the park. For schedule and ticket information, go to fearoverload.com.
Pirates of the Emerson Haunted Theme Park, held at Alameda County Fairgrounds, 2100 Valley Ave. in Pleasanton, features a haunted house, nightly entertainment, mazes and games. The walk-through of the haunted house is self-guided. The event runs through Oct. 31. General admission is $36.50; a "speed pass" is $56.50; VIP admission is $76.50 and "LandLubber" admission is $10 (excludes entrance into the haunted house). For schedule and ticket information, go to piratesofemerson.com.
Blind Scream Haunted House is another scary option to visit this month. Located at 98 Santa Rosa Plaza in Santa Rosa, it features a "Witch House" in which three sister witches lurk. It's open Friday-Sunday and Oct. 28-31. General admission to Witch House on any open date is $25.00, plus a $2.24 service fee. General admission to Witch House plus a "fast pass" is $35.00 a plus a $2.74 service fee. For more information, go to blindscream.com.
Note that each event has COVID-19 safety guidelines. Refer to the event sites for specific requirements.