It ended suddenly. After the Highlanders' Ruby Shaffer blocked the spike of Berkeley's Zada Sanger, the point continued. Piedmont's Amelia Wire went up for the kill, but the Yellowjackets' Amelie Haji blocked it back. The ball found the ground, and the match, and Piedmont's season, was over.
The two teams looked about as even as you could imagine on October 21 at Binks Gymnasium. Berkeley prevailed, 22-25, 25-18, 25-12, 21-25, 16-14. In that fifth set, Piedmont had leads throughout but couldn't hold on.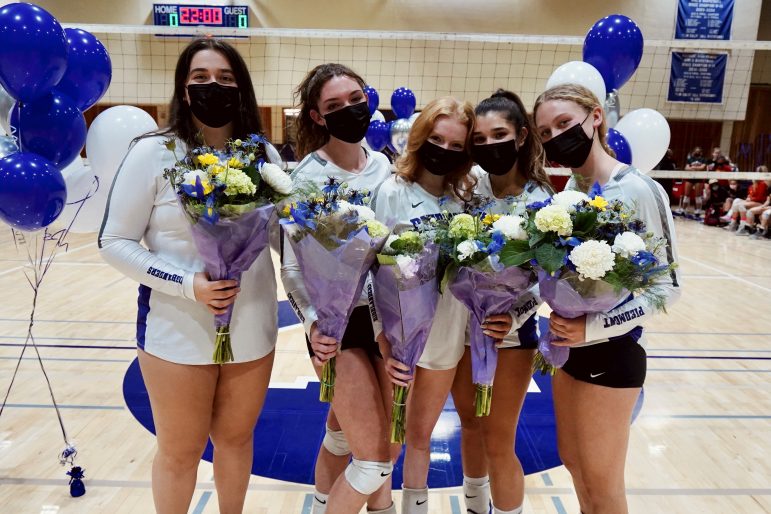 The loss ended the Highlanders season, as well as the high school careers of five seniors, including Shaffer and Wire.
"I feel good," Wire said. "I love my team. I'm going to miss them a lot. But I still see them every single day, we're all really good friends, and I know even if I'm not on a team with them, we always have each other's backs. They're the best team I've ever had."
Said Shaffer, "I think it was a great way to end this chapter."
Piedmont coach Leslie Blakely was proud of her team.
"I just told those girls, even though we officially got the loss, I think it was a win for us," she said. "We went into a five-set match where they took us 3-0 the first time we played them and killed in a lot of the sets."
"I thought we won in this game just because of how we played, our energy and the fight that we had. I am super-proud of them and super-proud of our seniors. They played great. It's tough because it is an official loss and I think we should have had that win, but in my eyes, we took a win."
Berkeley started the evening by scoring five of the first six points. Sanger and Preslie Yates brought the power game for the Yellowjackets early, with each recording a spike. Sanger added a block on Sophie Nevis as part of the rally.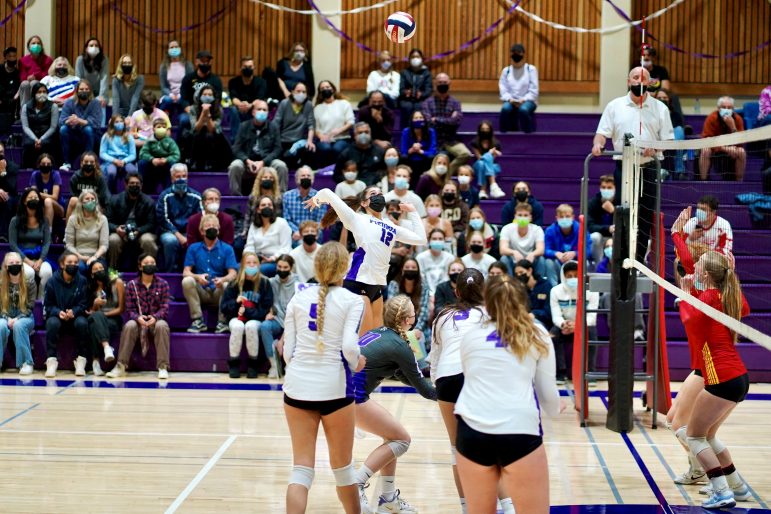 But the Highlanders battled back and took a 9-8 lead. Bree DeYoung had two kills and Ari Talwatte had one to go along with an ace from Shaffer.
Berkeley rallied back to take an 18-12 lead, but Piedmont wasn't done. Eden Lorin had a pair of aces to fuel the comeback. The Highlanders tied it at 19-19 on a ridiculous point where Wire had to run away from the net for the third hit, bumped the ball behind her over the net, and somehow it fell in. A big crowd exploded in cheers.
"Free ball kill," Wire said. "I had the mentality that this is our last night we'd all be on the court. I just did my best, I guess."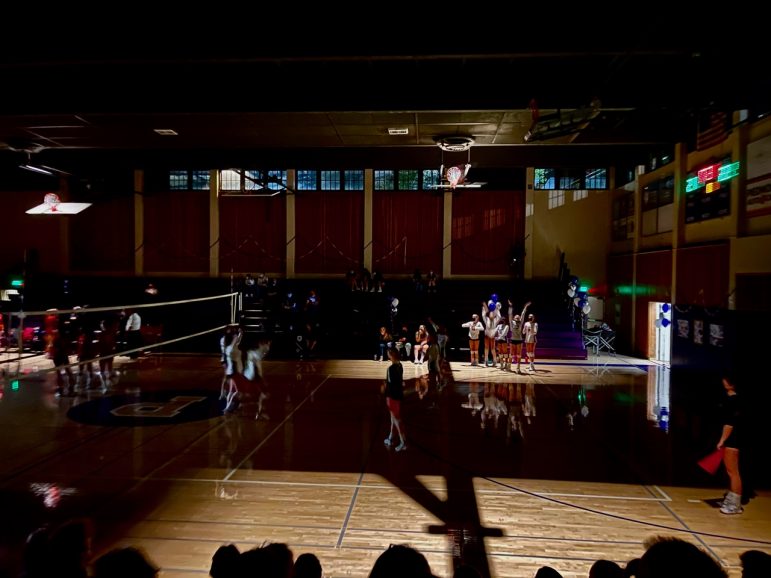 The teams were tied again at 21-21 and 22-22. The lights in the gym even went out for a minute, heightening the drama. Finally, Piedmont scored the final four points to win the set.
The second set saw the Yellowjackets race out to a 7-0 lead, and they were never challenged. The Highlanders seemed to have no answer to the power of Sanger and Yates. The third set was more of the same.
In the fourth set, Piedmont got a lead and was able to take control. Shaffer had a pair of aces during a mid-set service that resulted in an 11-7 advantage. She also blocked a Sanger kill attempt to give the Highlanders a 20-14 lead. A soft, one-handed punch kill by DeYoung finished it off.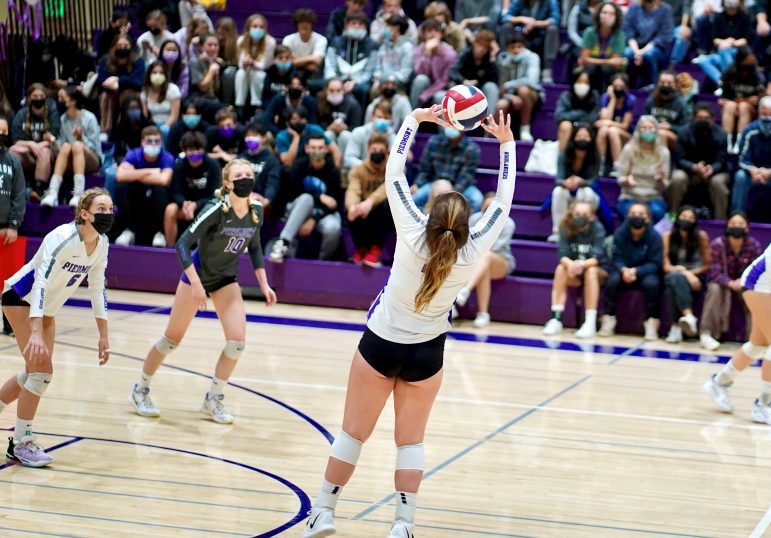 Fifth sets are played to 15 rather than 25, upping the pressure. Piedmont went up 6-2 with a Wire ace helping things along. Lila Town added two aces to make it 10-6. Ivy Mann's punch kill for Berkeley made it 10-7. Then, Wire once again had to run away from the net to bump the ball behind her when the Highlanders couldn't get a kill attempt off. Once again, the ball fell in for the point.
"Those are so fun," Shaffer said. "For a free ball, you're not normally expecting it to be a kill. It's just really exciting."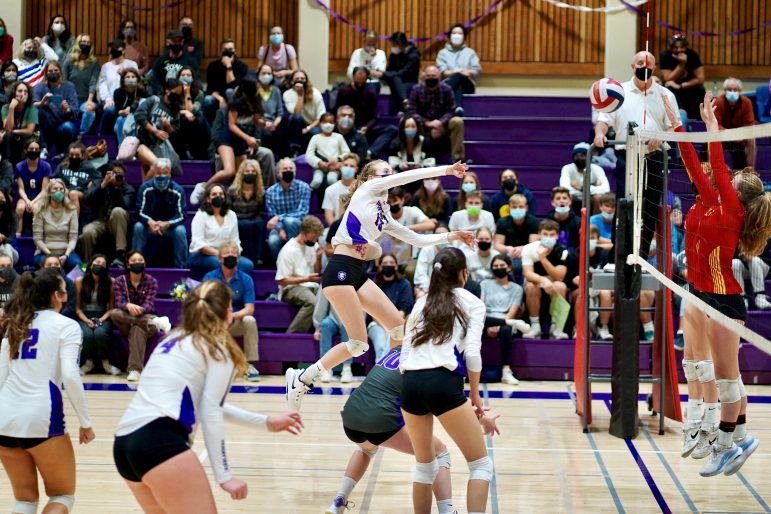 Berkeley rallied, however. Two aces from Semaj Manuel cut the lead to 11-10. An ace by Camille Jacala, followed by a block by Haji and a kill by Sanger, constituted a three-point rally to put the Yellowjackets up 14-12 with two match points. Piedmont saved both when Jacala netted a serve and Nevis recorded an ace to tie the score at 14. Haji scored a spike, which led to the final rally.
Shaffer, Wire, Talwatte, Sophie Nevis and Sofia Croley (out with an injury) were all honored before the match, along with the Berkeley seniors.
Blakely is looking forward.
"I just feel positive about it," she said of the program. "Our JV did real well in league. I think I feel really good about the future. We have a lot of work to do. We're going to continue working in the offseason to continue to get better."
Photos by Rob Peterson & Kim DeYoung