The Highlanders fell to visiting Washington-Fremont 33-14 at Witter Field on Oct. 1.
The already short-handed Highlanders lost running back Matteo Costa in the second quarter to a foot injury. Coach Jerome Johnson said he doesn't believe the injury is serious.
Again, Piedmont was in the game, trailing 13-6 in the third quarter. However, four turnovers (two of which led to the touchdowns) and a kickoff return allowed for a touchdown for a second consecutive week spelled doom for the Highlanders.
"Once again, we do some good things and then turn around and do some things that aren't too good," Johnson said. "I'm pleased with the progress."
The biggest issue continues to be the offense. Johnson noted that only three players returned from the undefeated team in the spring, and that they didn't get summer work.
"Our offense is just not clicking," he said. "We don't have the skill players we had last year and the knowledge of the game. Our offensive line is inexperienced."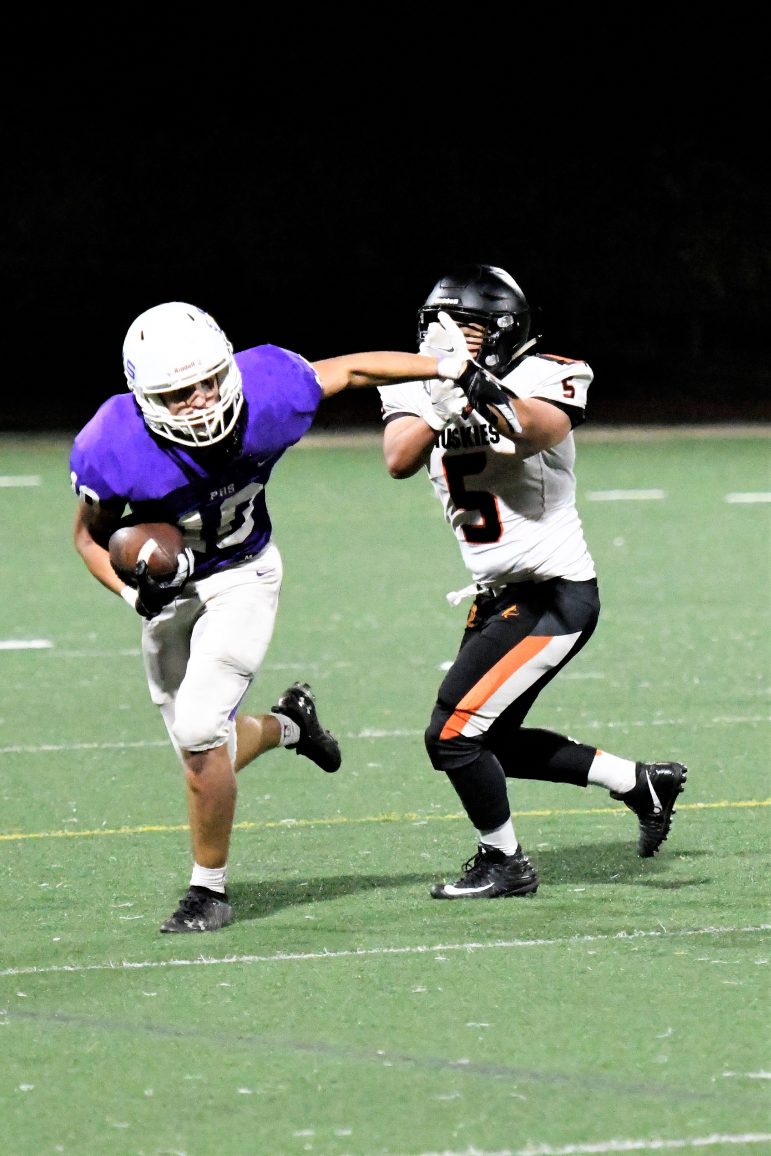 Piedmont got the ball to start, but on the second play from scrimmage, Nico DeFazio was picked off by Ethan Jennings, who returned the ball 25 yards to the Highlanders 28. Danny Yanez cashed in the break on a 3-yard scoring run.
Piedmont then drove into Husky territory, but on a fourth-and-9 at the 19, DeFazio couldn't connect with Evan McConathy on a pass and the Highlanders turned it over on downs.
Washington went up 13-0 in the second quarter on a 1-yard run by Yanez. The play was set up by a 51-yard pass from Yanez to Ryan Baglietto.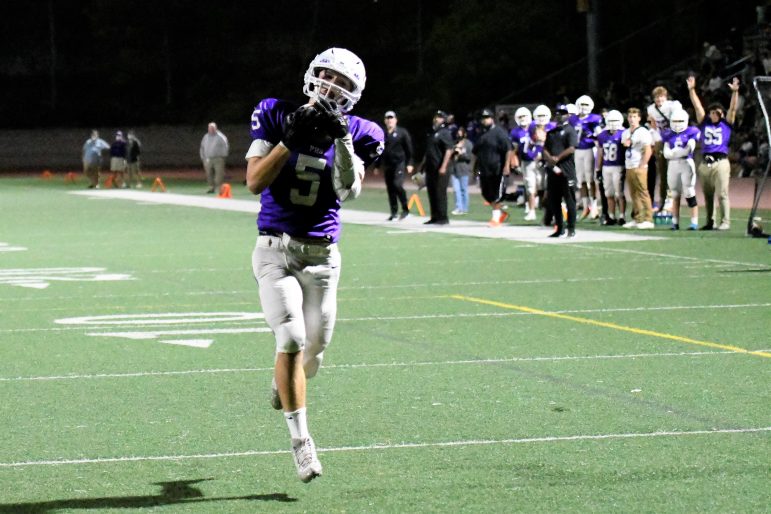 Piedmont got on the board in the third quarter on a 23-yard pass from DeFazio to McConathy, who was wide-open. Unfortunately for the Highlanders, a low snap on the extra point prevented Nina Goldberg from getting a kick off.
Washington answered right back with a six-play, 67-yard drive capped by a 3-yard run by Richard Ereno.
Piedmont's next possession lasted all of two plays as Jennings forced a fumble by McConathy after the latter had caught a 12-yard pass from DeFazio at the Huskies 23. On the first play of the fourth quarter, Ereno scored on a fourth-and-1 run.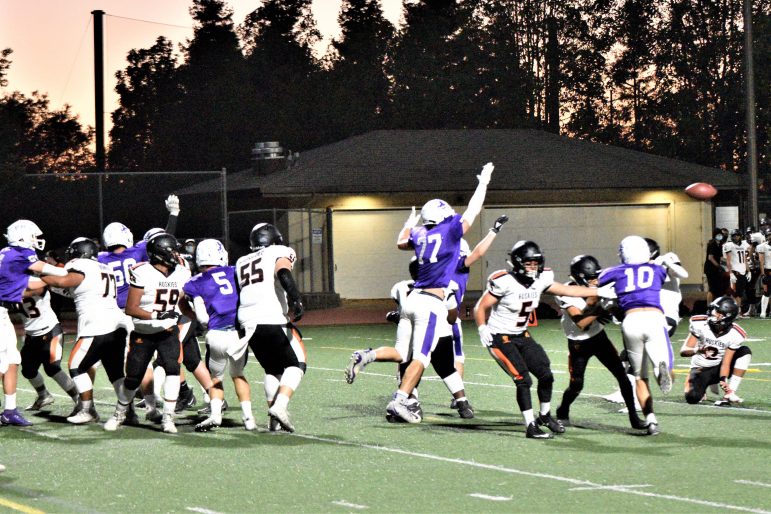 A 67-yard touchdown pass from DeFazio to McConathy gave the Highlanders a ray of hope. But Piedmont allowed a 65-yard touchdown on the ensuing kickoff.
Johnson said it's disappointing to allow scores on returns in consecutive weeks.
"Yes, it is," he said. "It's basically staying in our lanes. Sometimes our kids overpursue. They need to realize that sometimes kids cut back. They need to slow down."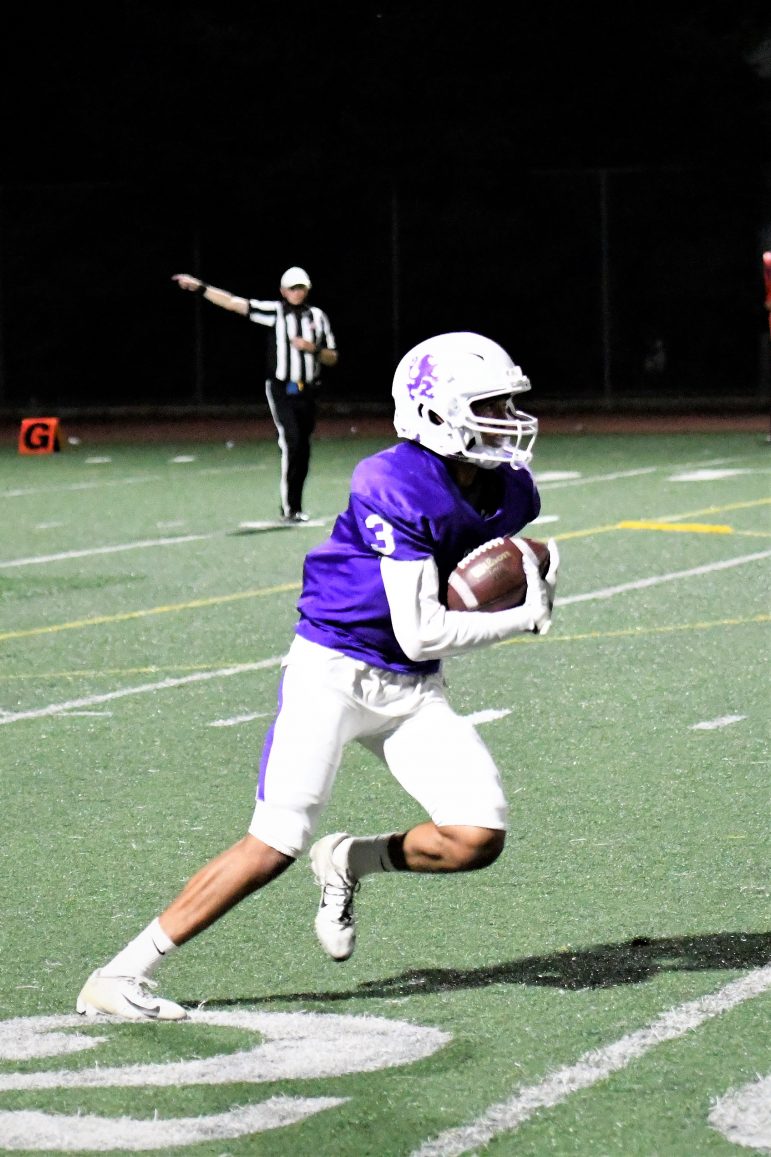 DeFazio ended up seven for 24 for 157 yards and two touchdowns on the night. McConathy caught three passes for 102 yards and both touchdowns. Matteo Costa ran for 46 yards on 8 carries before his injury. Brother Bautista Costa took over and collected 41 yards on 9 carries.
The boxscore was close to even, with Piedmont getting 338 yards in total offense to 331 for Washington. However, the four turnovers (to none for the Huskies) made the difference.
Photos by Mike McConathy and Mark Aikawa