Adhi Bornstein hit Evan McConathy with a 9-yard scoring pass in the final minutes to lift the Highlanders to their first win of the year on October 8 at Berkeley, 28-26. The touchdown capped a thrilling back-and-forth game and gave Piedmont its first win of the year.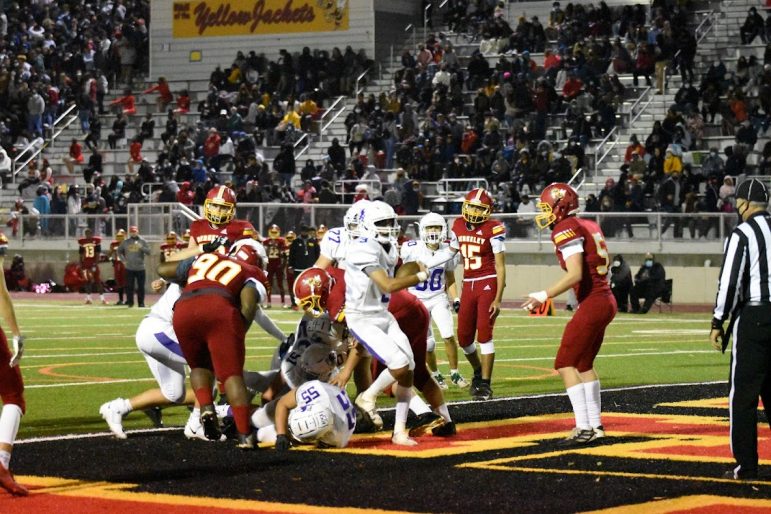 Bornstein was playing his first game for Piedmont, which is now 1-4. He had missed the start of the season after traveling during the summer.
Nico DeFazio, who started at quarterback the first five games, moved to receiver and caught eight passes for 105 yards. The switch opened the offense up for offensive coordinator Jamar Julien.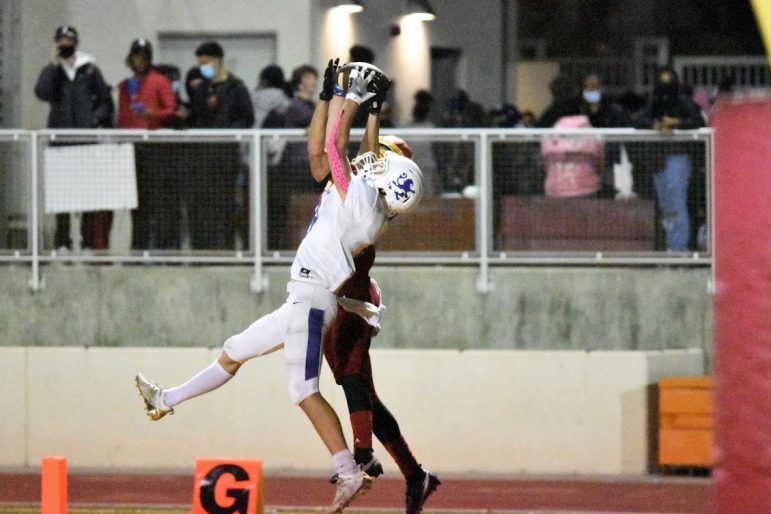 "Coach Julien started being a little bit more aggressive," Highlanders head coach Jerome Johnson said. "He had a few more tools to work with. Adhi, Nico, Evan and Ryan McConathy, and we brought it."
The Yellowjackets (2-4) jumped out to a 14-0 lead in the early going. Kamel Carpenter ran for a 37-yard touchdown on the third offensive play of the game for Berkeley. But on Piedmont's second possession, Bornstein ran the ball in on a 1-yard sneak. That capped a seven-play, 82-yard drive where Bornstein completed three passes to DeFazio for 66 yards.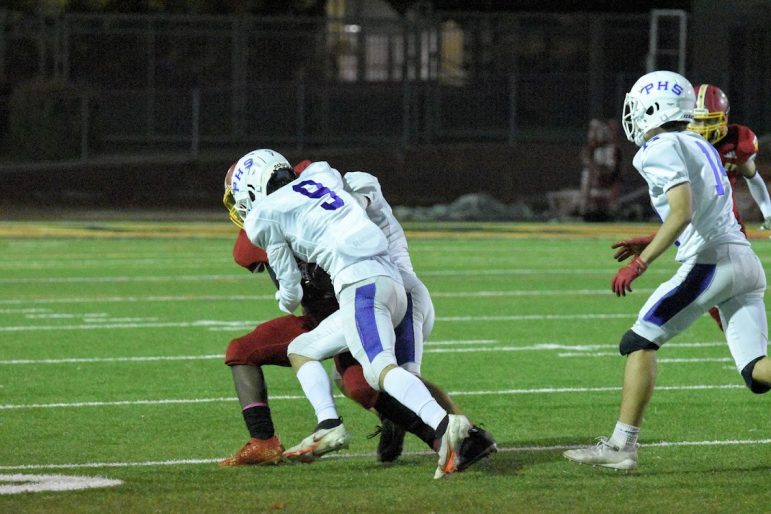 "Nico is one of our best athletes," Johnson said. "He was somewhat thrilled to have Adhi back because they played together on JV."
Jackson Harris caught two long touchdown passes in the first quarter for Berkeley, the second going for 85 yards and giving the Yellowjackets a 20-7 lead.
However, the Piedmont defense settled down after that, holding the Berkeley offense without a score the rest of the way. The Yellowjackets had 167 yards on offense their first three possessions, and under 100 yards after. The Highlanders had a season-high 351 yards of offense.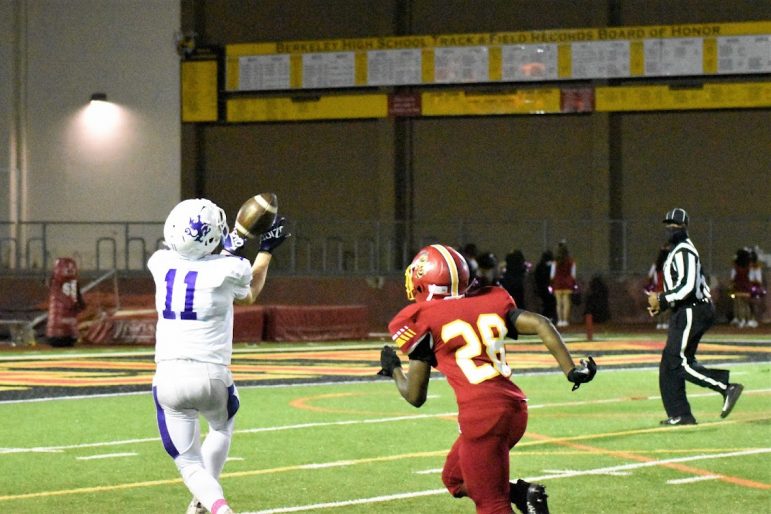 Piedmont got closer late in the first half on a 50-yard touchdown from Bornstein to Ryan McConathy. Nina Goldberg converted on the second of her four PATs, and it was 20-14 at the break.
The score stayed there until late in the game. With three minutes, three seconds to go, Bornstein hit Evan McConathy on a 35-yard scoring pass to tie the game. Goldberg hit the extra point to put Piedmont ahead, earning a series of enthusiastic helmet smacks from her teammates.
But the lead was short-lived. Carpenter returned the ensuing kickoff 81 yards for a touchdown, the third consecutive game the Highlanders have allowed a kickoff return for a score. Berkeley missed the two-point conversion and Piedmont trailed, 26-21.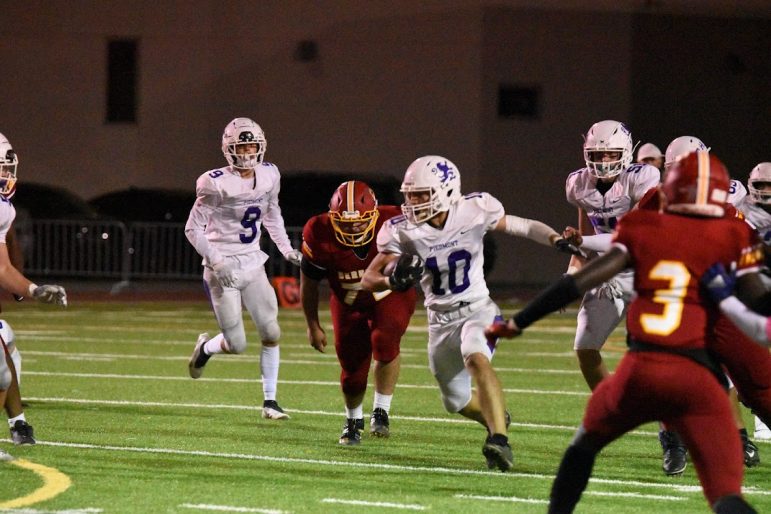 Was that a problem for the winless Highlanders? No. They promptly marched down the field, with Bornstein throwing his third touchdown pass of the game, and second to Evan McConathy. Goldberg hit the kick and the defense held, giving Piedmont that much-needed victory.
"We were very thrilled to get one," Johnson said. "The kids got to fight through something and realized it's not that hard. Nine times out of 10 these are winnable games.
"I'm thrilled to death. And they definitely deserve it."
Bornstein finished 17 of 33 for 261 yards. Ryan McConathy caught four passes for 89 yards and one touchdown. Brother Evan McConathy scored his two touchdowns on three catches for 49 yards.
Now it's back to work with a game at Encinal on October 15.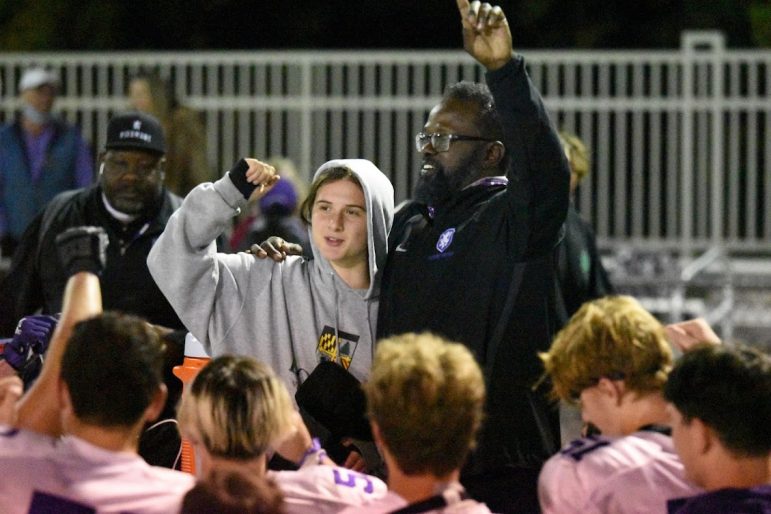 "I told them in the spring when we were 5-0, come Monday we haven't won anything," Johnson said. "You've got to get back grinding. Satruday and Sunday is the time to enjoy. Come Monday, you've got to grind."
Photos by Mike McConathy
An earlier version of this story incorrectly stated that PHS was 1-5, not 1-4.