Rachel Barton, a 17-year-old senior at Piedmont High School, is releasing her first self-run EP "7teen Life's a Dream" on all platforms Oct. 29 under the name Raychl B. The Piedmont Exedra sat down with the songwriter in advance of the release.
How old were you when you knew you loved music?
I really think deep down I always knew and I think my parents always knew. I got a guitar for my birthday when I was 6 years old. I liked performing and I would make up songs as I went, and I didn't know how to play guitar but I would just strum it and sing really loud.
What was your first favorite song or album?
The first song I was always interested in singing was "Since You've Been Gone" by Kelly Clarkson. There's this video of me singing it with a pipe cleaner as a microphone headset and I didn't know the words so I was singing "since you begone" and other random words and syllables.
What kind of music is your album?
It is pretty pop, rnb, folk pop, some acoustic singer-songwriter stuff. It is a little bit pop-jazzy.
Are there any artists who significantly influenced your album?
Lizzie McAlpine. She is blowing up a little more right now. She is pretty inspiring. I love the way she writes her music.
While I was making it, especially with the production, I would use samples and listen to other artist's songs and the way that their music sounded within the mix. People I looked to for that were Olivia Rodrigo and Kacey Musgraves.
How did you learn how to mix music?
I started recording my own music on Garageband when I was in sixth or seventh grade. But I wasn't very good at it. I just knew how to press record and how to put a cool effect on my vocals. Then my parents found this school called Fusion Academy in Berkeley and it is a one-on-one learning school and they have a recording arts program. I started taking classes there sophomore year, so after a day of school at Piedmont I would go to Berkeley and learn how to record and produce music.
When did you make the album?
The first song I made for the album is the first track, which is "Life Just Ain't Hitting The Same." I wrote it probably right in the middle of the depth of quarantine. It's basically just about how everything feels bland, everything sucks. It's one of those songs.
That song was the driving force of the album. I knew I needed to put it out. Then I posted an acoustic version of it on TikTok and it got about 2,000 likes and I was like, What the heck. People commented "I need this to be released" and I had never received any reaction like that.
Originally I thought of doing it as a single, but then I wrote two more songs not long after that. All three songs just meshed, worked together well, and complemented each other and I thought they should be released together.
I planned to release the album October 29, [so that meant] I needed everything uploaded by September 29. All three songs were ready; and then in early September I wrote an acoustic song that just kind of fell out of me. I only had two weeks to get it written, mastered, recorded, and uploaded. I usually have a lot of anxiety about releasing music, but with that song I was like, I am not even going to think about it. I am just going to put it on there because I think it belongs there.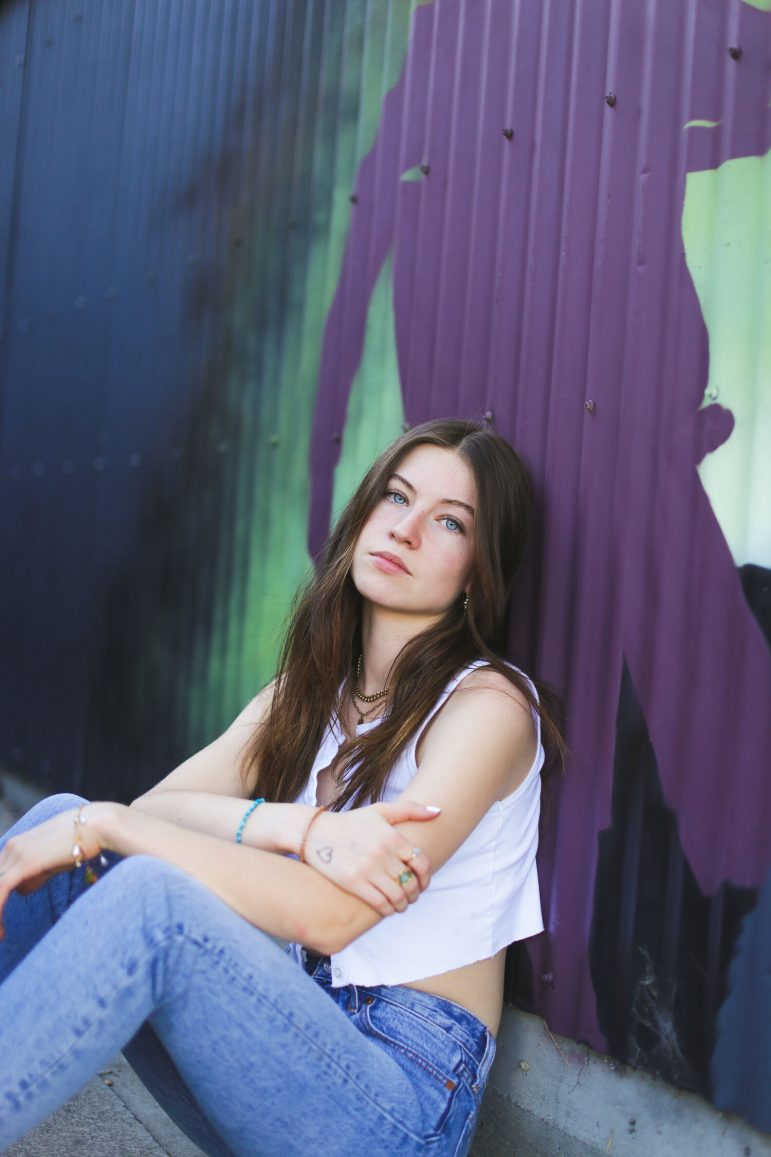 What ideas inspired the album?
I wrote all these songs in my bedroom and it was all me pouring out my thoughts and my emotions and then it turned into something that's bigger than that.
I mostly write about my experiences, my feelings, and my life. Songwriting is something I do every day to work through my problems and the way I am feeling. When I come home after a bad day I write a song about it. When I am upset and sad and don't know how to put it into words, I write a song about it.
Some of the songs aren't even about me. They are scenarios that I've thought about.
Where did you record the album?
I have a home studio in a little storage room right next to my bedroom. My parents gave it to me as a birthday present for my 13th birthday and they bought me some recording equipment. That is where I record all my music. I just spend hours in there.
What do you want to do next year?
I definitely want to pursue a career in music and I think doing music in college is definitely a step in the direction. I'm applying to Berklee College of Music, but I don't know if I would want to go there yet because it is a conservatory, but I am mostly looking at schools that are regular college experiences with good music programs.
What are your goals?
My dream career is to be a songwriter and sit in a room with other songwriters and have a performer sing them. The performing aspect of being a musician is not my strong suit. The place that I feel like I really shine is writing a song in my bedroom or collaborating with someone and writing a song. Just the art of making music is something that I would love to do.
(Know a Piedmont student or grad who is up to something interesting? Let us know at news@piedmontexedra.com.)
Find Rachel on Spotify HERE.