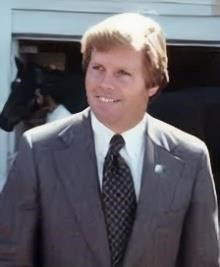 Published by San Francisco Chronicle from Oct. 15 to Oct. 19, 2021 and reposted with permission from Anian Pettit Tunney.
With great sadness, we share that Peter William Tunney passed away on September 22, 2021 at his home in Piedmont, CA. Peter was born in 1938 to Katherine and James Tunney and grew up in the San Gabriel Valley. He graduated from Alhambra High School where he excelled in both track and football and was later inducted into the Moors Hall of Fame. Peter was recruited by Occidental College and was a member of the 4 x 440 relay team that set a school record in 1959, which still stands today. He also played halfback for Oxy and led the team in rushing yards his junior and senior year averaging over 7 yards per carry. Peter was drafted by the Detroit Lions in 1960. However, an injury ended his professional career before it began.
After college, he taught and coached at several Los Angeles area high schools before beginning a lifelong career in thoroughbred horse racing. Peter served in numerous positions at Del Mar, Hollywood Park, and Santa Anita racetracks, including Racing Secretary at Del Mar and General Manager of Hollywood Park. He eventually settled in the Bay Area in 1980 where he ran Golden Gate Fields as the General Manager for over 30 years.
Peter cherished family trips to Hawaii, La Jolla, and Palm Springs. Peter and Anian also traveled to Ireland, England and France to attend some of horse racing's most celebrated events including the Prix de l'Arc de Triomphe. He was a member of the Bohemian Club, the Pacific-Union Club and Claremont Country Club.
Peter was genuine, humble about his achievements, and witty to the end. His sense of humor was known by all and loved by most.
Peter is survived by his wife of nearly 50 years Anian (Pettit), daughters Courtney Hotchkis (John), Shannon McDonald (Sean), Adrienne Krumins (Rik) and Catherine McDowell (Gavin) along with siblings Jim Tunney, Joanne Hawkins, and Loretta Holstein, as well as sister's in law, Lindsay Pettit, and Cherie Arkley (Rob). Peter's greatest joy in life were his 8 grandchildren, Perry and Ellery Hotchkis, Patrick and Claire McDonald, Peter and Esme Krumins, and Eloise and Pierce McDowell. Their Papa will be missed forever. The family would also like to thank Henry Vidanes for being a devoted caregiver. In lieu of flowers, please consider a donation to Vision of Hope (www.visionofhope.org.) Services will be private.