In the United States, two events defined 2020: the COVID-19 pandemic and the murder of George Floyd. Even as 2021 enters its final months, the effects of those events from the previous year continue to reverberate.
One venue that felt those effects was San Francisco's very own Museum of the African Diaspora. Like most venues, coronavirus concerns forced it to close its doors in March 2020. As such, the facilities weren't able to host the kind of discourse and exhibitions that give context to unfolding events.
After 19 months and several online events, the MoAD is ready to welcome back in-person visitors. On Thursday, the museum officially opens its COVID-free doors to patrons for a week of re-emergence events.
What's more, the museum is hosting a collection of new displays and exhibitions to shine a greater focus on African arts and artists.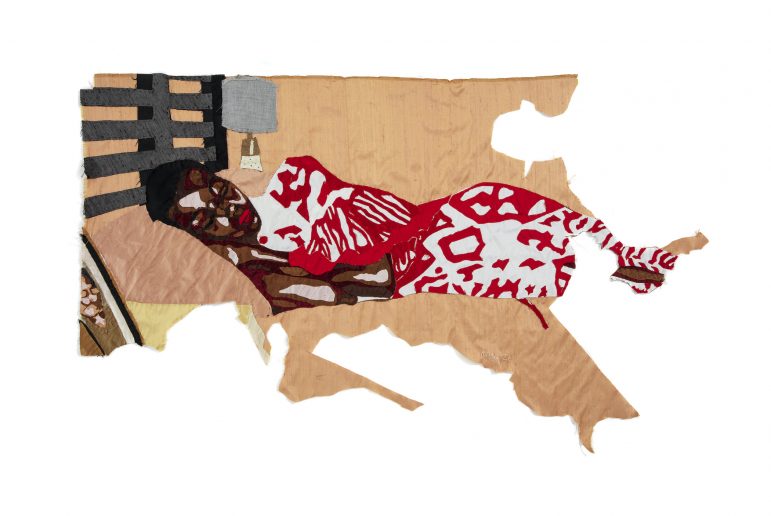 Among these exhibitions is "Soul of Black Folks" by Ghanian painter Amoako Boafo, curated by Larry Ossei-Mensah. Boafo is the artist who sent three paintings up into space on a Jeff Bezos-sponsored rocket this past August. According to MoAD, his new exhibition, named after the groundbreaking book by NAACP co-founder W.E.B. Du Bois, "center[s] the viewers' gaze on the presence of Boafo's subjects, who represent all walks of Black life. He vividly and attentively illustrates the connectivity and cultural overlap of existence within the Black diaspora. Despite the physical and emotional friction of Boafo's mark-making, his painted subjects appear confident and steadfast."
Another new exhibition is "Thread for a Web Begun," a collection of works on silk tapestries by Malawi-born artist Billie Zangewa. MoAD says the exhibition, curated by Dexter Wimberly, "creates intricate collages composed of hand-stitched fragments of raw silk. These figurative compositions explore contemporary intersectional identity in an attempt to challenge the historical stereotype, objectification and exploitation of the Black female form."
Leila Weefur curates "Beyond the Sky," a showcase of four short films by African filmmakers. "In this collection, each film moves seamlessly between the personal and metaphysical, connecting cinematic voices across the different regions of Africa," MoAD writes. "Finding comfort floating in uncertainty, these filmmakers pose questions — some obvious, some hidden — in an attempt at guiding us toward futurity. While maintaining allegiance to specific regional traditions, the images presented in this series reframe traditional African images into a new digital vernacular."
In addition to these and more exhibitions, the MoAD is also welcoming back visitors with an open-to-all free admission Community Day on Saturday.
The Museum of the African Diaspora is located on the ground floor of the Hotel St. Regis at 685 Mission St. at Third Street in San Francisco. The museum is closed Mondays and Tuesdays, open 11 a.m.-6 p.m. Wednesdays through Saturdays and noon-5 p.m. on Sundays. General admission is $12, $6 for seniors and free for MoAD members, active service members and children ages 5-12. Visitors must present proof of vaccination or a negative COVID test, masks are required for all visitors and children under the age of 5 are not admitted. For tickets and more information, visit moadsf.org.