Pens of the Pandemic Book Launch: Reading & Celebration | Nov. 5
Visit the Lafayette Library Amphitheater to meet amazing young writers featured in Pens of the Pandemic. The 260-page student anthology brings 159 stories, essays and poems from 80 young writers to the forefront. Written during the last 18 months, stories of courage and young people's energy and hope for a more just and sustainable world ahead are inspiring to people of all ages. The ADA-compliant outdoor setting, low ticket prices ($10 for adults and free for young people, 21 and under) and live readings by some of the young writers makes this a safe, accessible, family activity.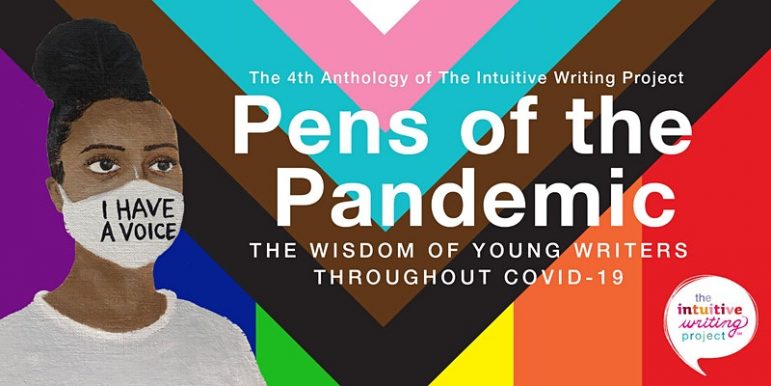 All proceeds from sales of the book and event tickets will go to the Diverse Voices Fund, which provides need-based tuition for minority youth. Even if a trip through the Caldecott Tunnel to the "other side" of the East Bay is not possible, virtual "Add-ons" are available for purchase: copies of the anthology, t-shirts, hoodies, masks—or one of five colorful handmade quilts that will be auctioned. To protect everyone's health during COVID, food and drinks will not be served, but guests are welcome to bring their own water bottles or refreshments. Masks will be required.
Nov. 5 | 7:00 – 9:00 p.m. | Cost: Free – $10 | Lafayette Library | 3491 Mount Diablo Boulevard | Reserve online: https://www.eventbrite.com/e/pens-of-the-pandemic-book-launch-reading-celebration-tickets-176643414207
---
Roxanne Dunbar-Ortiz with Steve Wasserman: Not a Nation of Immigrants | Nov. 9
The KPFA Radio 94.1 FM Zoom event presents historian Roxanne Dunbar-Ortizm addressing settler colonialism, white supremacy, and the long history of erasure and exclusion that underscores racism. Dunbar-Ortizm writes with grace but also with uplifting vigor and solutions-oriented purpose as she dismantles the myths of the ruling classes; myths that have been especially detrimental to indigenous and BIPOC people in the United States. The Library Journal says of her new book, "Dunbar-Ortiz's message is clear: uplifting narratives about the United States as a 'nation of immigrants' allow the country to hide from its history of colonialism, genocide, slavery, and racism . . . . [T]his thought-provoking account will prove insightful for all."
Dunbar-Ortiz has been active in the international Indigenous movement for more than four decades. She is the author of eight books. Steve Wasserman is currently the publisher of Berkeley-based Heyday Books.
Nov. 9 | 7:00 – 8:00 p.m. | Suggested Donation: $5-$20 | Virtual | Register online: kpfa.org
---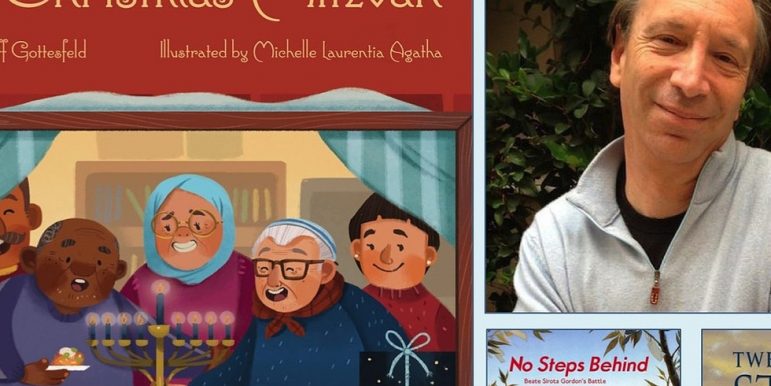 The Christmas Mitzvah: Read by author Jeff Gottesfeld | Nov. 17
The Lafayette Library pops up a second time with a unique event for families. This time the presentation is online in an afternoon Zoom reading and discussion with Gottesfeld. Having written for page, stage, and screen, he turns his attention to a picture book, The Christmas Mitzvah. Described as "a loving blend of Hanukah and Christmas traditions," the book was inspired by the true story of Al Rosen. Rosen was an unsung hero who volunteered to work at a local newsstand for a stranger on Christmas Eve so the regular clerk could celebrate the holiday with his family. The real life Rosen lived in Wisconsin and continued the tradition he started in 1969 for more than 30 years. Christians, Jewish people, Muslims and people of other faiths benefited from his generosity. Illustrations by Michelle Laurentia Agatha enhance the heartwarming story celebrating community and giving.
Berkeley's Creston Book as publisher makes the picture book a wonderful gift for Bay Area shoppers hoping to support local women-owned businesses. Registration is requested and books are available for purchase at Bel and Bunna's Books. (Call to reserve your signed copy: 925-298-5512.)
Nov. 17 | 3:30 p.m. | Free | Zoom | Register online: https://www.lllcf.org/events/storytime-with-author-jeff-gottesfeld-the-christmas-mitzvah
---
Natashia Deón & Rebecca Solnit | Nov. 19 | 7:30 pm – 8:30 pm
City Arts & Lectures has a formidable list of great events on a November schedule that features writers and artists in conversations about literary craft, culture, contemporary issues, history, social movements, international themes, and more. Among the most exciting for the month is a 90-minute discussion with Natashia Deón & Rebecca Solnit.
Deón is a 2017 NAACP Image Award Nominee and author of the novel, Grace. She is a practicing attorney, mother, and law professor and served as a 2017 U.S. Delegate to Armenia in partnership with the University of Iowa's International Writing Program for a reconciliation project involving Armenian and Turkish writers. Her second novel published in August 2021, The Perishing, is set in Los Angeles during the 1930s. Centering a young Black woman as the first Black woman journalist at the Los Angeles Times, the book blends fantasy with science fiction.
Solnit needs little introduction, having long written in best-selling books on topics including feminism, the environment, western history, literary criticism, power structures and social change. Her more than twenty books include Hope in the Dark, Men Explain Things to Me, The Mother of All Questions, Recollections of My Nonexistence, and a new book, Orwell's Roses.
People attending the live event must be fully vaccinated; proof of vaccination is required upon arrival.
Nov. 19 | 7:30 – 8:30 p.m. | Free | Register online: https://www.cityarts.net/event/deon-solnit/
---
Just released cookbooks from local chefs: "Black Food" and "Burnt Toast" | At your local independent bookstore
During the season when gathering at the table with family and friends is a focal point, two terrific new cookbooks by Bay Area authors from the year are must-haves for the kitchen bookshelf: Award-winning chef, author and food activist Bryant Terry's marvelous Black Food, and former Chez Panisse chef and bestselling author Cal Peternell's lighthearted Burnt Toast. Offering remarkably diversity in nearly every aspect, the cookbooks speak to the wealth of culinary and literary talent in the Bay Area.
Black Food: The collection of recipes, art, and stories edited by Terry in his new book—published by his new imprint, 4 Color Books—draws together voices and artistry from the African diaspora in America. In addition to tempting dishes such as Jerk Chicken Ramen, Sweet Potato Pie, Crispy Cassava Skillet Cakes, Dirty South Hot Tamales and many more, there is an elegant essay and ode to nectarines, and another on Black land ownership and reciprocity. The book's bold, sophisticated design includes striking artwork by Deborah Roberts, among others. Learn MORE | Purchase
Burnt Toast: Peternell's guide lays paths to magnificent "saves" of messed-up food. Wind up with burnt toast or overcooked rice, vegetables or meat, he offers fixes: Mushy Rice Pancakes, Turkey Etcetrazzini and Roasted Vegetable Salad with a fig dressing coverup. Peternell introduces hacks that in one example turn a tired box of mac n' cheese into edible, creamy bliss, while "old man" cocktails aim to tickle the funny bone as much as the taste buds. Recipes are devoted to upscaling ho-hum ingredients, such as blah chicken thighs transformed to Chipotle Chicken Thighs with cumin and honey. Learn MORE | Purchase
Whether for yourself or given as a gift, these two cookbooks are treasures.
Available for purchase at local bookstores HERE.