The Highlanders continue to be on the cusp of that signature win, but came up short on September 30, falling to Alameda at home, 25-21, 25-23, 27-25.
"We played really well," Piedmont's Ruby Shaffer said. "They were a pretty good team and I think it's good for us to play good teams because we tend to play our best when we're against a better team."
"I'm pretty proud of how we worked today even though we didn't win. We kind of fall apart toward the end of the set sometimes just in the critical moments under pressure."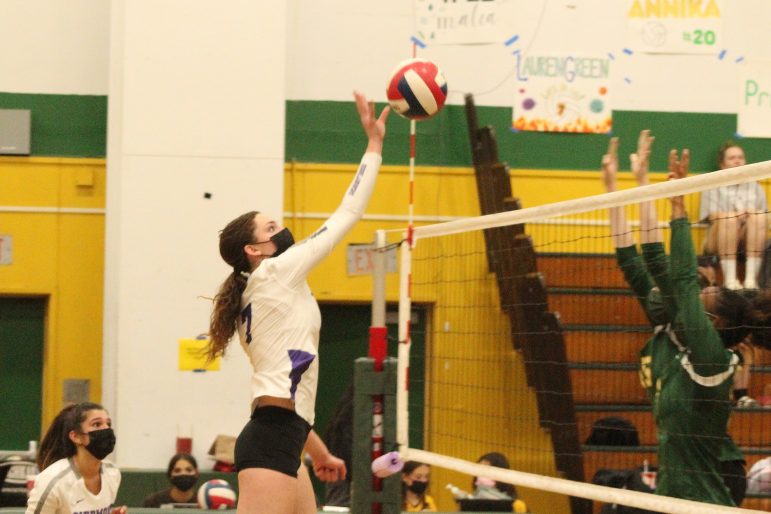 Each set was tight. The first two were tied over and over again. In the third set, Piedmont had a 19-14 advantage but wasn't able to finish it off.
In the first set, a Shelby Cavenaugh kill put the Highlanders up, 20-19. A few moments later, Sophie Nevis served up an ace that made it 22-20. But Alameda's Drew Bryant had a pair of kills and Madi Wellnitz served an ace as the Hornets scored five of the last six points.
The second set saw Piedmont jump out to a 7-3 lead, but Alameda went on a 9-2 run to go ahead. The Highlanders came right back and it stayed close until the end. After it was tied 20-20, the Hornets again scored five of the last six points. Niara Mims had two kills and then Bryant recorded kills on the final three points.
In the third set, Piedmont struggled to get its offense going, with the setters unable to get a proper set off and having to bump the ball to the hitters. Highlanders coach Leslie Blakely said it was a matter of converting defense into offense.
"We had a point where I looked and I'm like, 'We haven't given our middle a set,'" Blakely said. "We can't get our setter to actually set the ball because our defense is not handling what they need to be handling. We have to work on that. We have to work on being better on defense so we can convert into our offense. Because we have some great hitters."
Said Shaffer, "I think we just need to focus on getting a good pass to our setter so she can get a good hit."
The third set was tied 11-11, but Piedmont then went on an 8-3 run. Cavenaugh got the run started with a kill. Eden Lorin had an ace and a punch kill, and Izzy Grimmer had a kill too. Bryant missed on a pair of kills to help out as well.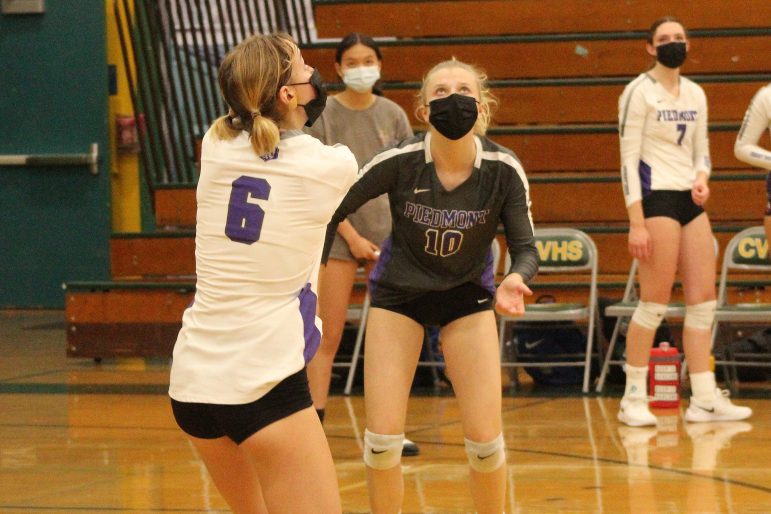 However, four Bryant kills and an ace from Charlotte Redmond squared it up. Neither team took a two-point lead from then on until Alita Buser's kill finished off the match for Alameda.
The difference between winning and losing? Shaffer said the team is close.
"Just carry on whatever we do in the beginning and middle of the set all the way to the end and keep up that energy and pace," Shaffer said.
"I'm so proud how we played," Cavenaugh said. "This is some of the best overall playing I've seen from our team. We were communicating really well, our hits were really good, our serve receive was amazing."
It was the second three-set loss of the week for Piedmont, which lost to Bishop O'Dowd at home on September 28, 25-13, 25-18, 25-15.