Family: Mike, Wendy, Emily and Molly Szczech
Pet: Ellie May. We named her after the character on The Beverly Hillbillies. We planned to add Jethro but one Bassett is plenty!
Age: 11
Breed: Basset Hound
Adoption story: We drove to Pismo Beach and were greeted by a swarm of 12 puppies. During the bedlam, Ellie May crawled into Emily's lap. It was love at first sight.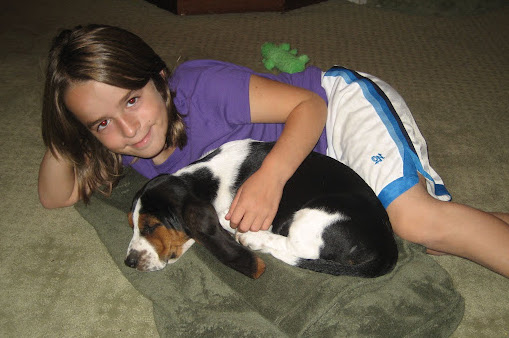 Likes: Ellie loves people, tummy tickles, walks and toys.
Dislikes: She's afraid of skateboards and leaf blowers. She was bitten by a German Shepherd so she stays away from them.
Interesting facts: Ellie is a joy to have. She is a very happy dog who adores her family — including her best friend Marshal, our cat. Unlike other hounds, she is not stubborn and never wanders off. She is so good around kids that she was invited to show and tell at preschool which was a highlight in her life! Everyone knows when Ellie enters Piedmont Park — her howl is unmistakable.
Anything else? Halloween is Ellie's favorite holiday. She thinks all the visitors are for her!