A small San Francisco nonprofit has assembled and developed a fire prevention squad of hungry, woolly ruminants that it rents out to public and private property owners throughout much of the Bay Area.
City Grazing is a goat-powered organization focusing on "sustainable land management and fire risk reduction through outreach, education and implementation of goat grazing," according to the company's mission statement.
The nonprofit, under the leadership of executive director Genevieve Church, maintains a herd of about 100 goats at company headquarters in the Bayview neighborhood of San Francisco.
With fire season lasting longer and wildfires growing more intense, fire prevention tops the list of environmental issues facing Bay Area residents, with goats in constant demand to remove unwanted vegetation. City Grazing goat herds have been working nonstop all summer to clear overgrown brush from properties in San Francisco, San Mateo, and Alameda counties and portions of Contra Costa County.
Richard Hsu, sustainability coordinator at the University of San Francisco, hires City Grazing goats about once a year, depending on the previous rainy season. "The goats typically graze along the north slope of Lone Mountain, and they feel right at home on the hillside, which features some fairly steep inclines that make it difficult for our grounds team to access," Hsu said.
Fire district officials praise goats for their front-line fire prevention abilities.
"Herding animals do a great job of abating weeds and grasses, and even small trees," said George Laing, fire prevention captain for the Contra Costa County Fire Protection District. "A herd of goats is very efficient at removing these fuels."
Both Laing and Hsu said that goats help the environment by eliminating the need for using loud internal combustion motors — to power leaf blowers, weed trimmers, chain saws and the like — and that the goats return nutrients to the soil. "They have a very efficient exhaust system," Laing said.
Using goats for fire prevention comes with a few caveats. Though the animals have the reputation of eating anything, Laing said they have to be hungry enough to finish their assigned job. And when they do finish eating what lies on the ground, goats may climb trees or forage into areas a client may wish they hadn't.
"They need supervised and managed," said Ron Marley, emergency preparedness coordinator for the San Ramon Valley Fire Protection District.
Management and supervision are what City Grazing delivers to its clients. The company specializes in brush management of properties under two acres and supplies enough hungry goats to finish a typical job in under two weeks. Prices vary depending on plot size, location, fencing needs and the amount of vegetation to be removed.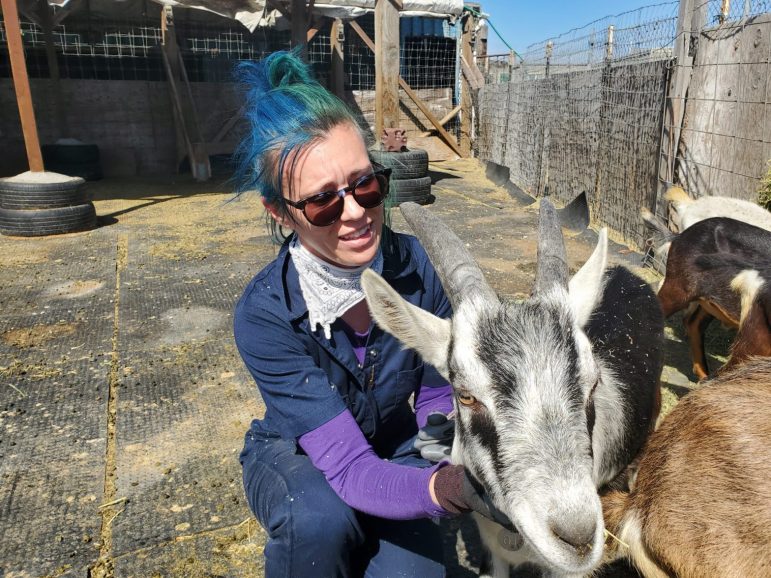 About 60% of City Grazing revenue comes through operations, with the remainder via donations. Operational expenses include veterinarian care, facility upkeep and educational programs; Church said it takes two years and costs about $3,000 per goat to raise it from birth until the animal is field-ready. About a dozen goats "in training" reside at the company's Bayview headquarters, awaiting their call to a grazing project.
Church, who grew up on a cattle ranch not far from Yosemite, said that her company of seven employees and up to 15 active volunteers strives to not only help combat climate change through its fire prevention efforts but also to boost underserved communities. The nonprofit hires young adults from disadvantaged neighborhoods through the San Francisco Conservation Corps, an organization that works to conserve and improve the city's environment.
"Even if they can't use City Grazing, we want people to be able to find environmentally beneficial solutions to any problem they might have," Church said. "We feel goats are wonderful ambassadors."
Here's the before shot of a City Grazing backyard project on Pioche Street in San Francisco. (Photo courtesy City Grazing)

Here's the after shot of a City Grazing backyard project completed on Pioche Street in San Francisco. (Photo courtesy City Grazing)
To volunteer, or to donate, visit the nonprofit's website at citygrazing.org.