Daniela Skov is a Piedmont High School grad ('20) currently in her sophomore year at the University of Southern California with plans to major in either Political Economy or the combined major PPE (Philosophy, Political Science & Economics). In January 2021, Skov embarked on a project to combine her passions for feminism, fashion, and activism. Exedra reporter Claire Reichle interviewed Daniela Skov to learn more about her project.
CR: You created a T-shirt campaign centered around global feminism this year. Can you tell me more about what you did and who you worked with?
DS: I started working on my project in January and I finally finished in June of this year. I have had a lifelong love for fashion, so I've always wondered what could happen if I tried to make fashion more purposeful by translating activism into clothing. I created a design with a manufacturing company called Work + Shelter that says "Power to Women." I sold the shirt at McMullen, which is a boutique in Oakland that I have been working at for almost three years now. I told my boss Sherri McMullen about this project and she wanted to support me, so we were able to market and sell the shirt there. After I sold them, I donated part of the profits to an organization called The Girl Effect which lifts up girls around the globe through digital campaigns.
CR: How long have you been interested in fashion and what drew you to it?
DS: I have been interested in fashion since the day I could walk. I have photos of myself as a baby dressed to the nines in silly dress-up clothes. Ever since I was very little I've had a strong love for fashion and being able to express yourself through clothing. I've always had that love for clothing as wearable art. I've decided not to pursue it as a career, but I still will always love fashion as a hobby.
CR: What first inspired you to create this T-shirt campaign?
DS: All of my freshman year of college I spent at home due to the pandemic, where I had a lot of time to read and think more about what I want to pursue. I read a book called Hood Feminism by Mikki Kendall. She paints a pretty candid portrait of mainstream and modern feminism's weaknesses. She helped me understand how the feminist movement today, as I have personally grown to become an avid supporter of, often focuses on the pedigree achievements of women in developed countries and in privileged communities, as opposed to a framework that focuses on making sure that women's basic needs are met all over the world, and especially for women of color. Some of these issues may be educational access, livable wages, safety from gun violence, food security, and so much more. These are all feminist issues that are not often addressed in the mainstream feminist movement. After reading this book, I did some research about how I could help the modern feminist movement become more inclusive. I stumbled upon this manufacturing facility that's located in India called Work + Shelter, and that's how I got started.
CR: Can you tell me more about Work + Shelter, the manufacturing facility in India?
DS: It's a manufacturing facility that is in line with so many of the issues that I had read about in Hood Feminism. They understand that some women in India have to compromise their education in order to provide for their families and or even just themselves. Work + Shelter … gives them an education while simultaneously teaching them practical and ethical manufacturing skills. They also have climate change and creating sustainable clothing at their forefront which I think is so important. They use recycled fabrics to ensure an all-around ethical supply chain. They have an in-house graphic designer, so we went back and forth figuring out designs, fabrics, and colors until we settled on my T-shirt that says "Power to Women."
CR: What is The Girl Effect, and how did you decide on this organization to donate a portion of your profits to?
DS: The Girl Effect is an organization that believes in putting girls in control and giving them the tools to negotiate and redefine what they are told is possible. They make content through social media platforms that is intended to ignite girls' confidence, giving them the agency and power to be in control of their body, health, learning, and livelihood. It connects girls all over the globe through various platforms so that they can find the power to make choices that change their life. I decided on The Girl Effect because we live in the digital age, so it's really cool to be connecting girls globally through technology so that we can all become more powerful.
CR: Can you tell me more about McMullen and what kind of marketing you did there?
DS: McMullen is a boutique in Oakland that is Black- and female-owned. My boss Sherri McMullen has been a role model for me ever since I started working at the company about three years ago. When I was designing the T-shirt, I thought there's no more perfect place to sell it than at a company that is female-owned. I created little cards that I sold with every purchase that explained why I decided to create this T-shirt and the women that you are indirectly supporting. Everything really fell into place pretty quickly. Every stage of production, selling, and marketing — it was all female-owned and run.
CR: What did you learn in doing this project? Was there anything surprising along the way?
DS: I have a lot more respect and appreciation for business owners, especially clothing designers and people who are trying to sell a product to people because it's not easy. The creation, marketing, and selling all have to be very thoughtful and intentional.
CR: Who inspired you and supported you to carry out this project?
DS: There are so many women in my life that luckily I was able to work with throughout the process of creating this T-shirt, that have always inspired me. My boss, Sherri McMullen, has been my role model since I've known her. My mom is always a big supporter of mine, a champion of mine, and willing to help me with any crazy idea I come up with. She was definitely giving me advice and was kind of my consultant throughout this whole process. I was recently sent some photos from Work + Shelter of the women who made the shirt. They were all wearing the shirts and it was so affirming to see that the women who created these shirts were also getting joy out of wearing them.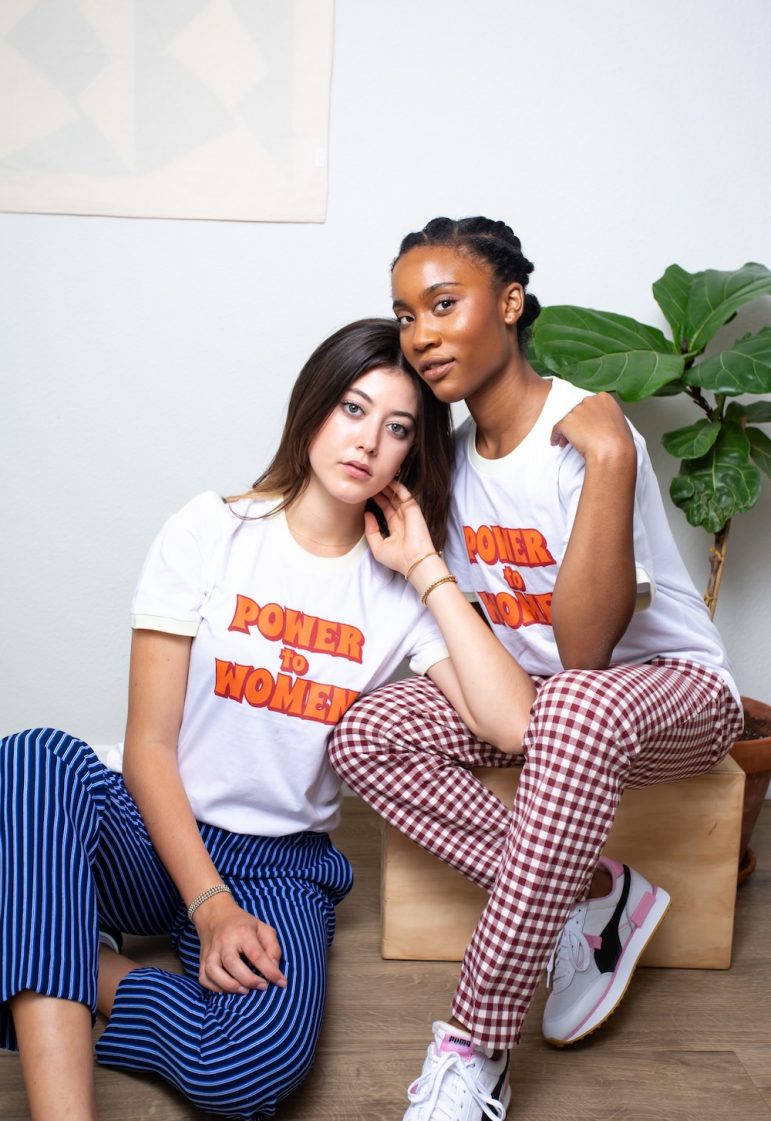 All photos by Samantha Tyler