While an estimated 50 percent of California's residential water goes into landscaping, there are many ways to conserve interior water use, which is especially important during the current extreme drought. Older homes, like many in Piedmont, have the greatest opportunity to save water. Generally, there are four major interior water uses: toilets, laundry, bathrooms, and kitchens where water and energy use can be reduced.
Let's talk toilets
Prior to 1980, toilets used 5-8 or more gallons of water per flush (gpf). From 1980 to 1994, toilets used 3.5-5 gpf. When the Energy Policy Act of 1992 went into effect in 1994, toilets were held to a maximum flush volume of 1.6 gallons. Modern toilets receiving the EPA's WaterSense label use even less, 1.28 gpf. Contemporary "dual-flush" toilets use 0.8 gallons to flush liquids and 1.6 gallons to flush solids, thereby saving thousands of gallons annually.
There are also low-tech conservation methods like not flushing as often (Some may remember the mantra developed during California's 1980s drought: "If it's yellow, let it mellow; if it's brown, flush it down") or placing a brick or jug of water in an older toilet tank to displace some of the tank's water, thus enabling a lower-volume flush.
Laundry machines
Older top-loading washing machines use an average of 30-40 gallons/load, and their twisting, spiraled agitators are more likely to damage clothing and linens. Modern front-loading washing machines, in addition to using half the electricity and detergent, use an average of 12.5 gallons of water/load– a huge saving. High-efficiency (HE) washers as well as EnergyStar-certified machines use even less!
Filling the machine with every wash load and washing in cold water only, will do even more to spare our climate. Try buying fewer white or light-colored garments and linens which can become stained or discolored over time– thus making it more tempting to use hotter wash water and toxic cleaning chemicals like bleach which pollute the water system. Choose a less toxic laundry detergent or soap, one without artificial dyes and fragrances, and without a single-use plastic container to further reduce planetary pollution loads.
For extra carbon-reducing points, line-dry your laundry. This uses no energy and is much easier on your clothes. It's also safer in our fire-prone climate since dryers are to blame for 92 percent of the house fires that begin in the laundry area.
If you machine dry your laundry, electric dryers (used in daylight hours when solar and wind power are more plentiful) are far easier on the climate than those powered by natural gas. The most energy-efficient machine option is a heat-pump electric dryer. Heat pump technology transfers heat from the ambient air to dry clothes and is much more efficient than standard electric dryers which use a heating element (like the kind used in a toaster) to heat the circulated air.
Dishwashers  
Modern dishwashers use a fraction of the energy and water (compared to older dishwashers or hand washing) and have features that are gentler on dishes as well. Be sure to fill the dishwasher to capacity before running it.
Faucets and shower heads
Like older toilets, older bathroom fixtures can also waste a lot of water. Sink faucets and shower head water flows were not restricted until 1994 when the Energy Policy Act limited kitchen and bathroom faucet water flows to 2.2 gpm (gallons per minute) and modern shower heads to 2.5 gpm. For a faucet to receive the EPA's WaterSense label, its maximum flow must be 1.5 gpm, a 32 percent water saving, and 2.0 gpm for a showerhead (saving 20percent). In 2016, California further restricted these flows to 1.2 gpm and 1.8 gpm respectively– equivalent to water reductions of 20 percent and 10 percent over even the EPA's most stringent national water use standard. There is also the option of attaching a water-saving device called an aerator to your sink's faucet or shower head. This device reduces the average amount of water flowing from the faucet by 42 percent while mixing air into the water flow so that the perceived water delivery is sufficient. Upgrading plumbing fixtures or adding aerators to existing fixtures are effective ways of significantly reducing home water use.
If you want to be a water-conservation Olympian, copy the Australians. Australians have been conserving scarce water supplies and stewarding their water resources carefully for decades. Australians led the adoption of dual-flush toilets, and they recycle water more often than U.S. residents. As an Australian architect friend said when I asked her what she does to reduce water use: "Australians are inculcated to use every drop of water a minimum of 2 times. This means that household greywater (the drainwater that washed your hands or drained from your tub, shower, or laundry machine), for instance, is then diverted and used a second time either to flush a toilet or water plants in the garden and recharge underground aquifers." More Piedmont homes have installed greywater systems and rainwater catchment systems in the past 5 years as residents have become more educated about the importance of conserving potable water resources.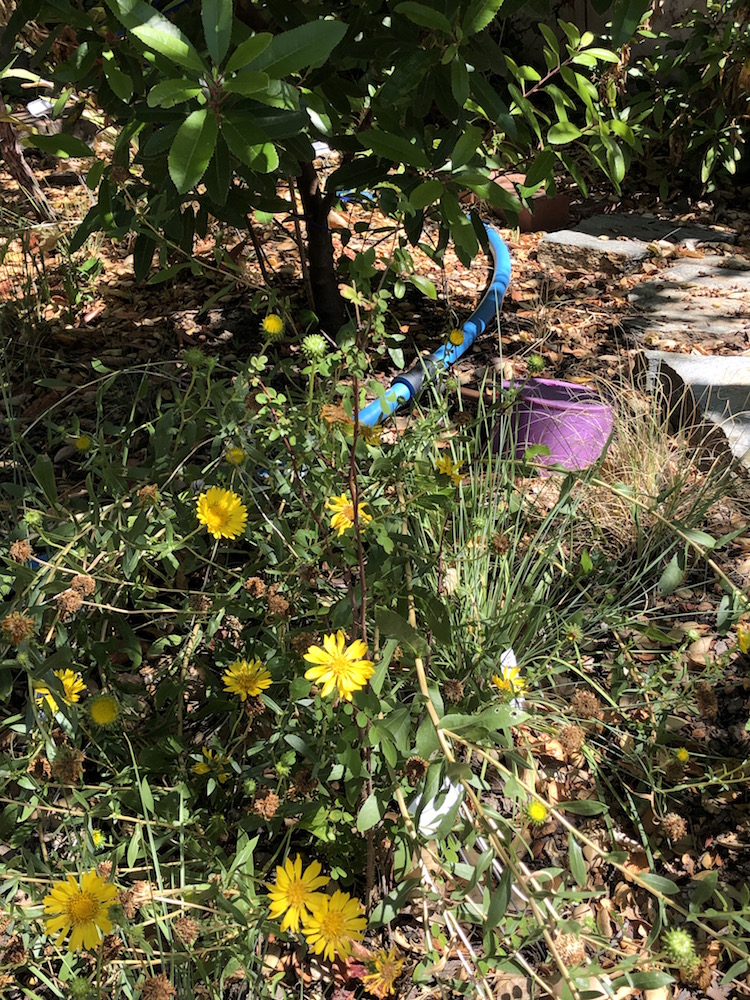 Saving water outdoors
For Piedmonters interested in increasing their drought resilience and conserving precious and limited public water resources, Piedmont Connect is hosting 2 drought education events in September. From Sat Sept 25 through Sun Oct 3, Connect is offering a self-guided Fall Front Garden Tour featuring non-toxic, bio-beneficial, low-water-use front gardens across Piedmont.A map and garden descriptions will be available on Sept 19th at the Harvest Fest and at www.piedmontconnect.org. On Thurs, Sept 30, from 7-8:30pm, Connect will deliver a Zoom-based water education event called "Living with Drought". The virtual event will be given in partnership with the City of Piedmont and moderated by Piedmont resident water expert, Eileen White. A presentation by Our Water Our World will give an overview of water saving tips