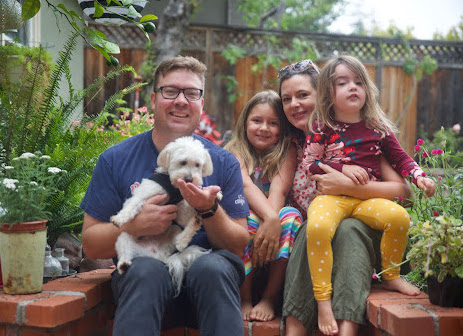 Family: Colin Thompson, Victoria Manley Thompson, and daughters Grace and Olive (and cat, Donut)
Pet: Barney
Age: 1.5 years
Breed: Maltipoo
Adoption Story: Barney is a COVID puppy. He was born in March 2020 in Vic's hometown of Watsonville, CA, where a high school friend was looking for a home for him. Before Barney, we'd had a beloved dog, Nigel, in our family for 15 years before he passed away at 17. Losing Nigel hurt deeply, and we vowed we'd only adopt a dog if it chose us. When we first met Barney, he climbed into Grace's lap and promptly fell asleep, and that was that.
Likes: Chew toys, Dracena park, big dogs, playing fetch, Donut the cat, Donut the cat's dinner, and being held like a baby.
Dislikes: He doesn't like to get wet, and he's afraid of buckets. (Come to think of it, he'd probably really despise a bucket of water.)
Interesting Facts: Barney can carry a tune (horribly) while someone plays the harmonica or accordion. His best friend is a 75-lb Goldendoodle named Bernie.
Anything else? Barney is a big talker but deep down, he's a softie who just wants to be cuddled while sitting on someone's lap. His favorite game is chasing bubbles in the back yard with Olive.