Three new cases of COVID-19 were reported in Piedmont since Friday, standing at 233 now, per Alameda County's COVID dashboard: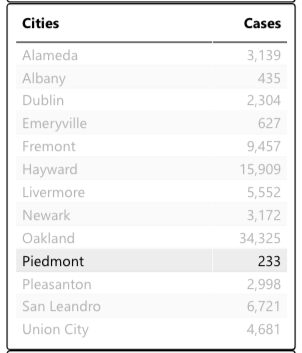 The school district's dashboard, which shows cases and classes quarantined from the week prior, shows two cases were reported last week and only one classroom in quarantine.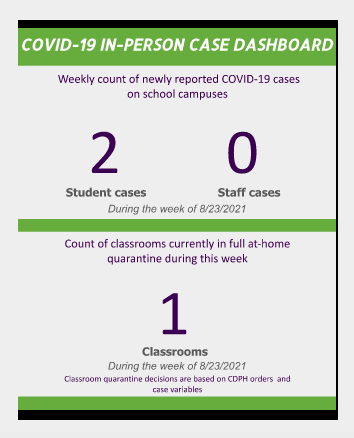 In response to a parent call at the last school board meeting for more detailed information to be included in the reporting, the superintendent said the dashboard design was deliberate, in that the district had both an obligation to protect the privacy of families who have reported cases and an interest in making sure that families continue to report cases vs hiding cases out of fear of real — or perceived — shaming by other families. "The district will communicate right away with affected families," he said. 
Piedmont's already very high vaccination rate remains so, with just about 88% of eligible residents fully vaccinated as of Tuesday, August 31.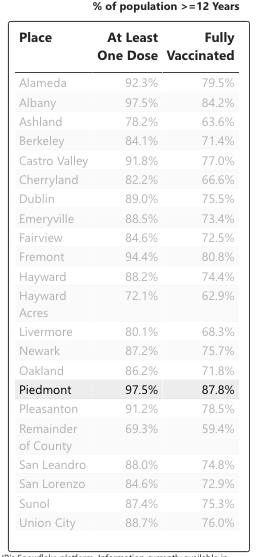 From the San Francisco Chronicle: 80% of all eligible Californians have received at least one vaccine dose: Gov. Gavin Newsom on Tuesday announced that 80% of state residents age 12 and over, the group eligible for COVID-19 vaccines, have received at least one dose. "That is tremendous progress," he said. But the governor added there was more work to do and it is imperative to reach the vaccine holdouts in the state, especially in light of fast-spreading misinformation and disinformation. "The state is not being passive in that effort," Newsom said.