Piedmont cases bumped up two since Friday, from 205 to 207 as reported by the Alameda County Health Department on Tuesday, August 10.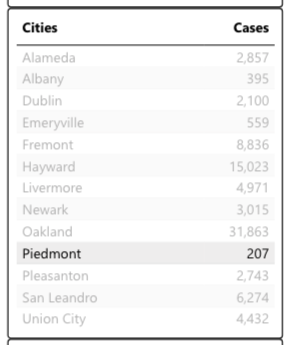 The County has also started reporting cases by vaccination rate, showing the strong protective effect of getting the shots:
Schools opened on Tuesday, August 10. In an email to the school community on August 7, Superintendent Randy Booker said "our goal is for all PUSD Staff who are eligible and medically able to be fully vaccinated. This approach will protect our entire community, and especially our younger learners who are not eligible for vaccines and those who are not able to be vaccinated for medical reasons. This approach also ensures that we are doing our part to block pathways for the opportunistic COVID virus to make further mutations. To that end, we've asked all staff members to submit a digital copy of their COVID-19 vaccination record."
Unvaccinated, asymptomatic employees will be required to take COVID tests twice weekly with a nasal swab rapid antigen test. Booker also said the district was exploring the possibility of an on-site, no cost vaccination clinic for staff, students ages 12 and over, and members of the Piedmont community.