Art lovers know how a big show can give you butterflies. "TeamLab: Continuity" at the San Francisco Asian Art Museum gives you that invisible fluttering feeling with its promise to engulf you in flowers and light.
On a busy Saturday afternoon in August, visitors of all ages pace around the mysterious entrance to the digital exhibition, counting the minutes until they can enter. And then, we're in! The darkened maze of rooms and mirrors consumes us, and we're immersed in teamLab's digital world of flowers, birds and butterflies that swirl and sparkle from wall to wall and floor to ceiling.
This is the first exhibition in the museum's new Akiko Yamazaki and Jerry Yang Pavilion, which was originally slated to open in 2020. The digital imagery and ethereal music are magical and entertaining, but so are the responses of everyone around you.
Kids have the right idea: They wander through the rooms, touching the walls and running around in circles as the imagery spins all around them. Adults clutch their phones — snapping and posing for photos, taking videos — trying to capture the incredible floating sensation of the exhibition in some static way. 
In one of the rooms, people sit around the edges of the space, silently watching an intense, two-dimensional flight of crows across the heavens. The experience pours over you as you walk through the rooms with a changing digital projection that museum staff say takes about 45 minutes to run through a complete cycle.
"TeamLab: Continuity" may be the closest we humans will ever get to flying like a bird, or blooming like a flower. Here, you feel connected to nature. If you notice a school of fish swimming at your feet, that's teamLab's technology responding to your presence. You may even feel connected to the people wandering around in the darkness with you. Standing in this space, we're bathed in flowers and butterflies and light — we become part of the artwork that we're all experiencing together. That connectedness is exactly what teamLab is going for.
Shifting society's values
"This exhibition is based on the concept that everything exists in a borderless continuity," teamLab said in a statement.
But the concept of continuity isn't always easy for people to grasp.
The universe and the Earth are continuous, but humans recognize the Earth by separating it from the universe, teamLab said. "To understand the forest, humans break it down into trees, separating the tree from the whole. But in the end, no matter how much humans divide things into pieces, they cannot understand the entirety. Even though what people really want to know is the world, the more they separate, the farther they become from the overall perception."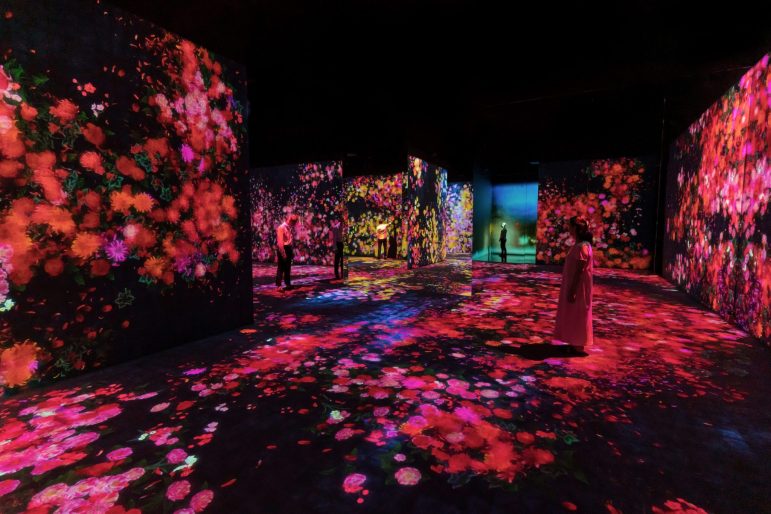 TeamLab has been pushing to change these human values and contribute to "societal progress" since 2001, when Toshiyuki Inoko founded the group after graduating from the University of Tokyo's Department of Mathematical Engineering and Information Physics. In the group's early days, their artworks were small, consisting of a few horizontal monitors that people could view while walking.
Young people became teamLab's biggest fans, but the art world ignored them. The group's big break came in 2011 when uber-popular Japanese contemporary artist Takashi Murakami invited them to show their work at a gallery in Taipei. In 2015, the Asian Art Museum in San Francisco was the first American museum to acquire their work.
Today, teamLab is made up of several hundred artists, programmers, engineers, computer graphics animators, mathematicians and architects — and people all over the world line up to experience their artworks.
Ancient art influence
TeamLab's high-tech sensory experiences are inspired by pre-modern East Asian paintings. These artworks have a sprawling feel — you feel like you can walk into the pieces. Likewise, nothing is fixed when you walk through "teamLab: Continuity," and that's part of the fun — it's what gives you that cool floating sensation.
A painting or a sculpture is a physical piece of art; it is presented in a frame or on a pedestal. But a digital experience can move and evolve with fewer constraints, and the viewer can interact with the artistry and become a part of it.
"Being able to move your viewpoint means that you can freely walk while looking at the image and perceive with your body," teamLab said.
A little more time?
The Asian Art Museum has released tickets for dates through the end of November and based on the public's interest, "teamLab: Continuity" could remain on view through the end of the year, maybe longer.
Registration is required to visit "teamLab Continuity" at the Asian Art Museum, 200 Larkin St., San Francisco. For more information, visit https://exhibitions.asianart.org/exhibitions/teamlab-continuity/.