The Highlanders were practicing in the late afternoon at Witter Field. For a while, the varsity was working against the junior varsity. Then, the younger kids split off and the varsity started working on defense.
Unfortunately, there aren't enough players to do 11-on-11 drills. The "offense" is three players and two coaches standing in for a line, and one player in the backfield standing in for the quarterback. Snaps are simulated and the defensive players break into their assignments.
"There's no scout O for us to just work on what we need to do," lineman Bailey Cain said.
Depsite coming off an undefeated season, the most successful season in years for the Highlanders, only 15 kids were on the field. Coach Jerome Johnson said about 18 are in play for the varsity this season.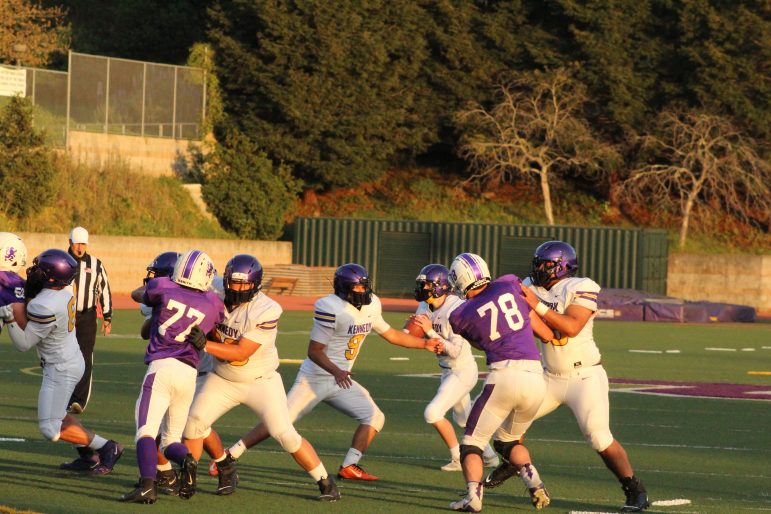 "Piedmont's culture does not have football anymore," lineman Mason Kimball said. "A lot of parents won't let their kids play. But we've got kids out here who want to play."
Added linebacker/fullback Ethan Feldstein, "We've had people who have committed to play, we've had people who ultimately have not come out. But at the end of the day, what we've got is what we need and that's what we're going to play with."
There's a lot to talk about with Piedmont's team – everybody knew the core was lost to graduation. Almost all of the skill positions need to be replaced, in addition to key parts of the line. But it's impossible to get past the short roster. Football, as they say, is a game of attrition. The Highlanders don't have the bodies to attrit.
The key players will be on the lines. Kimball is a senior, and along with Cain and Ethan Feldstein will continue a tradition going back the past few years established by Patrick Selna and Andy Melian. Johnson said Selna would take on all-comers during practice.
"We would tell Andy and Mason to go beat up Patch," Johnson said. "And they got a kick out of beating up Patch. It was great team comraderie. Here comes Andy, who was probably one of the nastiest linemen we've had, who loved beating up everybody anyway. And here comes Mason, who is very low-key. But he has that aggression, he's very physical and he gets it done. And on the other side, we have Bailey who is now a second-year starter and a junior, who is doing the same thing."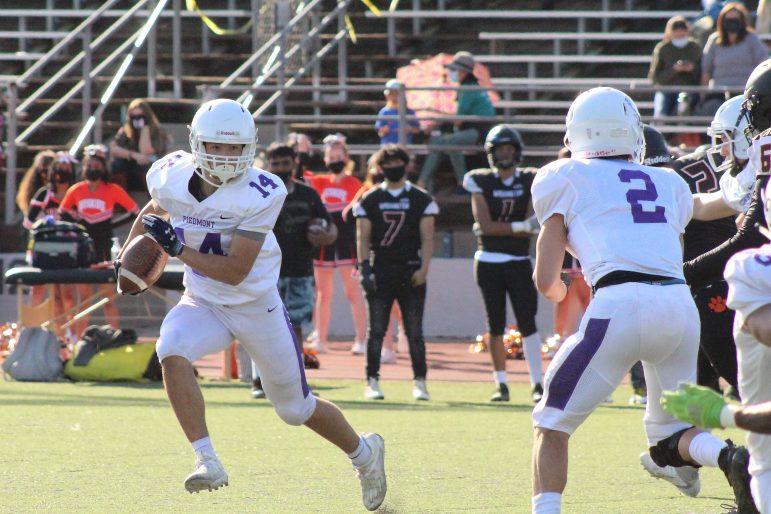 Nico DeFazio will be the new quarterback. Johnson called him "very athletic." Mateo Costa will take over for Brian Cain Jr. (Bailey's older brother) at running back. Cain had a dominant senior season, rushing for 794 yards and 14 touchdowns in the abbreviated six-game campaign.
"Mateo's going to be our hog," Johnson said. "He's going to have to run with the ball the whole season. He's carrying the load."
The football team did get a refugee from the soccer program: senior Nina Goldberg will be the kicker. She said she had kicked with a former Piedmont kicker for fun. Then, she partially tore her left ACL and had to give up soccer for the year.
"I'm excited," Goldberg said.
We'll keep an eye out for the fake field goal with the kicker going out for the pass. Feldstein said the team has been told to protect Goldberg from any hits.
"We have been threatened with ample conditioning and running if anybody touches her," he said.
It'll be hard to set goals such as a number of wins. The schedule starts with Miramonte on August 27 and includes dates with Bishop O'Dowd and Encinal. The undefeated team from last season didn't have to play any of those three powerhouses.
"If you have 40-50 kids, you can really assess things," Johnson said. "But with 17, 18 kids, you've just got to go with what you've got. At the end of the day, you've got to play kids where you've got to play them."
"Its not like we're going to be able to substitute. We're going to have to burn timeouts just to get our kids rest. That's just the way it is."
The players are still hoping to beef up the roster. They've been asking friends to come out, and even if it hasn't worked yet, there's still time.
"Anyone reading this, come out and play Piedmont football," Kimball said.