Opera is an art form rooted in the classics and buoyed by furthering tradition. It was born of the Italian Renaissance, and many consider Jacopo Peri's "Dafne" (1597) to be the first, though it was not necessarily called "opera" at the time. Most works of opera fall into two categories, opera seria, which catered to the sophistication of the upper classes, and opera buffa, comedic fare for the broader public. As it captivated European and later global audiences, opera also began to evolve, and its themes and subject matter reflected the sociopolitical changes that movements like the Enlightenment brought with them. But it seems like that evolution slowed in the 20th century.
A number of national publications, from the New York Times to the Washington Post to the Wall Street Journal, have been reporting on the decline of opera in recent years, calling attention to shorter seasons with fewer performances, dwindling subscribers and cuts to arts funding that make the ornate performances of yesteryear, with elaborate costumes, full orchestras and intricate sets less and less possible to produce and draw audiences. Many of these articles ask where opera is going, and offer explanations for the shift. Is it a natural cultural progression? Is it a result of underfunding and undervaluing art's contributions to our society?
And then, the coronavirus pandemic arrived to pull the rug and curtains out from the opera's tenuous place and shut down its traditional venues, which are designed with acoustics in mind. As performers, composers, creative directors and a vast swath of technical artists awaited their fate, one scrappy company in San Francisco, Opera Parallèle, decided to pursue an idea that creative director Brian Staufenbiel had been mulling over since 2013, but had never found the time to see through. And suddenly, the artists had time in abundance.
That idea became Opera Parallèle's production of "Everest – A Graphic Novel Opera." The original "Everest," a one-act opera by Joby Talbot and Gene Scheer, debuted in a traditional live performance at the Dallas Opera in 2015. Following the story of Rob Hall and the fellow climbers who died in the 1996 Mount Everest disaster, the opera is based on the 1997 bestselling nonfiction book "Into Thin Air" by journalist Jon Krakauer.
What sets Opera Parallèle's 2021 production of Talbot and Scheer's opera apart is the form; thanks to the illustrations of Mark Simmons and photography directed by multidisciplinary projection designer and film director David Murakami, "Everest" unfolds, literally, as a graphic novel.
"We're trying to use different disciplines and artists to create that change in the vocabulary of what opera can be, instead of just people singing onstage," Staufenbiel says. "We did something that's never been done before, this collision, this unification of two art forms, and then on some level, a third because we're making a film, too. 'Everest' is fantastic because it's very cinematic. It's very highly emotional music, which is very similar to how words are used in a graphic novel. And that's one of the interesting things that unifies them, as opposed to them being disparate art forms."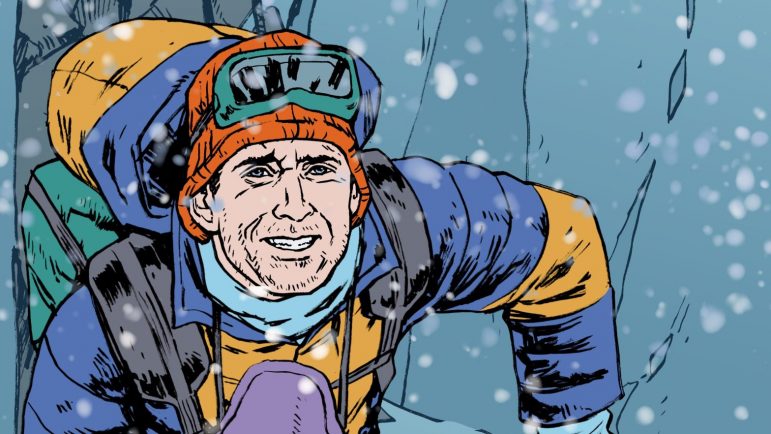 Instead of a stage with layers of props, lights and projections, viewers are invited into the virtual volume of Mount Everest, where the opening "pages" show a mountain of ice and air converging in atmospheric cacophony. The opera employs a Greek chorus, often present in works to foreshadow and herald tragedy, of souls previously lost to the mountain, but without passing judgement on those who may become their new companions. Those unfamiliar with the story may feel a bit bereft, though there are flashbacks and moments of introspection for characters to illustrate their wants and for us as viewers to wilt as their fates draw nearer.
Given it runs a little over an hour and is meant to represent the 24-hour period of Krakauer's book, with cryptic, reedily sung timestamps, not everything and everyone is shown. For Murakami, who began his career in film and then entered the theater and particularly opera projection space, it was a chance to converge his talents in new terrain; he teaches projection design to master's students at UC Irvine part-time, and comic-book history is part of his curriculum.
"One of the most interesting [lessons] is the concept of gutter space, when you're reading a comic book panel, and you encounter two images framed adjacent to each other," he says. "There is something that happens with the reader where, between panel one and panel two, there is imagination; the implied space between shot one and shot two, and more importantly, the space and time it takes to turn the page, invites the audience to imagine what happens in that moment in-between. It's sort of like the idea of the offstage. In opera, you constantly have offstage deaths and offstage events that invite the audience to imagine."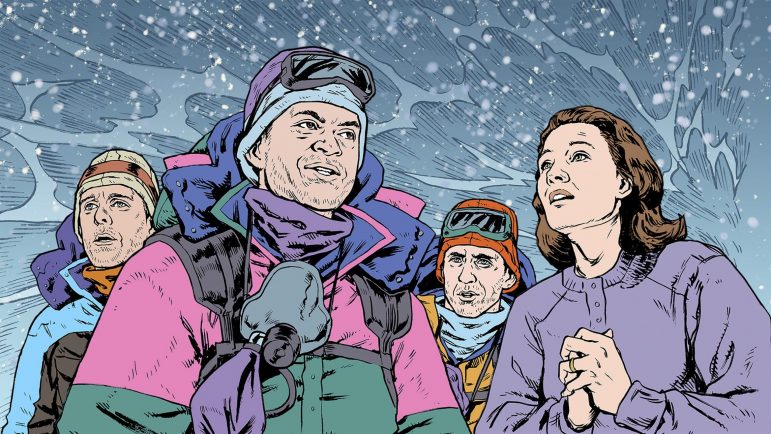 What there is to imagine in "Everest" is, admittedly, bleak. The story's events occurred 25 years ago, and yet within the turning pages of Simmons' illustrations are fresh, raw moments of interpretation. The audience presumably knows what happened to Rob Hall, Doug Hansen and the other guides and climbers who descended too late on that May day and perished in the subsequent blizzard, but the weight of their mistakes, miscalculations and hubris remain heavy as ever.
Whereas the book "Into Thin Air" is a narrative deep dive and the 2015 feature film "Everest" is a dramatic, visual undertaking, Opera Parallèle's "Everest" allows for visualizations neither of these forms, nor a stage production, could render: a climber's daughter playing jump-rope on the plate of an enormous microscope; a vision of three suns called a "solar ellipses"; the personification of the mountain and its stoic mercilessness as a chorus of ghastly blue witnesses, those who lost their lives in similar fates.
There is a particular kind of tension between performers and audience when the audience is privy to what will happen, and how long it will take everyone to catch up. The most harrowing and, in the context of opera seria, gripping aspect of the "Everest" opera is perhaps how, on the brink of death, these men come to the realizations that their true priorities far exceed the summit. They think of their families and bemoan "Why am I here?", when only hours ago they were seeking redemption, thrill and pride from the expedition that their ordinary lives and families couldn't satisfy.
In Staufenbiel's words, "it has all the things that opera wants: There's a love story, there's a death at the end, there's this kind of trying to conquer your fear. It deals with how people deal with depression, and sometimes just pushing to a place you shouldn't. All the emotions you know — love, fear, anger, ambition — are in there, too."
The graphic-novel opera was all produced remotely, with the singers recording their parts separately but connected by audio, so as to play off one another's emotions. The faces of Simmons' characters move with an almost uncanny humanity, twitching and furrowing and opening as they look upon the horizon, think of their lives at home and accept what's coming. Murakami employed performance-capture technology to track the singers' whole expressions.
Production ran through the length of the pandemic, and the film was released on the Dallas Opera's streaming platform on July 16; Opera Parallèle's artistic director Nicole Paiement was at the Dallas Opera when the live performance debuted in 2015, and was responsible for commissioning its genre-bending rendition. It will be available on the platform until Jan. 16 and costs $19.99 to watch.
While the future of live performances appears to waver more and more each day, the Opera Parallèle team hopes more than anything to prove to audiences of all ages that opera is alive and well, not "stodgy" and actually very cool. Breaking from tradition is hard, but somebody had to do it, and it's no surprise it happened in San Francisco.
"Opera is a field — I don't want to say defined by tradition — but there are certain rules and conventions that you don't break the precedent of," Murakami says. "So I guess that's what I find fascinating with these sorts of forays into different media is that it gives you a chance to play with the dogma, a little."
* For tickets and more information about Opera Parallèle's "Everest — A Graphic Novel Opera" visit https://dallasopera.org/performance/everest-tv/.