A loving mother and grandma, Junshi Ke passed away peacefully and surrounded by her loved ones at her Piedmont home, just four months shy of her 100th birthday. Junshi was born in Sichuan, China on November 2, 1921. She grew up in a very restricted, male-dominated, feudal society, in which it was believed that women were subordinate to men. She believed in feminism and that women should have equal rights and privileges as men. She believed women should be strong mentally as well as physically in order to participate in equal activities within society.
During World War II, the Japanese invaded China. Sichuan at that time was called "China's backyard". The young people were volunteered to take action in order to protect their homeland. During that time, Junshi, as a teenage girl, started Gong Fu and boxing training through a famous Gong Fu master, Guofu Zhu, who taught at the Central National Martial Art Institute and at Chong Qing University. He brought up many outstanding students for the Whampoa Military Academy. During this wartime, Junshi participated in a joint-rescue crew to save children in the battlefield. Later, she became an instructor and taught at a government-run welfare institute, which provided orphans learning and education opportunities. Junshi loved working with children.
In 1944, at age 22, Junshi married a business man, Kunyi Sun. They owned an electric appliance shop and were in the electricity facility installation and maintenance business. Unfortunately, China's national private-owned capitalism system did not last long. All their wealth and properties vanished overnight. Junshi and her husband were impoverished and had witnessed the transfer of all private ownership enterprises to government-owned businesses. Both she and her husband lost their business and their jobs. Despite this hardship, Junshi and her husband still loved music and always kept their interest of playing the Chinese violin and singing Beijing opera. Additionally, Junshi liked to write poems. She often recited poems of the late Tang Dynasty, which inspired her optimism and gave her the courage to survive. Junshi and her husband shared a loving and supportive marriage of 44 years, until her husband's passing in 1988.
Junshi believed knowledge was power and education makes an impactful difference. During the Cultural Revolution in China, all schools were shut down and no colleges were available to be attended. She insisted that her children self-study and enrich themselves for their futures. After her daughter, Xiao-Meng, finished her graduate studies and immigrated to the US, Junshi lived with Xiao-Meng's family in Piedmont for over 20 years. This was the happiest time of her life. She was able to play with her grandchildren and visit beautiful national parks in the U.S. She always enjoyed walking along the beautiful city streets of Piedmont. From Greenbank Avenue to Grand Avenue, people would always see a pretty Chinese lady pushing her walker, slowly walking in the afternoon sunshine.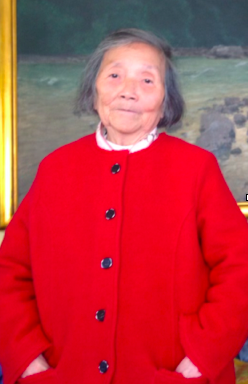 Junshi is survived by her two daughters, Minmin Sun and Xiao-Meng Qi. Minmin and her husband, Minhua Tang, reside in Shaoxin, China. Xiao-Meng and her husband, Niansheng Qi, reside in Piedmont. Junshi is also survived by her six grandchildren, Alexander Qi and Jasmine Qi from Piedmont, Suying Yang, Boling Yang, Xun Tang, and Ling Tang and his wife Guofang Kuang from China. She also has three great grandchildren, Yixin Han, Duo-Na Tang, and QingYuan Yang from China. Junshi is predeceased by her daughter, ZhiKuan Yang, and husband, Kunyi Sun.
Junshi had a wonderful and amazing life. She will be greatly missed by her family and the friends who knew her.
Junshi's granddaughter, Xun Tang, wrote a poem in her memory:
The night drum pangs

The morning bell rings

You have gone far

I can't find you, only missing you

I raise my head to search for you

You are one of the stars, shining in the sky

A beautiful memory sparkling

Its twinkling is your warm blessing

I am not lonely, for you are always with us