The U.S. Forest Service issued a temporary closure Tuesday of all national forests throughout the state in an effort to reduce the potential for new wildfires starting and visitors becoming trapped in an emergency situation.
The closure goes into effect Tuesday night at 11:59 p.m. and will last through 11:59 p.m. Sept. 17, Forest Service officials said, as conditions across the state mean that new fires have a high potential for rapid growth and risks to life and property.
Forest Service officials also noted that weather conditions that could reduce fire danger are not expected for several weeks in the late summer and early fall.
"This is not a light decision," Regional Forester Jennifer Eberlien said Tuesday. "But at this point, with the resources and the conditions that we have in the state of California, it's the best choice for public safety."
Currently wildfires are burning in six national parks in the state, according to the Forest Service.
This year there are compounding and significant wildfire dangers compared to earlier years, the agency said in a statement. In addition to dry weather conditions, those risks include record level fuel and fire conditions, novel fire behavior, and "significantly limited initial attack resources, suppression resources, and Incident Command Teams to combat new fire starts and new large fires."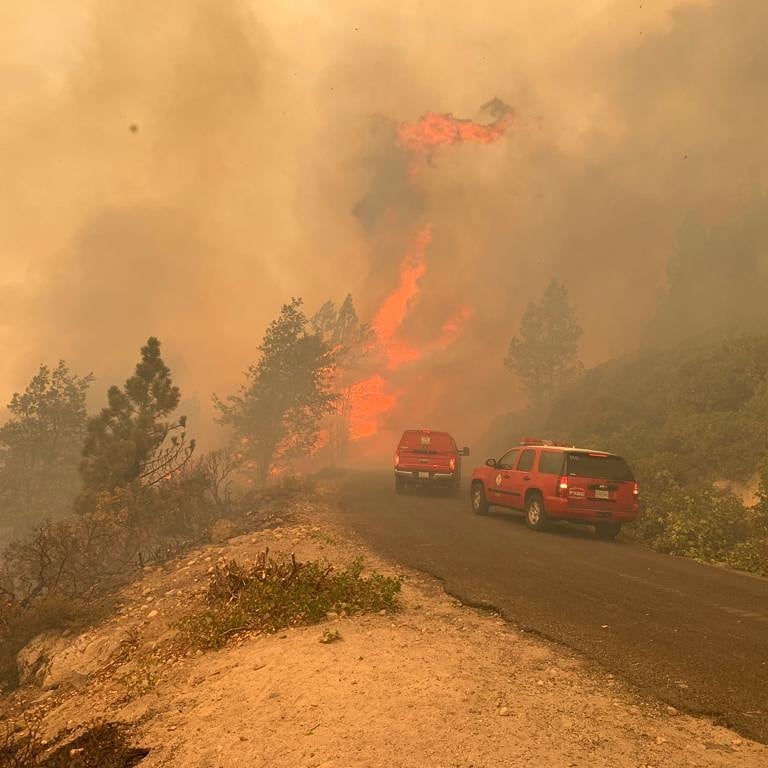 The closure order includes a handful of carveouts for people or organizations that have permits specifically exempting them from the order.
People who also do business on Forest Service lands, for example, will be allowed to use National Forest System roads as necessary to conduct their business. Eberlien suggested that people who work within Forest Service lands contact their local forest supervisor for more information on what activities are exempt from the order.
Deputy Regional Forester Tony Scardina noted, however, that some industries with permits to remain on Forest Service lands have expressed hesitation due to how poor fire conditions currently are.
"If you're running chainsaws, running equipment, etc., and you start a fire, there's risk in that," Scardina said. "So the conditions are so bad right now that a lot of them are going to wait until some of those conditions subside."
The full list of closures can be found HERE.
Information on the Forest Service's Pacific Southwest Region, which includes California, can be found HERE.