Piedmont's tree canopy and dense residential construction would be combustable fuel for any big blaze, says Piedmont Fire Department Chief David Brannigan
Since late April, when David Brannigan started as Piedmont's fire chief, the city has had no reported structure fires. For that he credits months of thorough planning by fire officials in Piedmont and surrounding areas, and Piedmont residents doing a good job taking responsibility to "harden" their properties against fires.
"And there's always a component of good luck," Brannigan said. "That's been with us so far."
Homeowners should do their part to prevent fire spread
Calling Piedmont's homes the city's single largest source of fire fuel in this era of extraordinary drought and other consequences of climate change, Brannigan said it's largely up to private property owners to make sure excess vegetation is cleared from their property (especially adjacent to structures) and that those structures are "hardened" as much as possible, making them less susceptible to burning. This includes replacement of wood-shingle roofs with those of noncombustible materials like clay and masonry and installing spark arrestors on roof vents. Embers entering structures via vents cause a significant number of fires, Brannigan said.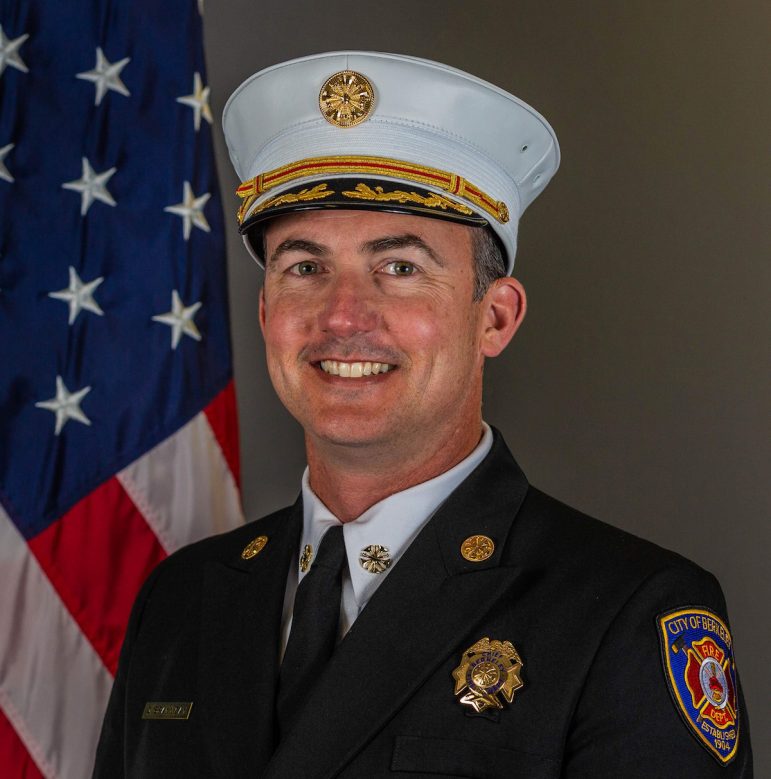 Replacing old, dry wooden decks and fences with those made of composite materials can also help "harden" homes and surrounding structures, Brannigan said. "With less combustible material, there's less fire danger," he said.
Brannigan knows the city, with its relatively dense residential construction and its urban tree canopy, could be part of a much bigger blaze. Conditions for a bad wildfire in the East Bay hills are as ripe as they've ever been, and area fire officials are working to head off a repeat of the October 1991 Oakland Hills firestorm on the horizon. Virtually all of the East Bay, and much of the state, is in the "exceptional" drought category, and the geographic conditions that have traditionally buffered Piedmont from the worst high winds are also now changing.
PFD pitches in around the state
A Piedmont Fire Department crew recently spent two weeks helping fight the Dixie Fire that's still ravaging Plumas and Butte County. And on Monday, Piedmont dispatched a four-man crew back to the Dixie Fire. Brannigan said the crew could be there as long as 21 days.
"We just know that we're going to get significant fires every year now," he added.
In response, Piedmont fire officials meet monthly with their counterparts from the City of Oakland, East Bay Regional Park District, East Bay MUD, Moraga Orinda Fire District and others to discuss wildfire preparedness, including resident evacuation plans. Those meetings predate his arrival in Piedmont, Brannigan said.
A recent example of multi-agency cooperation, he said, has been the clearing of undergrowth and other vegetation from the Davie Tennis Stadium off Oak Road, which is owned by the City of Oakland but is within Piedmont city limits. In addition to protecting the tennis complex itself, Brannigan said that work — which cost about $25,000 — should also present a measure of protection to surrounding residences, helping provide a measure of defensible space helping both the tennis stadium and the nearby homes.
Learning more about fire preparedness
Brannigan has made a few public appearances to promote fire safety and preparedness, but the resurgence of COVID-19 has put that on hold. In the meantime, he said, "We're working on putting together an outreach program for promoting (fire) preparedness."
For now, Piedmont residents can go to the fire department's website (https://piedmont.ca.gov/services___departments/fire) and look at the vegetation management page, the list of safety preparations for wildfire and evacuation resources. A list of other local resources can be viewed at http://piedmont.hosted.civiclive.com/cms/One.aspx?portalId=13659823&pageId=16993951
Contact Sam Richards at sam.richards4344@gmail.com
---
see related: preparing for fire season