The draft version of the Piedmont Safer Streets (PSS) plan, an update to the 2014 Pedestrian and Bicycle Master Plan, is now available for public review.
The 65-page PSS plan includes chapters on the context and need for the plan, the community needs assessment, recommended projects, and prioritization and implementation. The first step was conducting a community needs assessment from mid-November 2020 through early January 2021, during which the City received over 2,500 individual comments.
At the April 22 Pedestrian Bicycle Advisory Committee (PBAC) virtual meeting, project consultant Niko Letunic presented a draft set of recommended projects to be included in the PSS plan. The PBAC received public comments on the draft recommendations, discussed the matter and recommended revisions that resulted in the draft PSS plan currently posted for public review.
"If you are interested in crosswalks, bike lanes, and safer streets and want to have a say on where the City will be prioritizing and spending our tax money, please review the plan and provide feedback," said PBAC Vice Chair Kristin Robrock in a city press release.
Public comments the City receives on the draft plan will inform a revised draft PSS plan that will be considered by the PBAC in September for recommendation to the City Council for adoption.
In addition to the list of recommended projects to improve pedestrian and bicycle safety, the PSS plan includes a chapter on prioritization and implementation that focuses on quick-build projects, bike corridors, and lays out a priority list for the recommended "enhanced street crossings."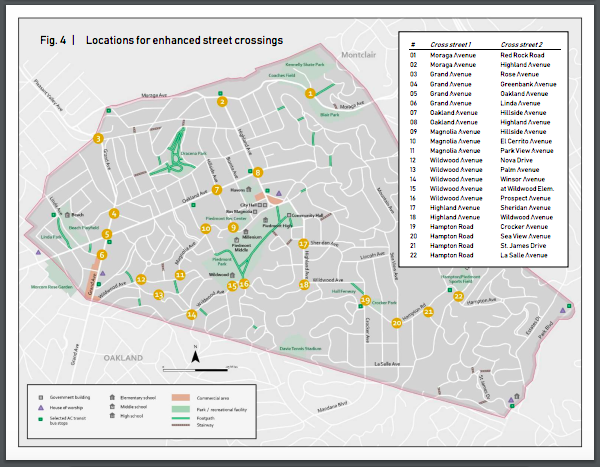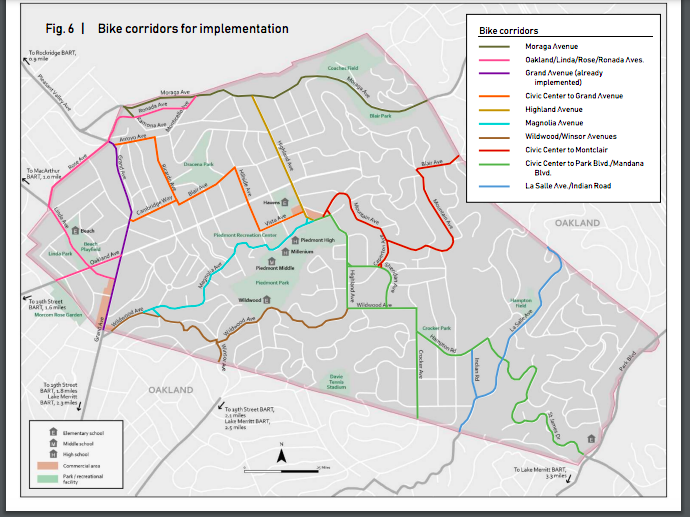 The quick-build projects section includes several traffic calming measures such as speed humps, speed tables, build-outs, chicanes and mini-round about.
From the report:
"The City has only approximately $60,000–70,000 in dedicated funds for such [pedestrian and bicycle] projects annually. It is clear that to make real progress on implementing even just the Piedmont Safer Streets plan's highest priorities, the City will need to rely on faster and lower-cost solutions. One possible answer is "quick-build" projects.
Quick-build refers to street enhancements that can improve safety and access on a small budget and on a compressed timeline. They are designed to be installed quickly, and to be easily changed or even removed if necessary; and they use lower-cost materials such as paint, planters, bollards and plastic "soft posts." Quick-build projects let residents experience the benefits of improvements sooner, and build enthusiasm for more permanent infrastructure."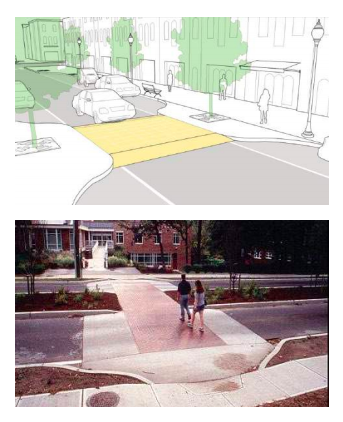 The deadline for public comments on the draft PSS plan is Monday, August 23, 2021. Appendices to the plan, noting all written public comments received prior to July 1, 2021, are also available for your review. Please submit written comments via email to saferstreets@piedmont.ca.gov or U.S. Mail: Pedestrian & Bicycle Advisory Committee, 120 Vista Avenue, Piedmont, CA 94611.
Your review and comments can make a difference in how the city prioritizes and implements future pedestrian and bicycle safety projects.
For more information, please contact Associate Planner Gopika Nair at saferstreets@piedmont.ca.gov. To review the draft version of the PSS plan and the appendices, click HERE.
---